The Extreme Rules pay-per-view is entering its 11th year and this began life as One Night Stand which was promoted in 2005 and 2006 as an ECW reunion show. However, WWE decided to keep this event as one of its own in 2008 & 2009. In 2010, WWE dropped the One Night Stand part of the name of the Extreme Rules event and moved from June to late April/early May to replace Backlash as the post-WrestleMania pay-per-view event.
An Extreme Reunion
ECW was the natural home of hardcore so it came as no surprise when ECW launched the One Night Stand event in 2005. For the first two One Night Stand events, it worked as a reunion event for ECW.
This made the event special as we were seeing guys like Sabu, Rob Van Dam, The Dudleys, and Tommy Dreamer again. After the show went off the air, the ECW wrestlers left the ring one at a time, but Dreamer stayed in the ring.
He bowed to the ECW logo as the crowd chanted, "Thank You, Tommy". The Dudley Boyz came back to the ring and hugged Dreamer, with Bubba Ray saying to Dreamer, "This is all for you" which shows the unity that these guys had with one another when they went out to put their bodies on the line.
A Moment in Time that will always last
Then in 2006 came a revolution so to speak as ECW's RVD won the Money in the Bank and he decided to cash it in at ECW One Night Stand. The match was set John Cena v RVD for the WWE Championship and the rest, as they say, is history. The venue was the infamous Hammerstein Ballroom in New York the spiritual home of hardcore.
It seemed as though the odds were against Rob Van Dam. However, Rob knew one thing would be in his favor, the crowd. It was a moment that has gone down in WWE history and it has helped create a legacy that is being built upon to this day.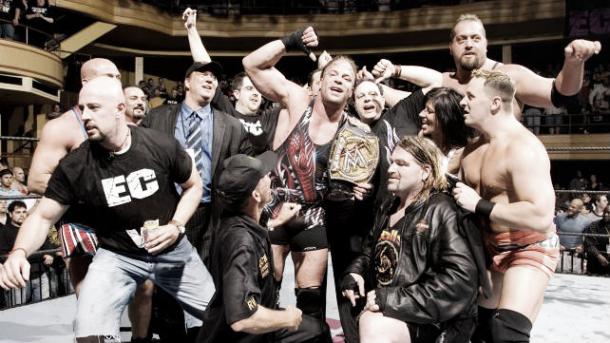 How has WWE built on the legacy of One Night Stand
WWE took an idea born in extremism and built an event which ranks as many people's favorite WWE event outside the big four WWE PPV's. It is always a fun event as we get to take things to the extreme which WWE fans don't always get to see. We get chairs, tables, ladders and so much more and this year's Extreme Rules sees the very first Asylum Match so it is always an innovative event and this year is no different.
So it is clear to see that the legacy that ECW left behind is still being felt to this very day with the Extreme Rules pay-per-view. This Sunday sees another chapter in the Extreme Rules anthology.