he has the title!
Why do you have the the pedigree bro why!
Seth Rollins!
Roman Reigns Retains amazing amazing what a match
Spear!
That looked like it hurt alot
Now the USO's are never getting cheered just cost AJ the title
Spear hey I was wrong
WHAT!
TWO
Styles Clash
Ready the spear!
que USO'S
The rest of The Club!
Roman broke AJ Styles in half
AJ Styles is the greatest of all time
Dean ambrose is in the back taking notes
He's dead
Okay this is becoming a bit much I'm honestly concerned on what his health is going to be like
People are silly
And still people say you still suck
That was a highcross razor edge into a last ride into a sit out powerbomb
Back body drop to AJ through the Announce table!
That was the coolest spot all night AJ Styles selling is the greatest of all time!
On the announce table Styles clash maybe
AJ Styles ripping up the floor mat
I love the mini forearm from the table
Too bad Roman didn't toss AJ into that table why Jerry King was still there hear his scream again would have been neat
Those people who scream you can't wrestle don't understand what Wrestling is!
Should AJ really be taking chair shots to the back he already has nagging back injuries?
That knee my God knocked him flat man jesus
its the match of who has better hair
Roman Regins stands tall
Caught an elbow from AJ Styles
AJ Styles just tossed away like nothing
Here we go!
Imagine if it was made a triple threat
Here Comes Roman Reigns!
Will Seth Rollins make his return maybe Randy Orton
Will Roman Reigns keep hold of his championship
will AJ Styles gain the championship
Up next AJ Styles takes on the WWE Champion Roman Reigns
Short and Sweet I like it
One positive we take from this it isn't Eva Marie on TV with Dana Brooke
That was great and made me very mad
what?
Dana Brooke what?
A launching Greman suplex by Natayla and locking in the sharpshooter
Suplex into the ropes Natalya hurts her leg
Nattie doing a Daniel Bryan No chat in the ring leave the man be
This match has a slow build its great breaking down the body part so it will mean something when the big bits happen
This is so cool just sitting up out of the surfbored stretch ha!
Nice feeling out session going on now between the two
I can't wait to see what they put together now will it top the last one they had
Up next womans submission match
Good match but I'd prefer a normal cage match mysrlf
Back first then Face first into thumbtacks!
That can't be comfortable
This match has been on too long at this point Dean Ambrose kicking out of the codebreaker was stupid
These false thumbtack spots are great
A giant bag of thumbtacks
Giant elbow ouch that would hurt a lot
Dean Ambrose going up top
Near fall for Chris Jericho
Dean Ambrose won't let himself be tied up in the straightJacket building momentum
Chris Jericho is a genius! throwing the jacket over Dean Ambrose
Chris Jericho screaming you idiot to the ref is the besthe tries to escape but Dean Ambrose stops him
In this state Chris Jericho reminds me of Raven.
Chris Jericho just palying with toys left in the ring going getting the strap
I feel Jeff Hardy would be well at home in this match
Chris Jericho hanging on the outside of the cage
Oh my god the 2x4 and the numbchucks a phsyco Bruce Lee
JBL with the Guradians of the Galxay shout out
This isn't a regular game of Quidditch
Starts with Dean Ambrose, Chris Jericho looks like he's trying to escape
This will be good. I hope here comes Dean Ambrose walking like he has propose
Chris Jericho wearing the skinny Jeans in this match he is now the CM Punk of the feud
The JAWS music plays out this will be great!
The Asylum match is up next I can't wait to see shall this work unlike the punjabi Prison match
Make sure you hit up @VAVEL_USA. #VAVELWrestling and let us know what it is you liked about this PPV
Miz retains that was an amazing match match of the night so far well done to everyone involved
Sami has done it oh my god I thought it was over
Miz hits the Skull crushing finale on the outside to Kevin Owens
pop up powerbomb but from the outside Miz stops the pin fall
That sunset flip by Sami gave me Chills just like the matches in NXT
Sami Zyan keeps the match alive
Kevin Owens tried to steal a victory
Miz tapped out but the ref didn't see it
We are a going swinging into the sharpshooter
I jumped well done Miz and Cesaro that false finsih was amazing and the height on that uppercut was inzayn
Kevin Owens doing great refuses to go away
The cuts on Cesaros head looks like Homer Simpsons hair
Uppercut triangle time nice
Blue Thunderbomb can't beat it double belly to back exploder suplex
Sami Zayn should watch out because Cesaro will yeah there it is
Kevin Ownes trying to take what he claims is his!
Miz is doing great! Kevin Owens is awaking any moment he'll be awake
Nice double outside dive
Quick double team by Miz and Cesaro
I'm doing very good in predictions hopefully I can get them all right so lets go Sami Zayn!
Oh I see what they are doing History
What was that!
This will be off the chain
Everybody quite on the set its the Miz
Sami Zayn skipping his way to the ring
His suits are great pitty he just throws them away
Now Cesaro comes out making his way to the ring
Kevin Owens is making his way to the ring first
Can't wait for this! Fatal Four way up next this will steal the show
Money in the bank Promo Yes!
AJ Styles annoyed by Renees Question
Still your W W E world tag team champions THE NEW DAY
Huge outside spear and A knee by Woods
My heart just skipped a beat
No way this going to happen
Adain English just hit Seth Rollins one night finisher
Huge splash by Big E
The build for the hot tag is on! Lets go!
This match mostly Adain English
Well thats a surprise Kofi is staying by ringside for this bout
Here come the Vaudevilles
New Day getting the crowd fired up
Gosh Big E let him shoot his shot
The time machine is gone forever
Sam Roberts!
Its an NewDay
That victory was cheap he should have gotten a DQ
Kalisto is hurt tapping out and Rusev is your new US champ
Kalisto hit the apron hard on the outside
Kalisto makes flipping look like its as easy as walking
Into the steps Kalisto sends Rusev and a nice Frogsplash into the ring
Kalisto creating some space makingsome game plan plants Rusev into the ground
I know this is off topic but I'll say it again when people chat CM Punk it isn't funny its just rude
Stong long bear hug by Rusev then a crushing knee to the spine
I want to point out that this is a normal match no stipulation
This doesn't look good for Kalisto
My god Rusev smacked Kalisto out of the air
Kalisto is all fired up will this be enough to beat Rusev
Its Rusev making his way to the ring
Rusev - Kalisto up next
Night has been off to a good start
Luke Gallows is angry as all hell
Yeah Gallows and Anderson pick up the victory with the magic killer
The ring bell got Uso splashed.
Jey Uso kicked off Karl Andersons head but Luke Gallows was there to keep things in order
Luke Gallows started a chain of false finishes with the Gallows pole
I hope to got its supposed to be like this
Karl Anderson held his ankle hard he's limping oh god!
Tower of doom but it was stopped
This match is on fire
That was a really cool boot of doom off the apron!
2 count for Uso
The outside comes in to play
So it kicks off! Uso's couldn't help themselves
Aw no war paint
Uso's Coming our way
We are going live people lets do this
Huge low blow by Baron Corbin ouch! End of Days stopped Dolph Ziggler in his ways
I don't know what that was but it ended up into Dolph Ziggler getting a near fall
A huge dropkick to Baron Corbin but a quick kickout into a deep six
Dolph Ziggler was tied in the ropes now toying with Dolph Ziggler
Baron Corbin tosses Dolph Ziggler over the ropes and into the post knocked fairly badly
Here comes the the show stealer Dolph Ziggler in cool tights
Now is the pre show match Baron Corbin makes his way to the ring now
Do you think AJ Styles will capture the title tonight
Aj Styles - Roman Reigns video package
Rusev is killing it with Lana in this my god this is great
Rusev Q&A don't worry people Rusev has called his mom
Fatal Four way talk now
Get that man an oscar
The Miz being Awesome as always doing a great promo
Big Cass got brave but Dudley boys got the jump but Big Cass quickly got back on top of them
New Jersey really like their foods How you doing
Big Cass is here so How you doing
Bubba saying the truth sorry Apllo Crews
Dudely Boys in the ring talking about the good old ECW
I would like to say thank you for tuning in and speculation has came about early today after WWE Superstar Seth Rollins was spotted in a hotel
Paige calling it like it is
Overall it is a strong card full of feuds that have been built well to reach this point and we should be in for a fantastic night of wrestling.
This match is for the WWE World Heavyweight Championship and will be off the wall insane with the amount of spots and big moves on the show, lets hope for the sake of pointless argument Roman hits at least seven hundred and fifty spears on AJ Styles if he is to go over. This match will be interrupted by The Club quickly followed by the Uso's or even the match starts with AJ and The Club but quickly The Bloodline attack and get the jump on The Club. This match will be a crazy fight ending with an RKO out of nowhere from a return out of nowhere by Randy Orton or a Sister Abigail from a returning Bray Wyatt to AJ Styles to end the night off. Or maybe The Club, Karl Anderson and Luke Gallows turn on AJ Styles costing him the title starting a feud with them for the long awaited main roster debut of Finn Balor.
Prediction- Roman Reigns
WWE World Heavyweight Championship Match: Roman Reigns (c) - AJ Styles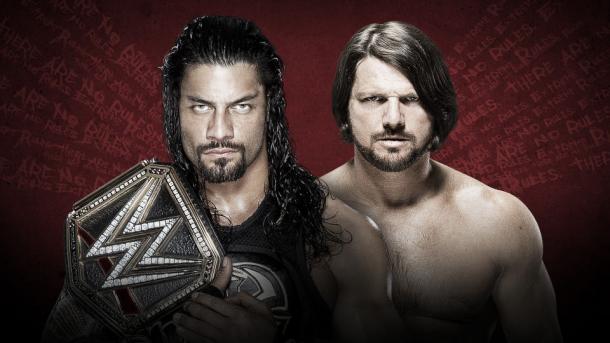 This Asylum match is the thing that turned the most heads and has the most excitement poured into it because it's new and that is why it has the most to lose because the new gimmick matches are always trying to fix the problems that happen in it. No one really thinks it will become a regular match anytime soon but this match really has a lot riding on it. Speculation has built to say this will be Chris Jericho's send-off match in this current run with the WWE but who really knows at this point as he has teased leaving a few times now so speculation stays just that. This match won't be brutal as it could be as many of the weapons will be either teased or tossed on the outside of the Asylum.
Prediction- Chris Jericho
Chris Jericho - Dean Ambrose (Asylum match)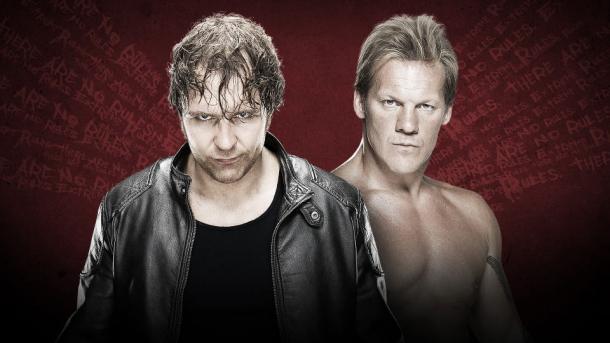 This match is for the WWE Tag Team Championships and will be a great showing of how the New Day can play into having a third member but I think it will be stalled by the return of Enzo Amore to grab some revenge. The New era of the WWE won't grab the WWE Tag Team championship's tonight and when it is all said and done the New Day will stay the champions and the Vaudevillians will return to the bygone era.
Prediction- New Day
Tag Team Championship Match: New Day (c) - The Vaudevillians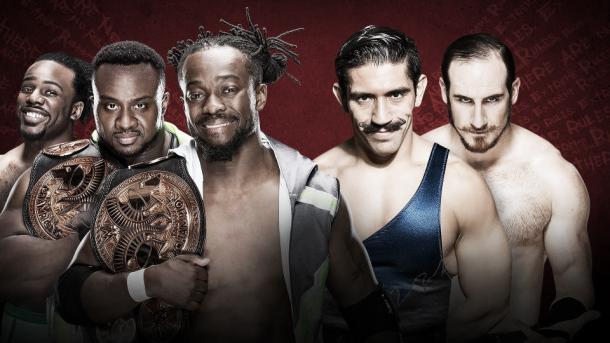 This is a women's submission match and Ric Flair is banned from ringside if he comes down to ringside Charlotte is stripped of the Women's Championship. This match will be a great show to remind us how good these women both are every one of their past matches are incredible. It will be one of the longer matches of the night with a new Women's champion when the final bell rings.
Prediction- Natalya
Women's Championship Match: Charlotte (c) - Natalya (Submission match, if Ric Flair interferes Charlotte loses her belt)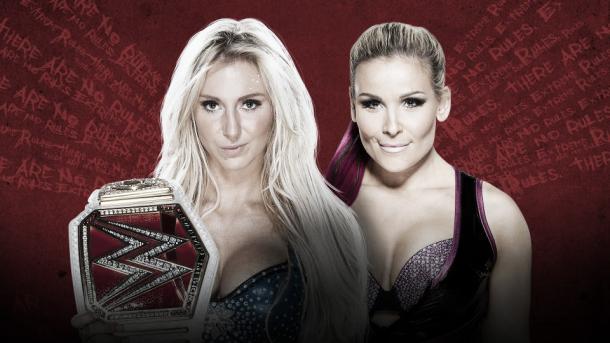 This match has a lot of steam from a storyline perspective as it took a real turn last Monday on RAW when Rusev attacked Sin Cara and broke Kalisto in half leaving people to fear the worst regarding Kalisto's United States title reign. This match will highlight the best of both men with the way it will go how being an angered fired up underdog who is battling with an injury due to his rival. This match will end with Rusev victorious for two reasons for which speculation of both has been in the air all week. The reason for the black mask on Sin Cara is he is going heel but that isn't anything new as it was reported on months ago but nothing ever came of it. The second one is Rusev will be taking the title for a return feud with John Cena (It is also speculated John Cena will win a title upon his return)
Predictions- Rusev
United States Championship Match: Kalisto (c) - Rusev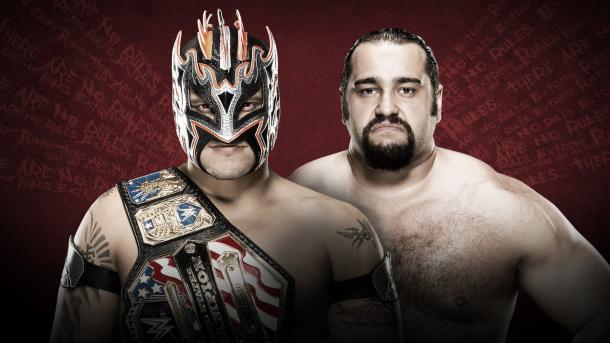 This match is for the Intercontinental Championship and will be the show stealer as the outcomes of this match are almost endless with maybe two returns or an outsider getting the spotlight he doesn't want to go away because the other thing he is doing he really isn't enjoying it. This match has Sami Zayn, Kevin Owens, Cesaro and the Hollywood A-lister, The Miz with these men we will see an amazing match just think Cesaro vs Sami Zayn during the match, history speaks for itself.
Sami Zayn facing off against Kevin Owens again so much history and the Miz is amazing anywhere he's put. This match will come down to Sami Zayn and Kevin Owens. Zack Ryder is going to cost Kevin Owens the victory, bold statement I know but it makes sense. Zack Ryder will come down to Kevin Owens and take him out with revenge for his attitude towards him and also the fact he fought him two weeks ago for a spot in the match and he lost that. Zack Ryder should still be in the picture
Predictions- Sami Zayn
Intercontinental Championship: The Miz (c) - Cesaro - Sami Zayn - Kevin Owens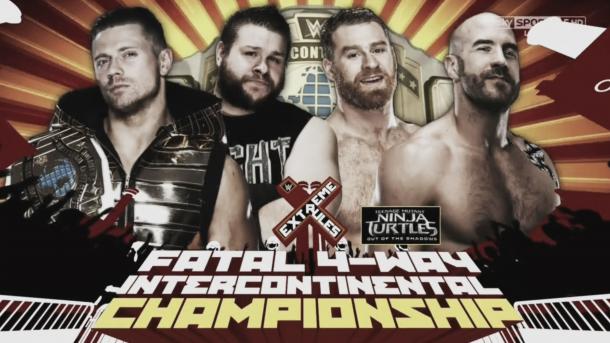 The will more than likely kickoff of the whole show with this match putting a big distance for the main event because you can believe that the four of these men will be involved in the main event someway shape or form. This is a tornado tag match and it will be a good match with nice spots with the problems these teams have had with each other expect to see stiff shots and brutality beat down on the two teams. The biggest question going into this match will The Club wear their war paint?
Prediction- Gallows and Anderson
The Uso's - The Club (Tornado Tag Rules)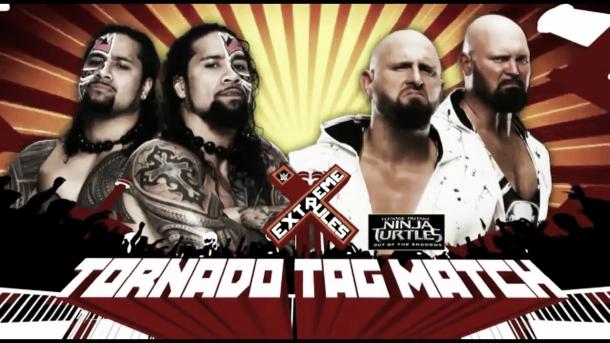 Now this match should really open the show but something has to be put on the pre-show to reel people in and grab last minute buyers and no better person than Dolph Ziggler as he can have a match with himself and sell out a building he is that good but the pre-show seems to be his grounds for the past year or so. This match is a no DQ match and the end of the feud which has been mostly built on SmackDown which is a nice surprise and really gives SmackDown a little bump that it needs to make it the B show it is.
Prediction- Baron Corbin
Pre-Show- Baron Corbin - Dolph Ziggler (NO DQ)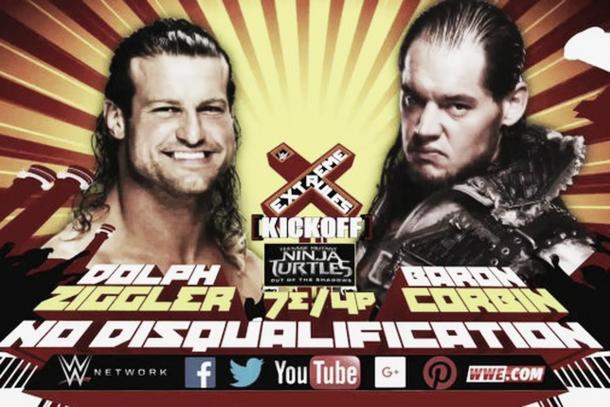 In the weeks that have built to the 2016 Extreme Rules Pay Per View, many things have happened that has boiled the blood of the WWE Universe some good and some bad. The speculation of what could happen during the event has changed a lot and if anything is to come from this IWC outburst towards the booking of this show is how angry fans are at the Blood Line for no right reason as the build has been perfect. From top to bottom this card is stacked with amazing matches from the pre-show to the main event it's a real treat.
Welcome everyone to VAVEL USA's live coverage for WWE Extreme Rules 2016, my name is Aaron Downey and I'll be providing minute-by-minute updates on all the action from tonight's show.