It's no secret that the majority of the WWE Universe are not fans of Roman Reigns and they are even less impressed by his incredibly strong booking with a large and vocal section of the crowds not taking well to his WWE World Heavyweight Championship run so far. At Extreme Rules, he defended the belt in a brilliant brawl against AJ Styles under the Extreme Rules stipulation and both men left it all in the ring for the entertainment of the fans.
Yet despite his best efforts, the WWE Universe continued to make their point clear chanting "Roman Sucks" and "You still suck" after impressive moves and WWE veteran Bubba Ray Dudley has taken to Twitter to voice his opinion on the matter.
You still suck
Whether fans want to admit it or not, Reigns' recent performances have been some of the best of his career (and let's not forget he was in the Shield) as he has put it all on the line to be an interesting and dynamic champion. He is quietly improving week by week both in the ring and on the microphone, the WWE Universe just don't all seem to see that as it's being drowned out by the boos.
During Extreme Rules, the unpopular champion matched Styles move for move putting on some impressive and devastating displays of power which were met with several "You Still Suck" chants, something that Bubba Ray doesn't agree with.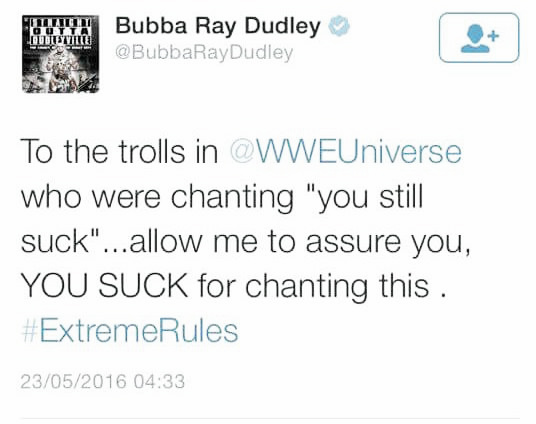 The Dudley Boyz member went to Twitter to address his feelings stating, "To the trolls in @WWEUniverse who were chanting "you still suck"...allow me to assure you, YOU SUCK for chanting his. #ExtremeRules".
It's fair to say Bubba made his point perfectly clear that he doesn't agree with the way fans are treating Reigns and whilst they are paying for the ticket and do have the right to voice their opinion, the chant itself is ironic. When fans chant that Reigns still sucks it suggests he has done something impressive to get such a reaction, which just goes to show Reigns might be winning over his biggest critics after all.