Recently several WWE talent has been released from the company, whether it was WWE's decision to terminate the wrestler or the wrestlers choice. One talent who is reported to have requested a release from his contract is Adam Rose. The timing of this release is no surprise but whether or not Rose requested his own release is suspicious.
Deep Water
Adam Rose has been in deep water with WWE these past two months, starting with being suspended for 60 days from the company after violating the company's wellness policy. Rose then tried to get out of the suspension after making it known to the public that he was taking prescribed drugs and had a doctor's note for them. WWE was not happy with this and Rose's next action would surely anger the company to the point of termination.
Behind bars
Weeks ago Rose was arrested for a domestic dispute which would lead him to be charged with a misdemeanor domestic battery and felony tampering with a witness. The misdemeanor domestic battery incident with Rose's wife stemmed from an argument the couple was having in their home. The felony tampering with a witness charge is a result from Rose knocking the phone out his wife's hand to prevent her from calling the police.
Rose was released from custody days later. During the hearing Rose's wife pleaded with the judge not to follow through with the charges. Rose's wife decided to drop the charges so that her husband could help raise their children, one of which suffers from a rare condition. The judge agreed to follow through with the charges but ordered Rose to attend anger management.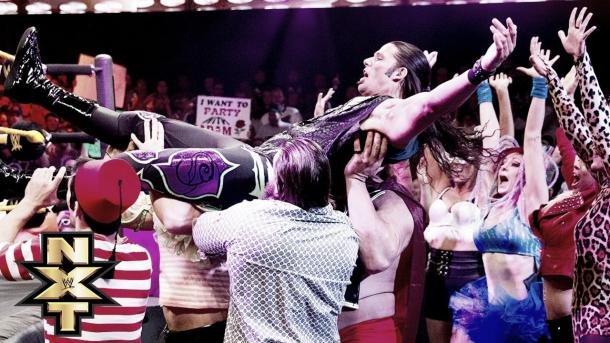 When word came that Rose had been arrested WWE didn't wait to say that Rose was now suspended indefinitely. This couldn't be set forth since Rose was still under the sixty-day suspension. Given that said, Rose's latest request of release leads the suspicion that it wasn't what Rose wanted and maybe he was forced to do it.
All the best
At the point of being released from custody, it was clear where WWE stood with Rose. So instead of being fired Rose probably saw that asking to be released was a better way to go. There is no confirmation on that theory that Rose was forced into asking his release only the facts. The facts are that Adam Rose requested a release from the company and the WWE granted his request. WWE wishes all the best on Rose's future endeavors.