On May 20th 2015 Hideo Itami was scheduled to face Tyler Breeze and Finn Bálor in a #1 Contendership Triple Threat at NXT: Takeover Unstoppable. This was going to be the biggest match in Itami's WWE career to that point.
Itami misses out on huge opportunity
However just before the event Itami was allegedly attacked backstage and suffered a shoulder injury. While never explicitly stated the footage revealed that Kevin Owens was nearby during the attack but we never found out who attacked him. The decision was not taken lightly as Itami had suffered a legitimate shoulder injury, which required surgery and was expected to sideline him for six months. This made the match a singles match which Bálor won to earn a title match. However in January of this year it was reported that Itami had suffered complications with the shoulder injury and was now going to take longer to heal that first thought.
Hideo to return sometime in June
News broke earlier in the week that Hideo Itami is expected to be returning to WWE within the next few weeks. Itami has been out of action for 13 months following shoulder surgery and long-term rehabilitation. It has been a long road to recover for the Japanese Sensation who will return to a completely different line-up of superstars to the one that was there before his injury.
What is next for the Japenese Sensation?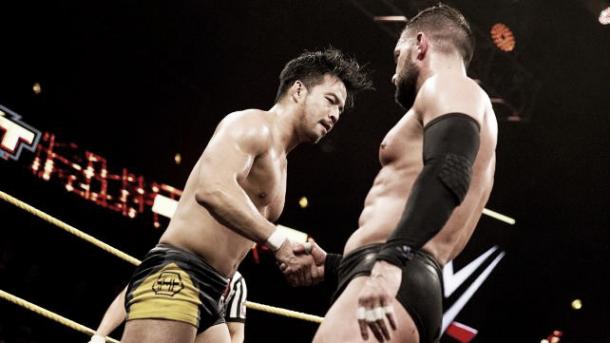 When he returns surely he will look to go after the person that attacked him more than a year ago but just who could be responsible for the attack. Well the most obvious candidate is Finn Bálor who won the match and may have attacked Itami as he felt that a triple threat may have been too much to handle.
Another good choice would be Kevin Owens as he was seen on the video in the vicinity of the attack. Owens may have done this knowing that Itami may get a future title shot against him. Owens may also have been preemptively attacking a potential challenger.
Is Itami Main Roster Ready?
However the problem with that is both these superstars could be on the main roster when he returns and the question that is on the minds of all WWE fans is would the company put Itami straight up on the main? Many believe that this is what they should do as it would be pointless to put back down in NXT as he may have lost some of the steam he had been building up before his injury a year ago.