According to NoDQ.com and other news outlets, the Ticketmaster website no longer lists NXT Takeover: Brooklyn in upcoming events. The site still lists the SummerSlam pay per view and the next night's RAW for the Barclays Center. Ticketmaster originally advertised the Takeover event with the other two shows.
More than a coincidence?
The report attempts to connect these events with the name change of the next WWE Network special. According to NoDQ.com, the company changed the name of the upcoming live show from "Revenge" to "The End". The title change likely references the main event, a steel cage match between Samoa Joe and Finn Balor for the NXT Championship, billed as the last in their feud. However, the report notes the coincidence of the shift in title happening the same week that news of a brand split broke.
A standard of excellence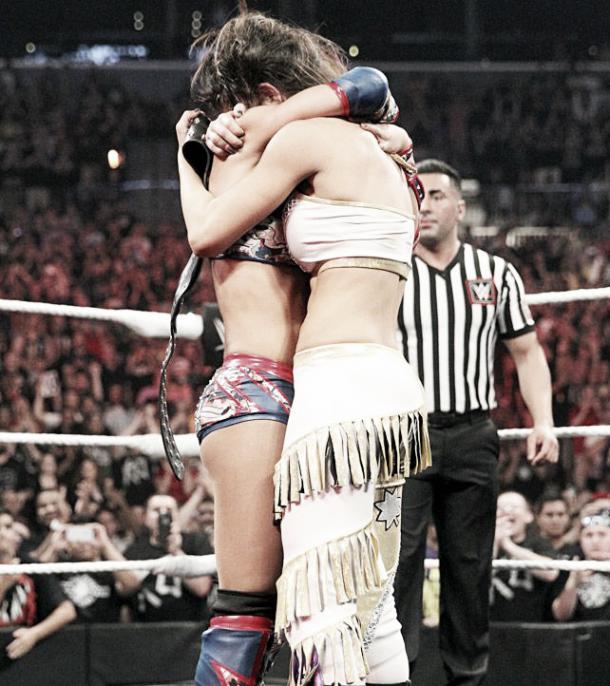 The live NXT specials have received high praise from fans and journalists alike, lauding the paying off of well-built feuds and the work rate of the wrestlers. A number of classic matches took place on these specials, starting with the very well received 2/3 falls match between Sami Zayn and Cesaro at NXT: Arrival in February of 2014. The following Takeover specials failed to disappoint, producing classics such as Natalya vs. Charlotte, Zayn vs. Adrian Neville, and two gems courtesy of Sasha Banks and Bayley, their last match, an Iron Man match, slotted in the main event for the first time on a WWE SuperCard. The women's matches held on the Takeover specials helped jumpstart the current women's division on the main show, showing they can be more than the objects of men's desire. The NXT Takeover: Dallas show featured a legitimate match of the year contender in Zayn and recent signing Shinsuke Nakamura. Some could say the NXT specials are better than many of the main roster events.
What's NXT?
The lack of listing for the NXT show in Brooklyn might mean nothing, Ticketmaster could advertise it again anytime between now and August. That being said, with news of separate rosters for the two main shows, the name change of the next special and the promotion of former writer Ryan Ward to SmackDown could indicate a shake-up to the developmental brand. Many of the top talent in NXT like Joe, Balor, Bayley, or Asuka may move up as well. Should a mass call-up occur, Triple H and company may decide to focus less on the veteran independent talent on the wrong side of 30 and more on cultivating the next generation for the next level, in essence using the farm system as just that. On the other hand, there is plenty of great young talent in the indy's, some who are competing in the upcoming Cruiserweight Classic. If many of the NXT mainstays leave, there's nothing stopping Helmsley from scouring the globe to replenish the Full Sail cupboard.