 Former world silver medalist and 2012 Olympian Larisa Iordache has revealed she is near 60 percent on a finger she broke in March. Iordache, who hopes to secure the one spot to represent Romania in the all-around at the Olympics, will hope for a good showing at the Romanian Gymnastics Championships to punch her ticket to Rio in less than two months time. The reigning world all-around bronze medalist expects to be at 75 percent for the Romanian Championships running from July 1st to the third.
Iordache on her recovery from a broken finger
In a recent interview with a Romanian sports website, Iordache said on her broken finger, "At the moment I'm like 60% of my potential. I started training on bars again and I'm hopeful that things will go fine in the future. I practice twice a day on all four apparatus. The most important thing is that I don't feel pain on my hand anymore. I can keep the hand on bars and put it down on beam. While I couldn't use my hand, I had a lot of time in the gym," added the two-time world all-around medalist.
The Romanian, who is considering the biggest threat to America's Simone Biles, said, "I'm going to compete on all four apparatus, but I'll have an easier and more safe exercise on uneven bars," Iordache said on her social media. "If everything is going right, the Nationals will be the last part of my preparation to Rio. Until leaving to Brazil, I'll be on my best form."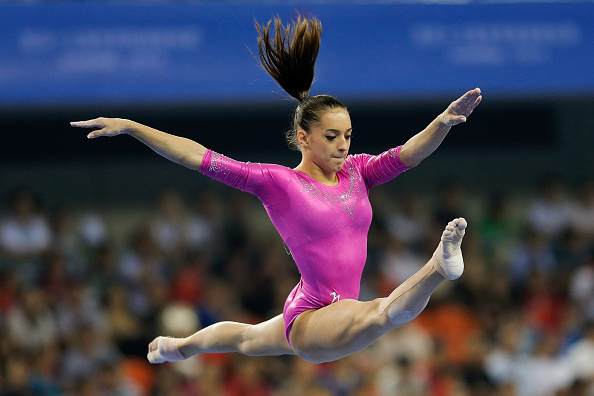 On her competition at the Romanian Gymnastics Championships between her and two-time Olympian Catalina Ponor, the 2014 world floor exercise silver medalist said, "I said, I think the best must win. It's not like a competition. We support each other [herself and Catalina Ponor] and I'm very sad because the situation is how it is... that only one is going to Olympics. I think we both deserve to be there," concluded the 2012 Olympic team bronze medalist.
Iordache's chances for Rio
Due to a stunning 13th place performance at the 2015 World Artistic Gymnastics Championships in Glasgow, Romania failed to qualify a team for the Rio 2016 Olympics, meaning they were forced to compete at the Rio 2016 Test Event, where they again placed low, this time seventh, meaning they would not be sending a full team to the Olympics for the first time in 40 years.
Due to Iordache's impressive third place all-around performance, Romania earned one all-around spot, meaning a battle between Iordache and fellow London 2012 team-member Catalina Ponor ensues. If Iordache is at full health, she should be selected as the one to represent Romania at the Olympics, but Ponor certainly is capable of sneaking in if Iordache is less than 100 percent. Former London 2012 bronze-medal team members Diana Chelaru and Sandra Izbasa both retired from elite gymnastics in 2013 due to various injuries.