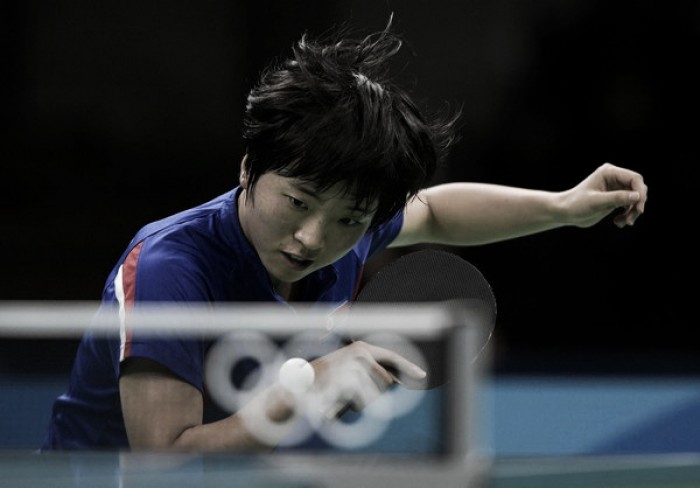 Japan will see Kim Song-i in their nightmares.
Vying for their first table tennis singles medal, and their second medal overall, Japan was stopped short in the bronze medal match for the second straight Olympics, as North Korea's Song-i did the honors, taking out Ai Fukahara in five games, 11-7, 11-7, 11-5, 12-14, 11-5. Song-i, ranked 27th in the Olympic field, picked up her third upset over a Top-10 player, - Fukuhara was ranked sixth - two of which came against Japanese paddlers. The North Korean, who celebrated her 22nd birthday on Wednesday, also defeated #4 Kasumi Ishikawa in the third round.
On Wednesday, hours after a tough semifinals loss to #1 Ding Ning, Song-i, the birthday girl celebrated with a resounding victory over Fukuhara, dominating from the first serve and cruising to both victory and the bronze medal.
Song-i pulls away in Game 1
The bronze medal match was a tale of two very different players. Fukuhara is a natural attacker, loving to smash her way to victory with hard, fast shots. Song-i was probably the best defensive player in the field. She plays back from the table for most of each point, then coming close when she senses an opening for a quick attack. She returns each shot with a healthy dose of backspin, which can frustrate offensive players like Fukuhara.
In Game 1, both players looked very good over the first eight points, which resulted in a 4-4 tie. However, gradually, Song-i began to take control. Her defensive style constantly frustrated Fukuhara who tried to shorten lengthy rallies that often took 20+ volleys to complete. The Japanese paddler looked impatient and unwilling to wait through such grueling rallies, trying to smash low shots with backspin, often resulting in the ball slamming into the net for a point in favor of the North Korean. Song-i took the lead for good at 5-4, but it was still close at 7-6 when the underdog pulled away with three straight points. Twice, Fukuhara tried to smash shots that weren't good for her style, and she was forced to lift them, sending two smashes long of her target. Staked to a 10-6 lead, Song-i wasted one game point, but she would finish the game with a slicing backhand winner for an 11-7 victory.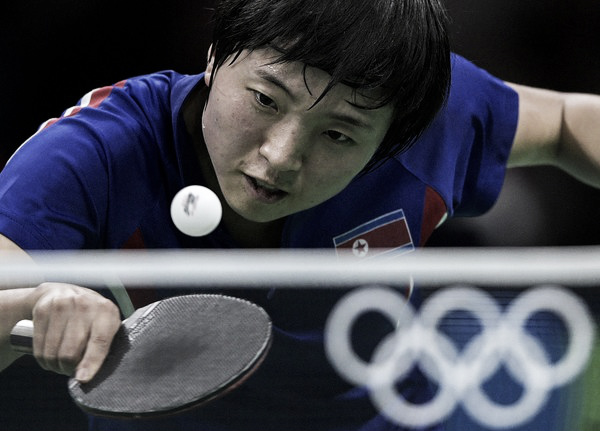 Song-i uses two highlight reel plays to secure Game 2 win
Once again, in Game 2, Fukuhara stayed close with Song-i for half of the game, but the attacker grew impatient and made ill-advised shots. That, paired with a couple of sparkling plays from the North Korean sparked Song-i to victory in Game 2, 11-7. The game tied 6-6, Fukuhara sent what looked like an excellent forehand winner to Song-i's right side. However, reaching far to her right, Song-i got the best part of her paddle on the ball and sent it scorching right back at Fukuhara, who was unprepared for the sharp return, giving Song-i the lead for good. The North Korean padded her lead on the next volley when she took a step and reached far to her left on a Fukuhara smash, lifting the ball up from almost below the table and sending it back to the Japanese with an amazing amount of backspin, given the difficulty Song-i had in even reaching the ball. Sensing an opportunity for a momentum-changing smash, Fukuhara rushed and spiked the ball into the net. The opponents split the next two points before Fukuhara made two errors on smashes on the next two points to give Song-i a 11-7 victory and 2-0 lead.
Song-i dominates Game 3; forces Fukuhara into corner
Game 3 was no contest from the start. Looking fatigued from playing two games against Song-i's energy-draining style, Fukuhara surrendered the first three points, two of which came on attempted smashes that went wrong for Japan's second-best player. Down 3-0, Fukuhara gained one point back on a rare error from Song-i, but Song-i rebounded to score six straight points and take a commanding 9-1 lead. Four of those six points came on stray smash attempts from Fukuhara. Song-i also benefited from some luck halfway through the hot streak, as her slicing backhand tipped the top of the net, hit the edge of the table and bounced off the playing surface, well out of reach of her opponent. Down 9-1, the game virtually decided, Fukuhara finally got hot, scoring four of the next five points. However, it was much too late as her hot streak closed her to 10-5, still too far out to be considered a viable comeback. Sure enough, Song-i drew Fukuhara into a 28-shot rally, polishing off the game with a flourish that was a hard forehander that was simply too fast for Fukuhara.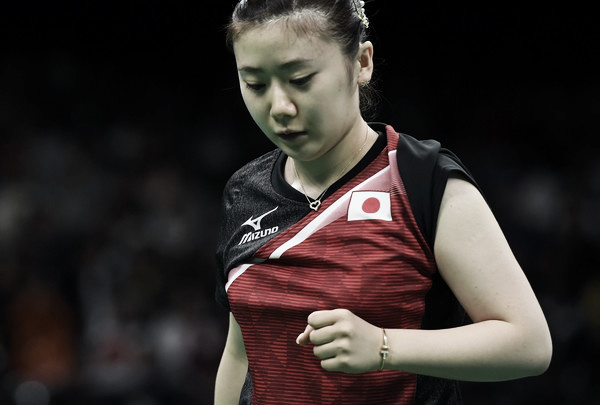 Song-i forces 5 game points but falls in Game 4
In easily her best game of a disappointing day for Fukuhara, the Japanese paddler, who scored just nine points in a four-game sweep earlier that day, played offensively all game, staying in the lead after overcoming an early 2-0 deficit. Song-i won a grueling 43-shot rally to begin the game, but that was the high point of her lone loss of the match. Fukuhara took four straight points for a 4-2 lead, earning the points with a pair of smashes and a pair of errors on Song-i's part. The North Korean returned with two straight points to tie the game at 4. After that, Fukuhara could not pull away, gaining a one-point advantage, only to see Song-i get the point back.
The two paddlers went back and forth, the game eventually ending up knotted at 8 points apiece. Fukuhara proceeded to sweep her serve on two excellent shots that produced forced errors from Song-i. However, Fukuhara could not capitalize on two game points, as Song-i served to stay alive and did so on two errors, one forced and one unforced, from Fukuhara. Fukuhara took leads of 11-10 and 12-11 but could not close her third and fourth chances at game point. Finally, after garnering another advantage of 13-12, Fukuhara sent a hard forehand winner that bounced harmlessly off of Song-i's paddle, ending the game.
Song-i cruises in Game 5
After the lengthy Game 4, Fukuhara seemed even more drained in Game 5, the long match with the defensive Song-i really catching up to her. She surrendered an early 2-1 lead and didn't look the same afterwards. A 4-4 tie quickly became a 9-4 Song-i lead as the North Korean took five straight points. First, Song-i redirected a hard forehand down the line, well out of the reach of Fukhara to take the lead. Song-i used two well-executed rallies to cross up Fukuhara and send her reaching uselessly across her body, her attempts futile. Song-i then expertly defended a Fukuhara smash and the Japanese player sent her next smash long for a 7-4 Song-i lead. Fukuhara returned to old habits on the next volley, prematurely attempting a smash and watching it hit nothing but net. Song-i than uncharacteristically whiffed on her next smash attempt, cutting the deficit to 9-5.
Song-i made a big-time defensive play on a Fukuhara smash, sending a hard return down the line that slowed the pace down as Fukuhara had to work back to the middle, eventually playing close to the net and floating a shot just wide from close range. On Bronze Medal point, Song-i didn't mess around, lofting a floating return that hit the edge of the table and shot off, towards Fukuhara's feet, where the Japanese player had no play on the ball, ending the match.