 The Great British athletics squad from the Olympic Games in Beijing eight years ago, after the samples for Russia's Maria Abakumova and Denis Alexeev, have tested positive after further sample analysis.
Goldie Sayers, who originally finished fourth in the Javelin final, is set to be upgraded from fourth to bronze, whilst German Christina Obergfoll is set to be handed the silver medal when Abakumova is stripped of her medal.
Meanwhile, Denis Alexeev's positive test means that himself and teammates Maksim Dydlin, Vladislav Frolin, and Anton Kokorin, are set to be stripped of the bronze medal, with the British quartet of Andrew Steele, Robert Tobin, Michael Bingham, and Martyn Rooney due to be upgraded to third place.
Confirmation of Abakumova's offenses
It was reported earlier this year that Abakumova, whose throw of 71.99m at the 2011 World Championships to win gold currently makes her the second longest thrower of all time, had tested positive following further analysis of her sample, though this official confirmation of her positive test for turinabol, and other allegations, means she is likely to lose all her results from the past eight years.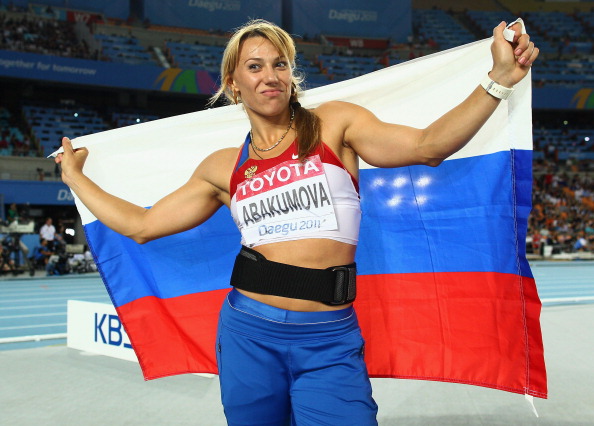 The news will be bittersweet for Sayers, who has never won another international medal in her career but has always publicly taken a strong anti-doping stance. The Briton's throw of 65.75-meters in the Olympic final eight years ago was the longest throw to not medal in the Javelin in Olympic history since the redesign of the spear, and would have seen her medal in any other Olympic games since the change of the Javelin.
Alexeev's test means another medal lost for Russia
In Beijing, Alexeev led the Russian team home as they set a new National Record of 2:58.06 to finish behind America and the Bahamas, and less than a second of the British quartet who agonizingly came in fourth.
However, following Alexeev's positive test, the whole team will be stripped of their third place and medal, just as how Alvin Harrison, Calvin Harrison, and Michael Johnson were stripped of their Sydney 2000 gold medals in the same event follow the discovery of Antonio Pettigrew's use of performance-enhancing substances.
Two more Russians banned retrospectively
Two more Russian Olympians have been sanctioned following doping offenses in past Olympics.
10,000-meters runner Inga Abitova has been sanctioned following a retest of her sample from Beijing, whilst track cyclist Ekaterina Gnidenko has been punished after her sample from London 2012 tested positive.