2016 was a hit and miss year for WWE's new focus on cruiserweight wrestling, one one hand you had the CWC which was arguably the best thing the company did last year, on the other is how the cruiserweights have been handled since then, barely getting TV time and feeling very disjointed on Raw. However, in the early outset of 205 Live, there has been some promising signs for the high flying wrestlers, with storylines now being told and characters starting to burst out of the performers the future is looking bright.
Tajiri - Sean Maluta
The first episode of the year kicked off with the 205 Live debut of WWE legend, Tajiri, who faced a former CWC competitor who has also been used occasionally in NXT, Sean Maluta. The Japanese Buzzsaw took control early on, only for the younger Maluta to use his strength to get back into the match with some sharp shots.
Maluta was caught out and locked in the tarantula by Tajiri who then unloaded a series of sharp kicks and a back spring back elbow before a huge kick to the head to pick up a comfortable victory on his return to WWE.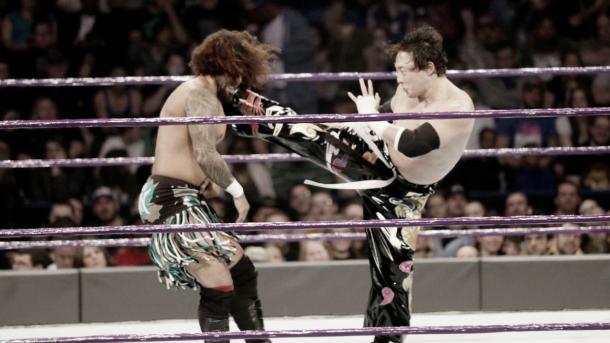 Analysis: It was good to see Tajiri back in the WWE, the division can use people like him with name recognition and experience to help the younger talent develop, the result was always going to be this way to establish him as a threat early on.
Following the victory another of 205 Live's more experienced wrestlers, The Brian Kendrick made his way to the ring to welcome back Tajiri. Kendrick got into the ring, stating how good it was to see him and he went to shake his hand only to receive the classic green mist to the face.
Analysis: Great to see the mist back, putting these two together for a short feud could be a fun nostalgic moment.
Jack Gallagher - Tony Nese w.Drew Gulak
Jack Gallagher spent the early moments using his trickery to escape several submission holds which proved to frustrate Tony Nese who began to show a more aggressive side, which Gallagher also had counters for. After a dropkick sent Nese to the outside it would be Ariya Daivari who ambushed Gallagher and brought an end to the match as he beat down his rival.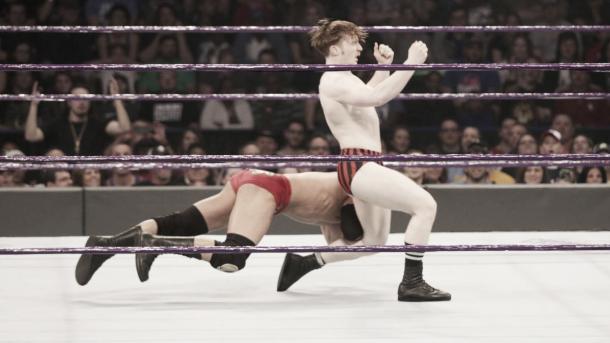 Analysis: This was more of an angle than it was a match but it was effective nonetheless. The feud between Daivari and Gallagher has been brewing nicely and is an example of what 205 Live has been doing well and this was a way for the heel to get some heat back following last week's duel.
Noam Dar - Mustafa Ali
After a brief backstage segment where Cedric Alexander told Alicia Fox to be more careful at ringside during his matches, his love rival Noam Dar was out for action against Mustafa Ali. After a back and forth start a spinning heel kick to the nose of Dar put Ali in the driving seat as the match spilled to the outside where Ali would hit a huge forearm.
However, after trying to get back into the ring the younger Dar would take advantage with a dropkick and then began to work on his opponents arm with Ali hitting a tornado DDT to get a break, a move which would also take a great deal out of his own arm. Ali dove through the ropes and rolled into a neck breaker in what was a very impressive move, but Ali was caught out when diving to try take out Dar again and was locked into an armbar which he managed to escape. A huge kick by Ali followed by an inverted 450 splash allowed the babyface to pick up the victory after a competitive match.
Analysis: That was a fun back and forth match which highlighted both guys talents, another victory for Ali who makes it two in a row as he begins to climb up the ranks of the division.
Neville - TJ Perkins
The main event saw the Jacksonville crowd wake up from their slumber as two of the division's biggest names, Neville and TJ Perkins clashed. After both men took some time getting a feel for the match the former Cruiserweight Champion used his speed and agility to take advantage, sending Neville outside the ring to regroup. The Englishmen suckered Perkins in and began to show his aggression and power before hitting a dropkick from the top rope.
After missing a twisting 450 splash an opening was provided for Perkins who began hitting some fast strikes before sending Neville to the outside and hitting a corkscrew. Perkins then went to the top rope and hit a diving crossbody which wasn't enough to get the job done and neither was an incredible springboard frankensteiner, showing the strength that Neville has.
Perkins then aimed for the knee bar but was caught by an incredible feat of strength as Neville countered it into a suplex, showing just how easily he can dominate this division with his power. Up on the top turnbuckle both men traded sharp kicks but it would be Neville who got the best of the situation, eventually hitting the superplex to pick up the victory and continue his winning streak.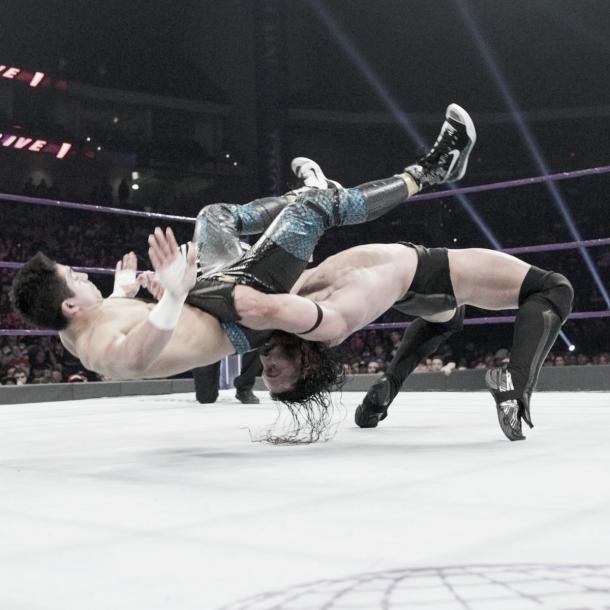 Analysis: A very good main event match between two of the very best athletes on 205 Live, the way Neville is being booked is exactly what he and the division needed, but it was also an impressive showing from Perkins who is much better in this more serious role than his forced gaming character. Another victory for Neville continues to push him as the dominant force on the roster and whilst this wasn't quite on the level as his match last week against Rich Swann it was the standout on the show.
Star of the night: Neville- His stock continues to rise as he shows why he should have been placed in this division from the start, he adds the star power that is needed and has the talent to back it up, another great showing from the former NXT Champion.
Rating: 6.5/10- It was a solid episode of 205 Live with plenty of storyline progression which shows that if they are given the time the can make something work with this division. There was a couple of fun matches, particularly between Dar and Ali and the main event but once again the show is hurt by the live crowd who are simply worn out after sitting through an episode of SmackDown Live (especially this week's impressive show.) The cruiserweights would be boosted by being placed before the blue brand whilst the crowd is fresh as having more reactions during the show would make everything seem more important, however, there is no doubt WWE is moving in the right direction with this and it was a fun show to watch.