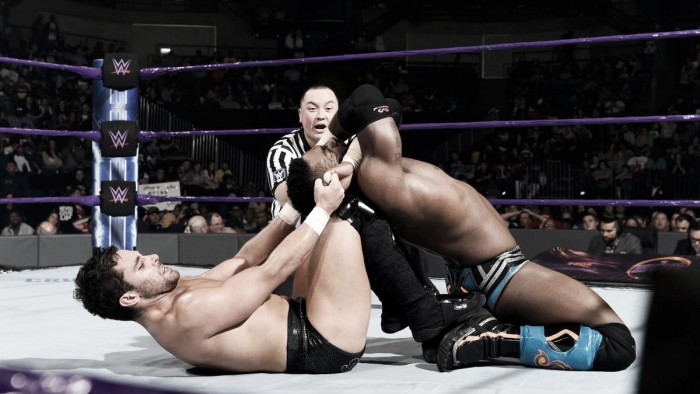 205 Live kicked off in a big way this week as the heated rivalry between Noam Dar and Cedric Alexander revolving around the affections of Alicia Fox continued when the two faced each other in the opening bout of the night.
Cedric Alexander w. Alicia Fox - Noam Dar
Alexander came out hot from the first bell after refusing to shake his opponent's hand and took the fight to Dar with several forearms that rocked the Scottish Supernova, sending him to the outside where Alexander would continue to hunt him down with further big forearm shots. Alexander was caught out after trying to bounce off the ropes with Dar hitting him with a sharp kick to the chest showing how well scouted both men are with each other.
Dar then took advantage of the situation and began to work on Alexander's arm with several submissions and holds as well as kicks all whilst Alicia Fox attempted to get the crowd behind her man. Dar then used the stairs to his advantage to damage the arm even further and trapped it between the stairs and the turnbuckle, but Foxy stopped him from crushing the arm and Alexander made the most of the situation, diving through the ropes to take out his rival before telling Fox to stay out of the situation as he has it under control.
After an incredible Handspring Roundhouse Kick, the highflying Alexander went to the top rope and aimed to hit a moounsault only for Fox to pull Dar out of the way, swerving her boyfriend who crash landed and tasted a sweet kick to the face to allow Dar to pick up the win.
Post-match, Dar attempted to hug Foxy and received a slap to the face as Alexander stormed away from her.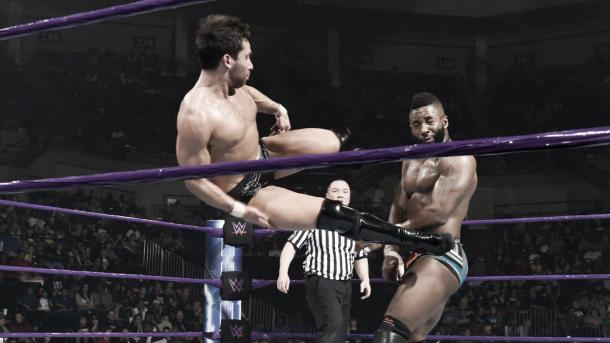 Analysis: This was a fun back and forth match that had plenty of good storytelling intertwined by using Fox well. Having Alexander tell her to stay out of the match was a good continuation of their personal story and Foxy helping Dar to win was a fun turn that seemed to be coming; Dar's focus on the arm throughout the match was well executed also, good start to the show.
A vignette was then shown for the debut of Tozawa with SmackDown Live star, Kalisto talking about his abilities whilst showing highlights of him in action.
Analysis: Tozawa is an incredibly gifted wrestler who is very different from everybody else on the roster and will really add to the 205 Live dynamic, fans should be excited to see him debut.
The Brian Kendrick - Sean Maluta
The former Cruiserweight Champion was out next and he cut a promo on the veteran Tajiri who sprayed green mist in his face last week, Brian Kendrick warned him that next time he sees him he will make Tajiri choke on the mist as he turned his attention to his opponents, telling him he wouldn't last 30 seconds with him.
As the action got underway it was clear Sean Maluta was ready for the fight as he attempted to score several early pinfalls to surprise the 'man with the plan' and then went on to dominate the match. Maluta hit an impressive apron dive somersault dive on Kendrick before a diving headbutt but it wasn't enough to put away the veteran.
After hitting the Shining Wizard it appeared that Maluta had a surprise win on his hands as he attempted to hit a Frog Splash, but the more experienced Kendrick had his knees up and quickly locked in the Captain's Hook for a submission victory.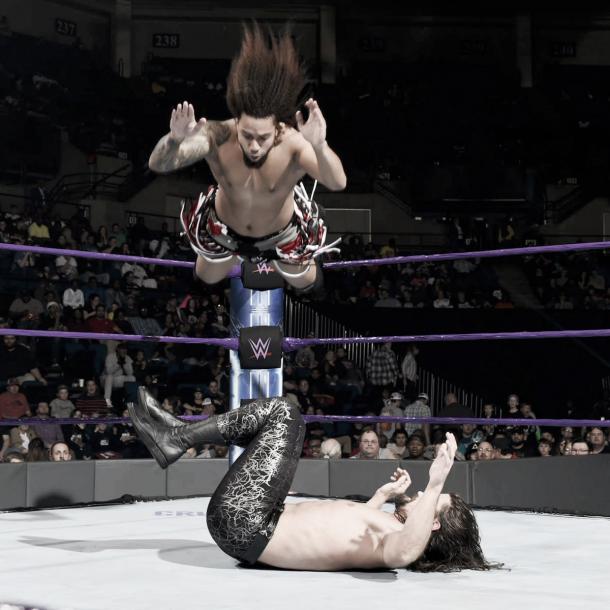 Analysis: The result was never really in doubt here as Kendrick if being built for a future feud with Tajiri which should be fun to watch. It was smart to re-use Maluta as he faced the Japanese Buzzsaw last week and he looked impressive in the ring, he's been used several times and it would be nice to see him earn a contract as he has good ability in the ring.
Jack Gallagher and Ariya Daivari meet in Parlay
The two rivals met in 'parlay' this week on 205 Live as the two continued their fun rivalry with another of Jack Gallagher's gentlemanly segments that set the two up for a future 'I Forfeit' match. Gallagher told Ariya Daivari that the pair have been playing silly buggers and it is time to end the feud with Daivari responding by letting him know he is not a gentleman and that he won't stop attacking him until he is a pasty white smear under his boot.
Gallagher then challenged him to an I Forfeit match which is essentially an I Quit match but with a different name to suit Gallagher's character and Daivari accepted with the two then brawling until officials split the pair up.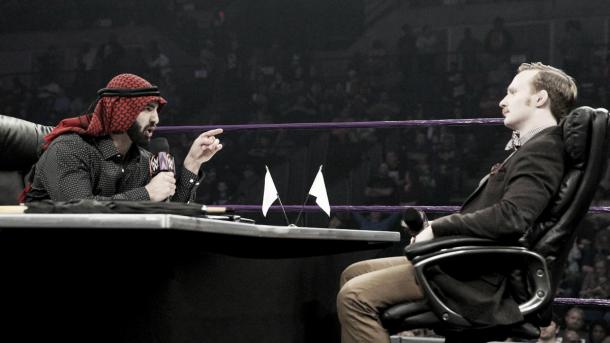 Analysis: This was an average segment that didn't quite live up to the gentleman's duel that they had previously, however, the set up for an I Forfeit match was good and it is nice to see them getting a big pay-off match that should main event a future 205 Live. Gallagher has a big future in WWE and it is clear they have plans for him as they continue to make segments and now match types to suit and build his character with the fans; this feud has been great for Daivari too.
Rich Swann - Tony Nese
The main event saw the return of Cruiserweight Champion, Rich Swann to 205 Live as he faced Tony Nese in a match that started off with the Premier Athlete on top and taking the fight to the champion, sending him flying into the barricade and following it up with a flurry of kicks that Swann couldn't handle (pun intended).After an amazing kick up bridge to avoid a kick, Nese once again used his speed with several kicks and a stomp almost getting the better of the champion but a tiger bomb and a kick to the face was enough for the champion to get the win.
Analysis: This match needed slightly more time as it only started to pick up towards the end, although it was a good showing for Nese who dominated the match it was always the champion winning on his return. Swann's finisher came out of nowhere and the fans barely reacted to it given how many kicks were being exchanged in the match which is something he might want to consider in the future.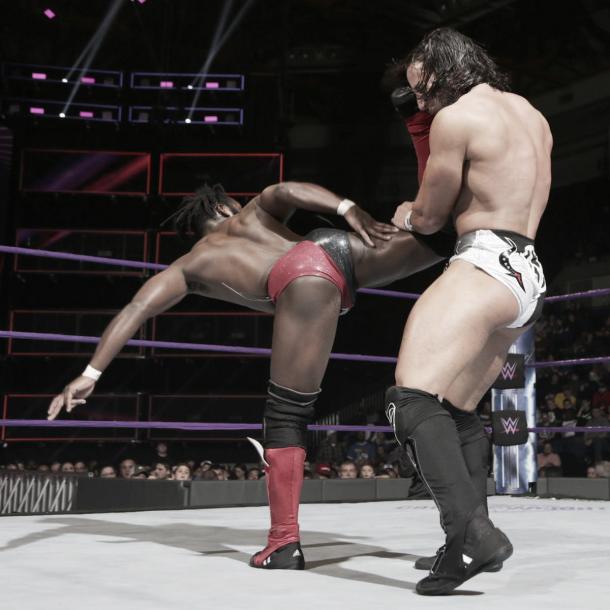 Post match Swann and Neville got into a promo feud with both men claiming to be the number one cruiserweight in the division as Swann said he is prepared to accept a challenge for the title at any time... Neville chose the Royal Rumble.
Analysis: Nothing standout was said by either man who have both delivered better promos in recent weeks, however, it is good to see the match set with time to build on both Raw and 205 Live, hopefully, they get on the main card as they certainly deserve it.
Star of the night: Noam Dar- It was a major win for Dar who has lost the majority of his matches since debuting and with the potential to now put Alicia Fox by his side the future could be bright for him.
Rating: 5/10- It wasn't the strongest episode of 205 Live this week with only the opening contest really standing out and the parlay segment not quite living up to its potential. The show was hurt by the lack of Neville who is the biggest star of the division and is someone who fans will react to in a big way but it was a good continuation of the three main angles on the show with good setup to move forward.