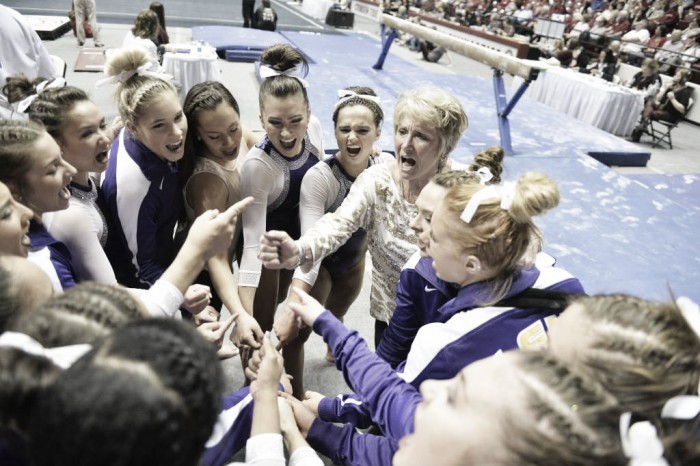 Looking for their second victory in two weeks LSU headed to Alabama. The #4 team were hosting the new #1 team, and the Crimson Tide were looking for their first win of the season.
Rotation one
The first rotation had LSU on the bars, whilst Alabama competed on the vault. Lexie Pressman was the highest scorer for LSU with an impressive 9.900, despite this, Alabama proved more consistent on the vault. Abby Armbrecht, Nickie Guerrero & Nickie Guerrero all scored 9.850 giving the Crimson Tide team the lead over the current number one team. At the end of the rotation Alabama stood on 49.200 with LSU on 49.175.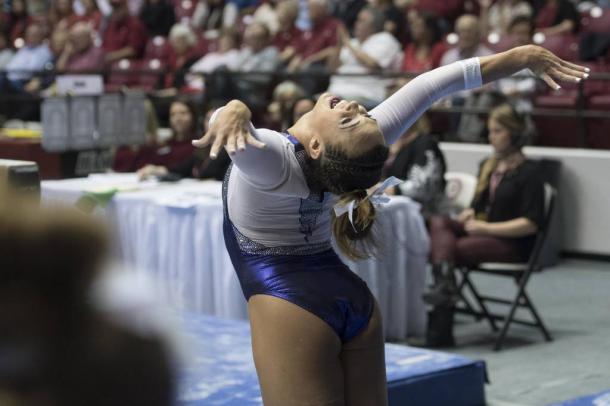 Perfect ten
Rotation Two saw the teams swap round, Alabama took to the bars, and LSU hit the vault. Kiana Winston landed the best score for Alabama with a very impressive 9.950. However, this was the best Alabama could muster. Their overall score on the bars was better than LSU had been with 49.250 (and an increase on their vault scores). LSU however, scored consistently well in the vault. The star on the apparatus was Ashleigh Gnat who scored a perfect 10.000. This helped boost the Number one team score on the vault to 49.600 and back into the lead for the meet.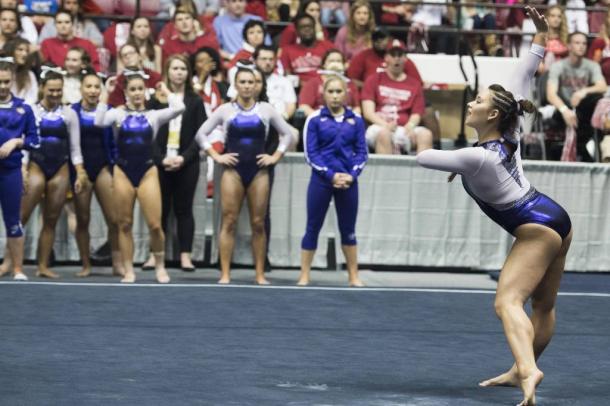 Rotation three
With Alabama on the beam and LSU on the floor the fight was very much still on. The beam is always a tricky piece, but Alabama managed to score consistently, Only Wynter Childers scored under 9.800 with a poor 9.275 LSU again scored consistently better, with every gymnast over 9.80. Gnat & Hambrick led the way again with 9.950 The difference at the end of this rotation was a mere 0.475 overall.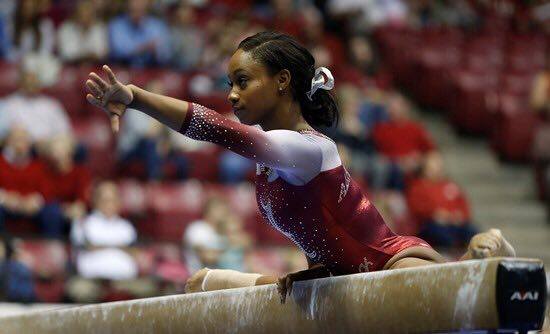 Final rotation
Swapping round for the final rotation, LSU took to the beam with Alabama on the floor. Winston led the way for Crimson Tide scoring another impressive 9.950 to equal her bars score. Aja Sims was next highest scorer with 9.900 for Alabama as Crimson Tide score 49.375 on the floor. The beam turned out to be the second worst apparatus for LSU. Despite Finnegan scoring highest for LSU with 9.925 the overall score for LSU on beam was 49.275.
This was enough for LSU to score the win overall as they totalled 197.575 to Alabama 197.100. Even though her team lost Dana Duckworth (coach for Alabama) was happy with the score. Improving on the week before Duckworth had plenty to take from the meet. With a bit of work on landings Crimson Tide should improve even more on their scores throughout.
DD Breaux coach for LSU was also happy with the team performance, stating that the team had done everything they were asked to do.