After making his return to the WWE just two weeks ago, WWE.com have announced that Tajiri has suffered a knee injury that is going to keep him out of action for an undisclosed amount of time which will be a major blow to the WWE's new 205 Live show.
The injury was sustained during a recent NXT taping when the Japanese Buzzsaw worked a dark match teaming with NXT Champion, Shinsuke Nakamura to take on Samoa Joe and Bobby Roode and the severity of the situation is unknown with the website just claiming the veteran has not been medically cleared to compete.
205 Live impact
Tajiri recently joined the 205 Live roster following his original return to the company with the CWC tournament and his veteran status and fan base was set to be a big boost to the show that has been met with a very mixed response since debuting. Tajiri was just starting to enter a feud with fellow veteran, The Brian Kendrick, spraying green mist on the former Cruiserweight Champion during his debut and finding himself on the receiving end of a verbal assault from Kendrick the week after, but it now seems that those plans might have to be put on hold.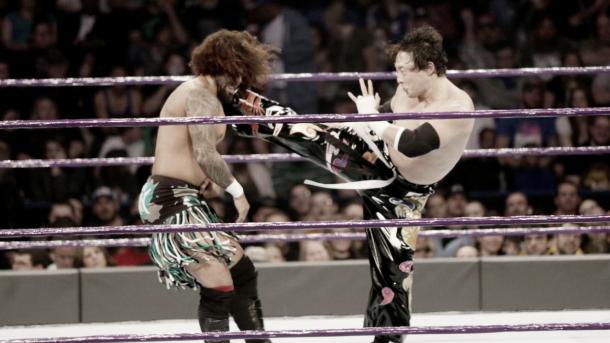 It has been reported that Vince McMahon hasn't been overly impressed with the new cruiserweight show and that is why he made the decision to bring Neville into the division to add some star power, a decision that has worked so far. Tajiri and Brian Kendrick were two other big names on the show that the fans already recognize as they have developed characters and Austin Aries is the next main star set to join the roster to continue improving the show and growing its star power.
Aries has been on commentary since the shows debut and has stated on air that he will be joining the roster when he see's fit, which in reality, is when is eye injury is cleared, and whether or not he will continue to work on NXT is unknown at this point.
For Tajiri, a knee injury at his age a knee injury could be a serious, career threatening problem, but until more information is announced nothing is clear.