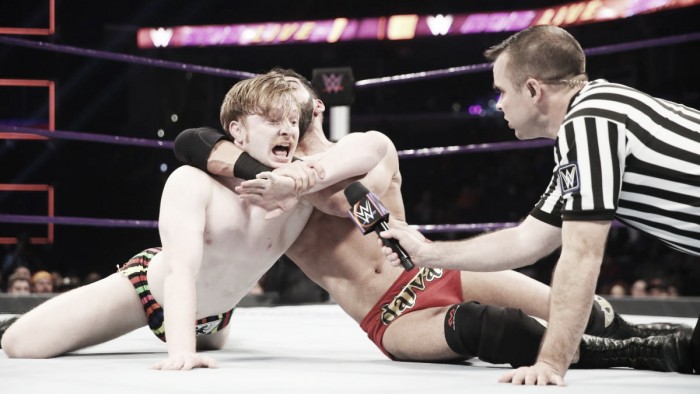 After an opening package looking ahead to the night's main event, it was time for the first match of the night which was scheduled to be between Drew Gulak and Cedric Alexander, although Alexander had an unwanted guest accompanying him to ringside in the form of Alicia Fox. After making it clear that he didn't want her at ringside, his love rival Noam Dar made his way down the ramp to comfort Fox who told Dar to make him pay; which he did by attacking him with the help of Gulak. Despite fighting off both men and hitting a suicide dive the numbers game caught up on Alexander and he injured his leg as Dar and Foxy went to the back together.
Analysis: It appears that this angle is not finished just yet, it seems like WWE doesn't quite know where they want this feud to end up or whether they want Fox as just a manager or acting crazily as she has of late; but it is good to see her being used for a change and it provides both men with an angle to work with.
Drew Gulak - Cedric Alexander
Despite limping around and being asked if he wanted to quit the match, Alexander agreed to fight and the scheduled match was on. Alexander started out strong hitting a dropkick and a roundhouse kick to his opponent, but both moves took more out of his injured leg than they did to Gulak and he focused on that by attacking the leg when Alexander was trapped between the ropes.
Even though he was working on just one leg Alexander continued to show fight as he back body dropped Gulak to the outside before hitting him with a spring-legged moonsault which almost got him the win; but after attempting his Lumbar Check finisher his leg would give out on him and Gulak took full advantage by hitting a chop block. He quickly followed that up with a belly to back suplex, straight into a bridge to get the victory.
Analysis: This was a decent match that was always going to be at a slower place due to the injury angle, but it was good to see Alexander selling the beatdown throughout the entire match, especially after hitting moves that affected the leg; most talent don't do that. It is good to see Gulak pick up a win as he needs some momentum behind him but he really needs some character work to develop him further as he is very bland at the moment; the loss didn't hurt Alexander too much due to the injury angle before the match.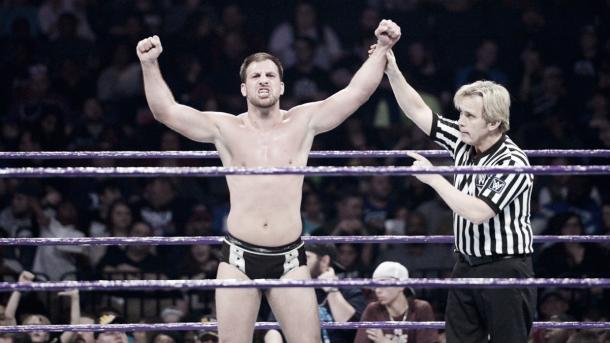 Up next was a video package for the upcoming Cruiserweight Championship match between Neville and Rich Swann with both men giving their thoughts on their opponents, looking back at their history as friends and to what turned Neville into the way he is now.
Analysis: This was a great package which should come as no surprise as these videos are something that WWE excel at. This has been the best build to any cruiserweight title match since the division was brought back so hopefully, they are given the time to put a good match together at the Royal Rumble. Both men did a very good job in telling their stories and it was refreshing to see Swann to a more serious tone, he should do that more. On a side note, Neville did this sit-down piece to camera promo in his ring gear, does he own any clothes? He has done all his backstage segments and interviews in his ring gear since his return; it's different and it works.
Mustafa Ali - Tony Nese
Prior to his entrance Tony Nese was interviewed about his opponent, Mustafa Ali, as he stated that he doesn't have to train differently for any opponent as he is the Premier Athlete and can deal with anybody. Despite his confident words Ali quickly grounded him and caught Nese' attempted kick, mocked his muscle pose and proceeded to hit him with a spinning kick. Ali then took slightly too long to follow that up and Nese made him pay, eventually having Ali hoisted between the ropes over the turnbuckle where the Premier Athlete would kick him and then catch him after the bounce before hitting a gut buster in a very smart and unique spot.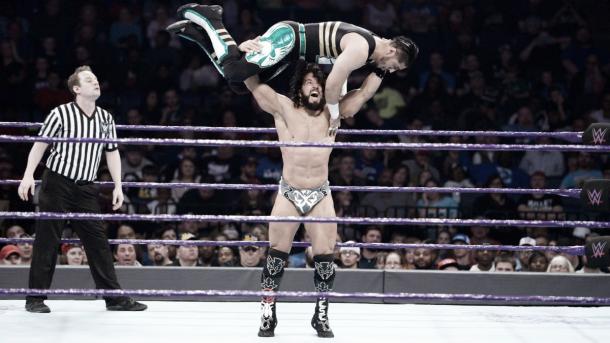 After a series of reversals a tornado DDT would see Ali come out on top, but Nese managed to power out before the three count and he quickly planted Ali with a German Suplex into the corner before a vicious running knee strike was enough to seal the win.
Analysis: That was a good competitive match between talented men who are just waiting on some character development and focus. Both men have been picking up victories lately so a win for Nese could signify that WWE has plans for him moving forward or this could be the start of a feud between the pair which would be good for both men.
Following that, we had a screenshot of a tweet from The Brian Kendrick who called Tajiri a coward, playing up on the Japanese Buzzsaw's real life knee injury and was a simple way of continuing this feud without either having to appear.
Analysis: The fact they are continuing this feud is a good sign that the injury isn't too serious, hopefully, Tajiri will be back soon.
This was then followed up by the latest vignette for Tozawa's upcoming debut.
Analysis: This week it was Apollo Crews who was talking about him, previously it has been Kalisto and Cesaro. WWE must think having main roster guys big up his skills makes him seem an even bigger deal, either way, you should be excited for his arrival as Tozawa is an incredible wrestler.
I Forfeit Match- Jack Gallagher - Ariya Daivari
Jack Gallagher started this one in comfortable control and performed the surfboard and then asked Ariya Daivari if he forfeited (already?) but he wasn't ready to quite this early. Gallagher attempted to use William (the umbrella) early on but Daivari stopped him and snapped it in half before dropping the Englishman onto the apron; following it up by throwing Gallagher into the barricade.
Daivari then used his head robe to tie Gallagher's arms together and insisted he quit but instead Gallagher just called him a scoundrel (which the fans popped for) and threw a big headbutt before escaping the 'cuffs.' The Extraordinary Gentlemen then popped under the ring to find another umbrella but he didn't get to use it as Daivari headed up the ramp and threw him into the LED screens. After catapulting Daivari into the screen himself Gallagher was finally able to unleash the full power of William and managed to hit his running dropkick.
Gallagher then found another umbrella and gave Daivari the chance to forfeit but he suckered him in and hit Gallagher with te microphone before locking in the camel clutch, but Gallagher refused to give in and used the umbrella to fight out of the submission and then applied the hammer lock, with the umbrella, to force Daivari to forfeit.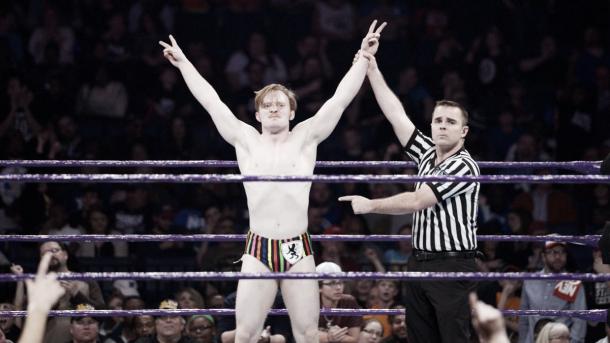 Analysis: Ultimately, this was a disappointing ending to a feud that, for the most part, has been entertaining. The match was at a very slow pace and lacked the conviction of two men who hated each other enough to warrant this form of stipulation, with both men asking the other to forfeit at ridiculous times. The use of the umbrella to get the win was smart as that seems to be part of Gallagher's gimmick now (don't tell Marty Scurll), but if WWE wanted a more intense ending they should have been building up Daivari's camel clutch for weeks, rather than just one week. A match with this form of stipulation really needed a big spot and this match lacked it, with the crowd chanting for a table it was clear they felt the same way. The result was no surprise as Gallagher is being built as one of the top stars on 205 Live which is a smart decision as he is incredibly talented, hopefully, Daivari will continue to have a role as he has shown his abilities during this feud.
Star of the night: Tony Nese. The Premier Athlete looked good this week and got the chance to show his abilities both at cutting a promo and in the ring. He has the whole package inside the squared circle and his Premier Athlete gimmick is one that could work well as an obnoxious heel so hopefully, WWE plays up on it more; good showing from him.
Rating: 5/10. No improvements this week as there was a real lack of noteworthy moments in this entire hour of television and the fact that the main event fell flat didn't help the show. Not having the likes of Neville, TJ Perkins, or Rich Swann appear does hurt 205 Live as they are the only people to be given real time for the fans to connect to so there was a very quiet audience for this show. They also didn't take the opportunity to further develop any other stars on 205 Live and instead had a couple of relatively short matches and pushed the Alicia Fox angle. One positive was Austin Aries who continues to be a bright spark; his inclusion to the 205 Live roster will be a big deal and should help the division.