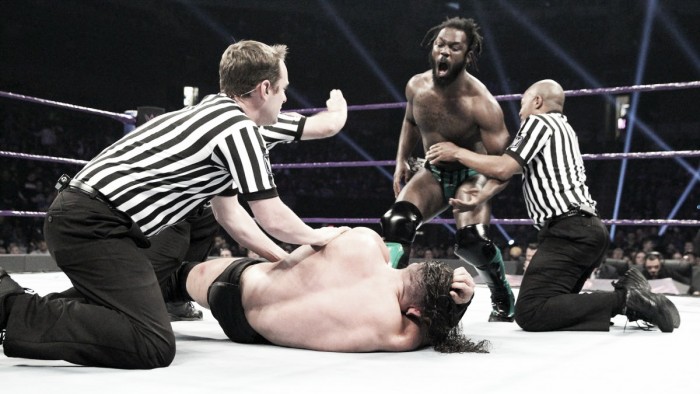 After a recap from Raw showing Neville backing down from a fight with Rich Swann, we started the night with a backstage segment as Tom Phillips interviewed the number one contender. The King of the Cruiserweights said that whilst Swann is resilient, he lacks common sense and claimed he made the mistake of thinking Swann had learned his place and that he won't show any mercy at the Royal Rumble.
He then put his focus on his main event opponent, Cedric Alexander, claiming that Alexander will kneel and pay respect to him when the night was through.
Analysis: It's good to start a show differently like this, it keeps it fresh and both main roster shows could do with trying that from time to time. It was another solid promo from Neville who is relishing life as a heel right now, and it was good to see a link to what happened on Raw; it makes it seem worthwhile.
TJ Perkins - Tony Nese
Onto the first match of the night and this started at a good pace with both men going back and forth until TJ Perkins locked in the octopus submission, a really unique and different move that we don't see often. However, Tony Nese quickly used his size and strength advantage to his personal benefit, reversing a Tornado DDT from the top rope into a suplerplex which was a really good counter.
He then hit his impressive spot where he kicks his opponent whilst placed over the turnbuckles, which bounces them up for him to catch and then drop to the mat, a very effective move. Perkins got himself back into the match with a spinning heel kick which he followed up with a flurry of quick kicks to demonstrate his speed, knocking Nese to the outside.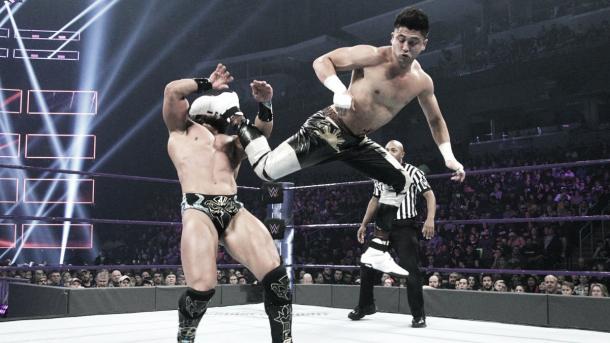 With Perkins attempting to dive out of the ring, the Premier Athlete beat him to it and hit a vicious clothesline but Nese took slightly too long to react again and Perkins rolled him up for a win.
Post match Nese hit a german suplex into the turnbuckles before finishing Perkins off with his running knee; he proceeded to tell the commentary table he was the real winner.
Analysis: This was a good competitive match between two of the best workers in the division and it provided another good showing for Nese, although the ending out of nowhere didn't fit the match and seemed very random. The post match beat down allowed Nese to get his heat back which was a smart booking decision. Perkins has lost huge momentum since dropping out of the title picture and a new feud might be exactly what he needs.
Up next we saw another vignette for Tozawa's debut.
Analysis: This week, it was Sami Zayn discussing Tozawa's abilities. WWE has done a good job of building this debut and making it feel special so expect big things from him; he debuts next week on 205 Live.
The Brian Kendrick - Tripp Bradshaw
The Brian Kendrick cut a fantastic promo on the way to the ring, warning his opponent that there are only so many slots available on the 205 Live roster and he wouldn;t be taking Kendricks. He said the world doesn't care about his opportunity and that just like Sean Maluta he will learn the hard way, as Kendrick snuffed his dreams out too; the same thing that will happen to Tajiri if he ever returns according to 'the man with the plan'
The match itself was a squash with Kendrick trash talking Tripp Bradshaw and slapping him around, eventually picking up the victory via the Captain's Hook, which he refused to let go off after the bell.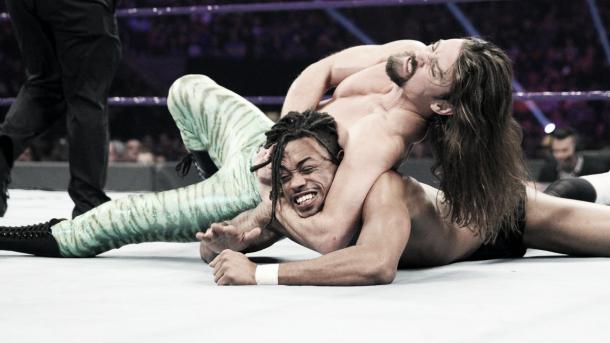 Analysis: Kendrick is one of the only people to gain a crowd reaction on a weekly basis on the roster, he knows exactly what to do to invoke a reaction from an audience and his experience is clear in the ring. It was smart to play up the Maluta angle as it keeps it fresh in fans minds that Kendrick can be dangerous as he awaits Tajiri's return to health.
Cedric Alexander - Neville
Alexander came out on top in the battle of oneupmanship early on with an impressive dropkick that sent Neville retreating. With the Englishman taking too long to get back in the ring Alexander hit him with another dropkick before a vicious running kick as the match spilled to the outside, however, Neville would quickly show his opponent that was a bad idea, sending Alexander into the barricade several times.
Neville then began bullying and mocking his opponent with slaps and kicks until a huge elbow rocked the number one contender and Alexandar hit a springboard clothesline (a.k.a the Phenomenal Forearm) which he followed up with a fantastic standing spanish fly but Neville managed to kick out. Both men then began trading forearms until Neville took Alexander to his own version of suplex city.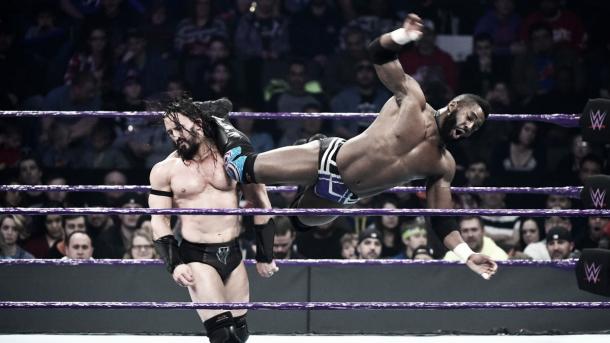 After going to the top rope it appeared Alexander might've been on his way to a victory after a big boot to Neville's head, but out came Noam Dar to distract him and even though he quickly dealt with the Scotsman a slip on his return to the ring proved costly with Neville locking in a scissored armbar to gain a submission victory.
Analysis: A decent main event between two people who will likely be having a feud in the near future, Alexander got some good offense in but it was the right call to keep Neville strong heading into his title match; the Dar inclusion also continues that angle.
Following the match, Neville began beating down Alexander until Swann made his way out to make the save. With Alexander and Dar brawling all the way to the back the two men who will be facing each other at the Royal Rumble were ripped apart by security and officials as they brawled to end the show.
Analysis: This was a strong ending segment and is the exact sort of fire that Swann needs to be showing as a champion, it get's people excited for their match and also keeps the division's second major feud brewing in the background. If they're given time at the Rumble Swann and Neville will put on a very entertaining match to show fans exactly why they should tune into the show.
Star of the night: Cedric Alexander. Even in defeat Alexander looked like a star and proved he can compete with the division's elite stars, he is going to be someone that WWE look to use more and more as time progresses and he didn't look weak in losing to Neville.
Rating: 6.5/10. Overall this was a better week for 205 Live and was one of the show's strongest episodes to date with two good matches, some smart storytelling, and promos which managed to build the characters on the show. They are starting to put things in place and build stars that can be taken seriously and WWE needs to continue in this way to develop the brand to what its potential is. On a side note, Austin Aries was once again incredible on commentary, it might seem like a small thing but it deserves mentioning as he is excelling in the role in a similar way to how CM Punk did during his time on commentary when he was injured; he's going to be a big star in 205 Live when he is fit.