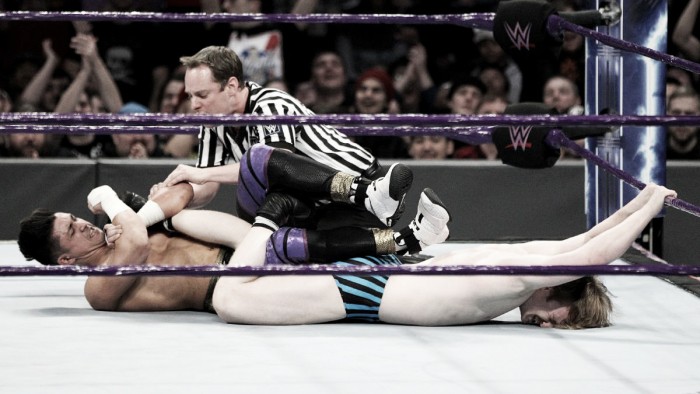 We kicked off the show with Austin Aries announcing that Tony Nese was injured on Raw and therefore would not be able to compete in the main event match, however, his spot would be filled by a match between Ariya Daivari and Mustafa Ali to start the show.
Analysis: It's a shame that Tony Nese isn't able to perform as he has been heavily featured recently and could have really benefited from being in such a high-profile match, however, he was unlikely to win anyway.
Mustafa Ali - Ariya Daivari
This match was to determine who would fill Nese's spot in the main event and Ali started things out in control, using his agility to avoid Daivari's offense, catching a kick by him and reversing with a spinning heel kick sending Daivari to the outside. Daivari cleverly played possum though and caught Ali out, ramming him into the barricade before hitting a neck breaker on the outside. Daivari then cleverly attacked the back and neck of his opponent, focusing solely on those areas to inflict maximum damage, but after hitting a great spine buster he went one move too far, missing with his attempted frog splash.
After a brief comeback from Ali, a unique counter from Daivari, dropping to the floor as Ali ran at him causing Ali to go face first into the turnbuckle, allowed him to regain control, with an impressive hammerlock into a lariat. The match continued to go back and forth until Ali hit a tornado DDT before finishing it off with his inverted 450 to progress to the main event.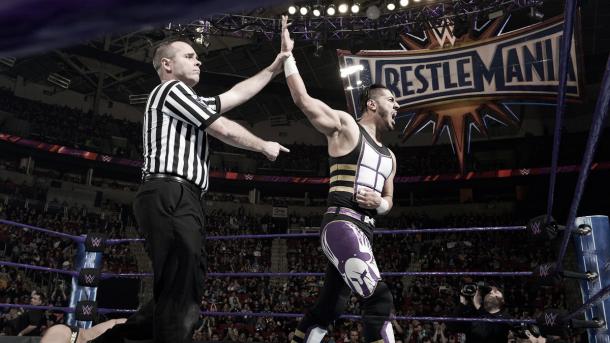 Analysis: Ali moves into the main event after a very fun opening match. It was a good back and forth battle between two guys who have been well developed on 205 Live, Ali is someone the fans are getting behind so it is sensible to give him the opportunity.
Vignette for Gran Metalik airs.
Analysis: As usual, a very good video package to hype up Metalik, WWE are great at these. He arrives next week which is a very good addition to the roster.
Lince Dorado - The Brian Kendrick
The ex Cruiserweight Champion had the microphone on the way to the ring as he claimed he was the gatekeeper of 205 Live, which means anytime they send in the clowns he is there to snuff out their dreams. Whether it be a young upstart or a legend like Tajiri, but there was one exception, Akira Tozawa. He see's potential in him and he hopes he is watching in the back, Kendrick claimed that he might take him under his wing to make him 'The Protege.'
It was a slow start for The Brian Kendrick so he jumped out of the ring, only for Lince Dorado to follow him, kicking him in the face and springing off the ropes to land a moonsault to the outside. Back in the ring and a quick hard hitting kick from Kendrick provided some separation as he followed it up with a back body drop. Dorado slapped the chest of Kendrick several times to keep him away before a tilt-a-whirl backbreaker gave him some momentum, after a cross body and a spring stunner it seemed he had the match won, but Kendrick kicked out.
Dorado then went to the top rope in a quest to finish the match but his move was reversed and Kendrick locked in the Captain's Hook to gain the win.
Analysis: A short match to continue Kendrick's storyline of being a crafty heel who defeats whoever he is put up against. This was Dorado's best showing since debuting on 205 Live.
After the match, Austin Aries was in the ring for an 'exclusive interview' where both he and Kendrick agreed it was Kendrick's honor to be in the ring with him. The 'greatest man that ever lived' wanted to know why Kendrick had changed his opinion on Tozawa and Kendrick invited him to the ring, but instead, we got Tajiri's music and when he turned around he walked right into green mist.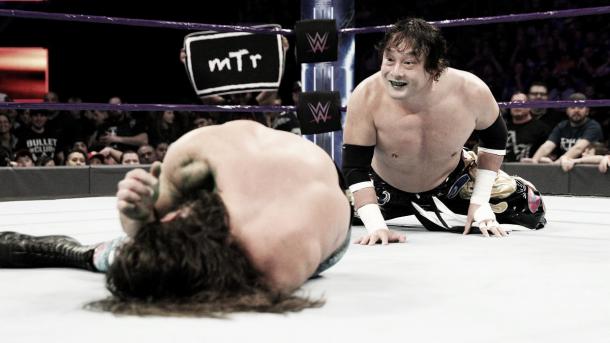 Analysis: It was great to see Tajiri back after his injury which should see the rivalry pick back up where it left off, the Japanese Buzzsaw got a great reaction.
Neville was interviewed ahead of the main event where he said all the winner gets is an opportunity to stand before the king until the bell rings when you then have no chance. He went through each competitor and stated why he be able to beat all of them and said it doesn't matter who wins as they will simply bend their knee and pay respect to the 'king of the cruiserweights.'
Analysis: Solid interview segment by the champion to build the main event and remind us what is at stake.
Elimination fatal fiveway (winner becomes #1 contender) Mustafa Ali - Noam Dar - TJ Perkins - Cedric Alexander - Jack Gallagher
Noam Dar started out the match by trash talking everyone in the ring, so the baby faces ganged up on him throwing him out of the ring. All four men then put on an incredible flurry of fast paced maneuvers that were very well put together with people being Irish whipped into others, reversing moves and walking straight into another; starting this match at an incredible pace.
After everyone spilled to the outside of the ring, Jack Gallagher picked up William lll and opened it up before diving from the top rope to take everybody out in a very fun spot. Dar then hit a big chopping kick to Gallagher's knees which had a huge impact, but the Scottish Supernova spent too long posing and Cedric Alexander hit the Lumbar Check and got the pin.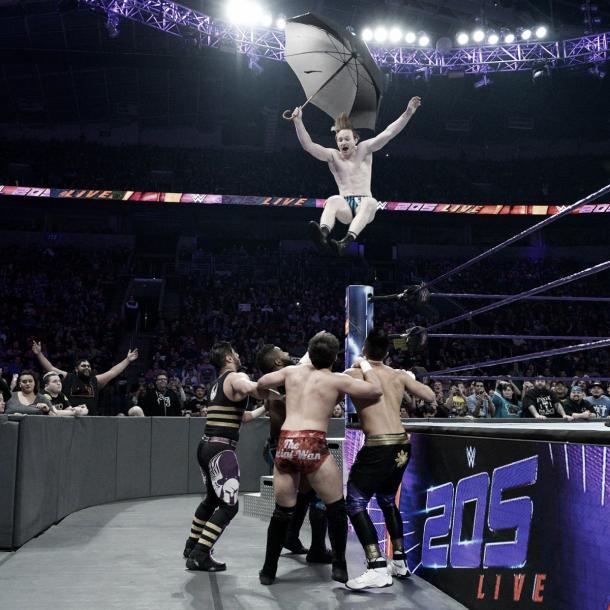 Cedrick Alexander eliminates Noam Dar
Analysis: This elimination is smart, it gets rid of the only heel and it shows Alexander hasn't forgotten the history between them.
Alexander then performed an excellent standing Spanish fly on Ali but he kicked out, as Alexander continued to impress, hitting a handspring roundhouse kick to TJ Perkins before a boot to the head of Gallagher, he was on a roll. After going to the top rope Noam Dar would return and push him, knocking him off balance as Perkins would pick him up and hit the Detonation Kick to pick up the pinfall.
TJ Perkins eliminates Cedric Alexander
Analysis: It looks like this feud may not be over, it was a good way for Dar to get some heat back and a clever way to eliminate one of the more popular men in the match. Alexander had a great showing.
TJP then got caught on Gallagher's shoulders as he looked for the electric chair, but instead, Ali hit a crossbody to Perkins from the top rope, knocking them all down. He then attempted to hit his 450 finisher but Gallagher moved and Perkins caught him in an armbar for a submission.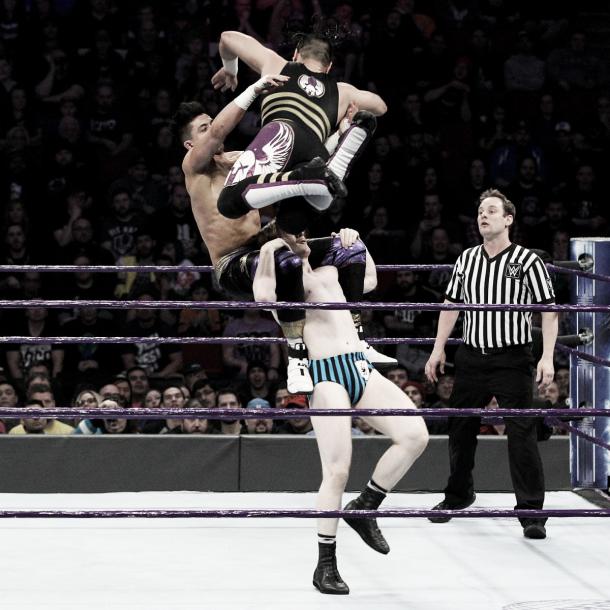 TJ Perkins eliminates Mustafa Ali
Analysis: Another well-booked elimination with Ali getting a little too confident and paying the price. He sold the battles from earlier on in the night well and TJP getting another elimination reminds fans what a threat he is.
The remaining two men went back and forth with Perkins focusing on the injured leg of Gallagher as he locked in the knee bar, only for him to reach the ropes. Gallagher dove over Perkins but landed on his leg awkwardly and TJP hit the Detonation Kick, but after Gallagher fell back and bounced off the ropes he hit a massive headbutt and almost got the three count, great near fall. However, Gallagher quickly followed it up with his running drop kick and won the match.
Jack Gallagher eliminated TJ Perkins to become the number one contender.
Analysis: That was an amazing match, potentially the greatest in 205 Live's short history and the 'this is awesome' chants were well earned. All five men brought their A game and they showed what the show's potential is. It was fast paced and everyone had their time to shine with some very clever spots added in. Gallagher picking up the win is well-deserved as he is arguably the most popular man in the division and a match with Neville should be very good. The champion came out to stare down his challenger to end the show.
Star of the night: Jack Gallagher. This was a very tough decision this week as there Jack Gallagher. This was a very tough decision this week as there were several standouts with Ali pulling double duty and both Perkins and Alexander impressing, but picking up the win in the main event to become number one contender gave Gallagher the edge.
Rating: 8.5/10 That is exactly what 205 Live should be and if WWE can keep it up they will have a very exciting show on their hands. It was fast paced cruiserweight action which is what fans have been crying out for. The first two matches were fun and the main event was brilliant, add in the return of Tajiri, a hot crowd, and some storyline development and there was a lot to be excited about during this hour of television.