Noam Dar w.Alicia Fox vs Rich Swann
This match saw the return of the former Cruiserweight Champion after his foot injury and he started the match by stating he was dedicating the match to Alicia Fox, insisting that she couldn't handle it. Focusing on the wrestling and Noam Dar started the match by working on Swann's arm but a quick dropkick from the ex-champion sent the Scotsman to the outside whilst Swann danced around the ring. The timeout was well taken by Dar as he regained control and locked in several submission holds with a series of kicks and uppercuts thrown in for good measure.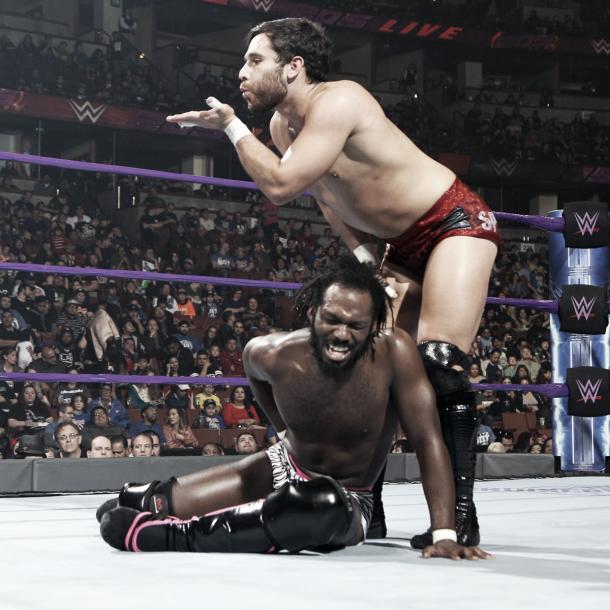 A major roundhouse kick would create some separation between the two but with Dar locking in the ankle lock, Swann threw him to the outside with the Scottish Supernova using Foxy to create some distance between them for when he got back into the ring, however that would be worthless as Swann took out Dar and hit a Pheonix Splash to gain a victory on his return.
Analysis: This was a standard match to give Swann his first victory upon his return to 205 Live, it was nothing special and the live crowd barely reacted to anything that happened.
Backstage interview with Neville and TJ Perkins
Corey Graves interviewed both men from the commentary desk whilst they were in the backstage area. Neville insisted that TJ Perkins only won the CWC because he wasn't one of the competitors to which Perkins stated the reason Neville wasn't involved was because his ankles are made of glass, referring to his injury that put him out of action.
TJP claimed that he put the cruiserweight division on the map, but Neville said Perkins took a backseat when the real champion (himself) showed up on 205 Live. Perkins said that that arrogance will be Neville's downfall and asked whether Neville was even on Raw before he brought in the cruiserweights (great line), he claimed he can't wait to see Neville throw it away again and the champion insisted he would regret saying that.
Analysis: That was something different and it came across well with both guys getting in plenty to make their match for later in the night be more intense. Perkins should be booked this way all the time as he displayed plenty of fire and pulled away from just a guy who dabs and likes video games, that is someone who fans can realistically get behind.
Gran Metalik vs Drew Gulak
Drew Gulak came out firing with a dropkick which he followed up with stiff shots whilst he talked trash to him. However, Gran Metalik would use his speed and the ropes to try and get some offense in, only for him to botch a move and get caught on the second ropes allowing Gulak to continue his dominance.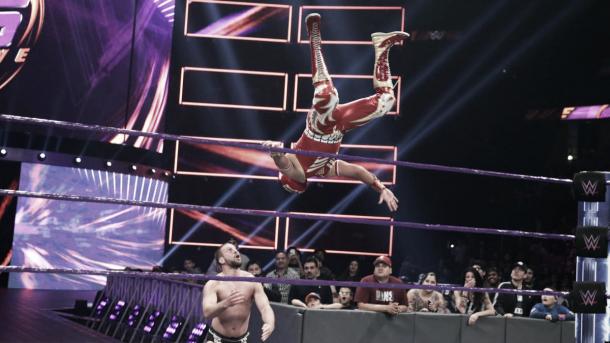 Metalik hit a few chops and then used the ropes effectively which was good to see and Gulak went to the outside to regroup. Gulak reversed an attempted crossbody with a dropkick before quickly hitting a baseball slide to knock Metalik to the outside for a rough landing. Metalik regrouped and sent Gulak to the outside and went flying over the top ropes to take out his opponent before hitting the Metalik Driver to get the win.
Analysis: That match got longer than this author had anticipated it would and was a good showing for both. It's good to see Gulak getting some offense in matches like this as he has a unique style that is different to other guys on the roster, whilst it was a shame Metalik made a mistake on his debut he responded very well and had the crowd behind him vocally which is a good sign.
Backstage The Brian Kendrick found Akira Tozawa and asked him if he was interested in becoming his protege but his answer was no. Kendrick wondered if there was a language barrier but Tozawa proved there wasn't by simply stating he doesn't like Kendrick and he left.
Analysis: Simple and to the point, Kendrick is the slimy heel who wants Tozawa to potentially do his dirty work whilst he isn't interested. The fans have really connected with Tozawa so it makes sense to keep him as a baby face for now.
TJ Perkins vs Neville
The night's main event began as a solid back and forth encounter between two of the most talented men on the roster but after some quick kicks by TJP, Neville bounced him off the ropes and sent him to the outside, highlighting his dark side once again. A missile dropkick from Neville continued his dominance as he went on to throw Perkins into the turnbuckle and stamp his authority on the match by driving his foot into Perkins' head.
A springboard DDT by Perkins planted the king, but his attempts to lock in the armbar went to waste as Neville used his strength to pick up Perkins and deliver a sit out powerbomb as both men were laid out. Perkins's trip to the top rope then almost paid off after pushing Neville off but he was caught in mid-air, only for him to reverse and gain a near fall from his roll up.
Neville then took out TJP's arm and locked in a double armbar to get a submission victory in the main event. Following the match, Jack Gallagher made his way to the ring but Neville took him out as he entered and three William lll out of the ring, but he turned around into a Gallagher headbutt as he retreated whilst Gallagher posed with the title belt.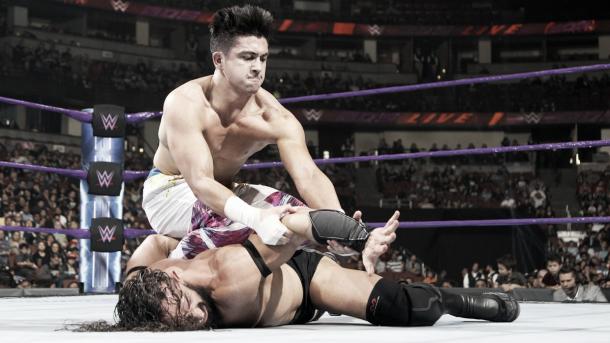 Analysis: This was a good match that was kept at a relatively slow pace throughout with Neville dominating the majority of the match which is a good way for it to be booked. Perkins once again was presented better than he has been in previous months, but it is going to take more work to get him back to the level he was at. The post match attack was fun and established Gallagher as a threat to the belt, hopefully, next week they can have an exchange of words and make the feud a little more personal.
Star of the night- TJ Perkins. Despite being defeated in the main event, his impressive showing combined with the interview segment earlier in the show made this a good night for Perkins overall. He has all the talent, he just needs to be presented as a top star again and this was a step in the right direction.
Rating- 6/10. It was a very average episode of 205 Live, which is sadly the common theme with the cruiserweight show. The whole hour is just too slow paced and with a silent crowd, it really sucks any momentum out of the matches which is a real shame. There have bene small improvements but there needs to be a lot more for this show to have a long term future, this was a massive drop down from last week.