The queen reigns for another year.
17 year old Evgenia Medvedeva of Russia successfully defended her figure skating World Championship for the second year in a row, this time in dominating fashion. Her total combined score of 233.41 set a new World Record and put her a full 18 points head of the silver medalist.
"Today I really enjoyed skating," Medvedeva said after her free program. "I was a little bit nervous in the six-minute warm up, but before my skate, I told myself, 'Evgenia, you need to keep calm.' I skated really softly and I am satisfied with my performance. Like last year, I felt absolutely calm, not euphoric. I am absolutely thrilled. I did everything I can do and I felt relief."
One year ago in Boston, Medvedeva entered her free skate in third place. She would have to skate a personal best and watch as her closest competitors stumbled in order to win in 2016 for her first World Championship gold medal.
This year in Helsinki, however, Medvedeva didn't have to stress as much. After a score of 79.01 left her with a three point lead after the short program, Medvedeva just needed to avoid making mistakes in her free skate in order to defend her gold medal. Instead, scored 154.40 in the free program to become the first female skater to score over 230 combined points in an event.
Medvedeva has been untouchable since joining the ranks of senior competition in 2015. In addition to winning two straight World Championships, she also has two straight European Championship golds, as well as two Grand Prix championship titles. Since winning the silver medal at the 2015 Rostelecom Cup, Medvedeva hasn't left a competition with anything less than a gold medal.
Canada Rounds Out The Table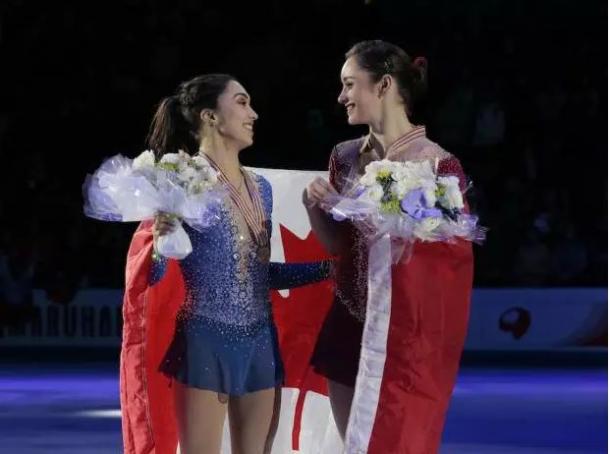 It was a great weekend for Canada, as two of their skaters finished with the silver and bronze medals behind the best figure skater in the world.
Kaetlyn Osmond completed an incredible comeback to take home the silver medal. Osmond broke her leg in 2014, and many, Osmond included, thought her injury was a career ending one. She required two surgeries, and after returning to action last year, she was unable to qualify for the World Championships in 2016.
"When I broke my leg, I never thought I'd ever be skating again let alone be standing on a world podium," Osmond told the CBC. "I had to relearn how to skate, relearn how to even stand on one foot again. I had to relearn all my technique."
Joining the 21 year old Osmond on the podium was 19 year old Gabrielle Daleman, a rising star in figure skating. The silver-bronze finish by Osmond and Daleman marked the first time ever that Canada had two women on the podium at the World Championships. The finish also means that three Canadian women qualify for the Olympics in 2018 for the first time in 50 years.
"It was such an incredible feeling," Osmond said. "To be able to stand on the podium and see one Canadian flag raised is one thing, but to see two, it feels like you're not alone. Figure skating is such an individual sport, but to have a teammate on the podium with you is unbelievable."
United States champion Karen Chen finished fourth. Italy's Carolina Kostner, one of the favorites entering the week, struggled on her short program and finished sixth for the week. USA's Ashley Wagner stumbled on her free skate, and finished seventh.