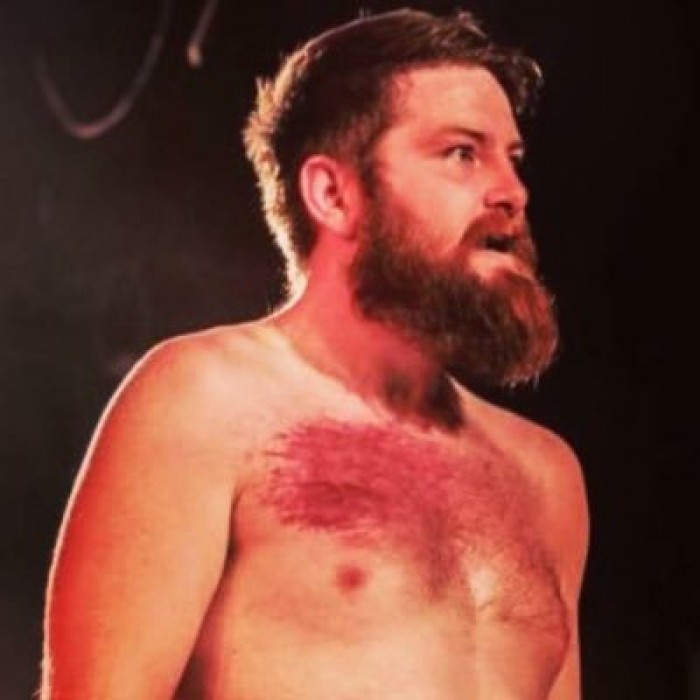 In what many describe as the age of independent wrestling a company based in Dublin OTT (Over The Top Wrestling) has taken the wrestling world by storm and at the center of this storm is "The Face of OTT" Justin Shape. Brendan Kennelly got to speak with Justin Shape to get to discuss all things Irish Wrestling and Justin's career to this point
Brendan Kennelly- How did you get into Wrestling as it was not really a big deal in Ireland until recently?
Justin Shape- I've been a wrestling fan since before I can remember. When I was in school it was the height of the Attitude Era so it was very popular among my social circle. We all decided we would become wrestlers and I followed through with it.
BK- Who are your biggest influences on you in-ring style and why?
JS- I pick a bit from a lot of guys. I guess in my early days I liked guys like Christian, Dick Togo, Chris Kanyon. I just liked the way they moved and wanted to emulate that. Nowadays I'd say I'm very unique and more so have my own style that has evolved over the years.
When I was looking into Justin's background I learned that he was trained by Fergal Devitt (Finn Bálor) and I asked about the role Devitt has had in his career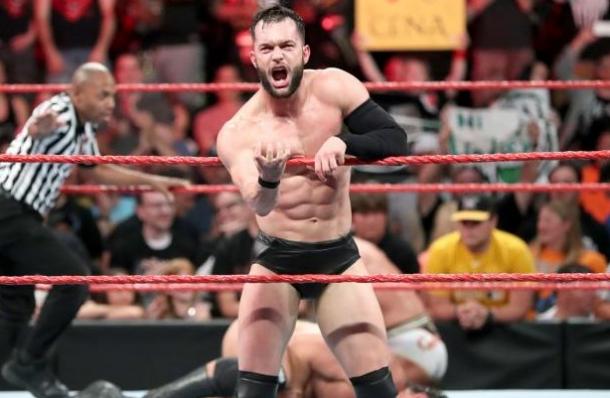 BK- How big was the role Fergal Devitt (Finn Bálor) played in the early days of your career?
JS- Fergal was a massive influence as it was in his training school that I first laced my boots and learned the ropes. He gave me my first booking and saw my potential. He still keeps in touch even now and every so often still gives out advice and encouragement so generously.
OTT recently had its Scrappermania event and it was arguably one of the biggest events in Irish wrestling history and I asked Justin what it was like to be a part of the event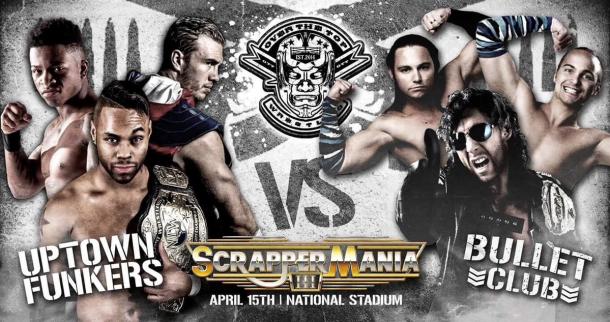 Scrappernania's Main Event (Photo: makingWrestling Observer)
BK- Over The Top Wrestling recently had its Scrappermania event describe what the atmosphere was like for what was arguably one of the biggest events in Irish Wrestling to date?
JS- I would never have imagined that we could have sold out a two thousand seat arena in Ireland. OTT has some of the best fans in the world of professional wrestling. The fear was that the atmosphere we have grown to love in our more intimate venue, The Tivoli, would be lost in a bigger venue. Our fears were squashed when the arena filled up. The atmosphere was electric and everyone on the roster and crew were buzzing from it.
BK- To Follow on from that Just describe what it is like to be part of the renaissance of Professional Wrestling in Ireland as OTT goes from strength to strength?
JS- It's hard to describe. I had all but given up on Irish Pro Wrestling before OTT came along. The scene was still alive but nothing about it excited me. To be a part of the biggest company in Ireland at a time when wrestling is at its most popular is both exciting and humbling. Every month I get caught up in the hype for the shows and it has given me a new lease of life in general.
Seeing as OTT is now a thriving Wrestling Promotion I wondered about any dream matches Justin would like to see happen down the line
BK- If you could bring any present talent from any company to OTT to have a one on one match with who would it be, what stipulation would the match have and why?
JS- I would love to wrestle Dick Togo. It might seem a bit strange but a straight one on one bout against him would be a dream. Maybe a Cage Match, I just love the idea of a cage match.
As Justin has claimed to be the Face of OTT many feel that he is putting a lot of pressure on himself but Justin doesn't feel that way.
BK- You're the self-proclaimed Face of OTT, Do you feel that this has put any pressure on you as an in-ring performer?
JS- I feel that any pressure on me as a performer comes from me. I don't think anybody expects much from me these days as I've been an old & out of shape manager in many people's eyes. I've been out to prove to myself and any doubters that I can still hang with anybody in the ring this year by making outlandish claims such as being the face of the company helps me keep my ego driving my ring work.
BK- And finally where do you see Justin Shape being in the next 5 years?
JS- I'm just enjoying wrestling in Ireland right now. I've no big plans to make one last push for superstardom. If in five years' time I'm still working for OTT and coaching future stars in the Fight Factory I'll be a very happy Justy.