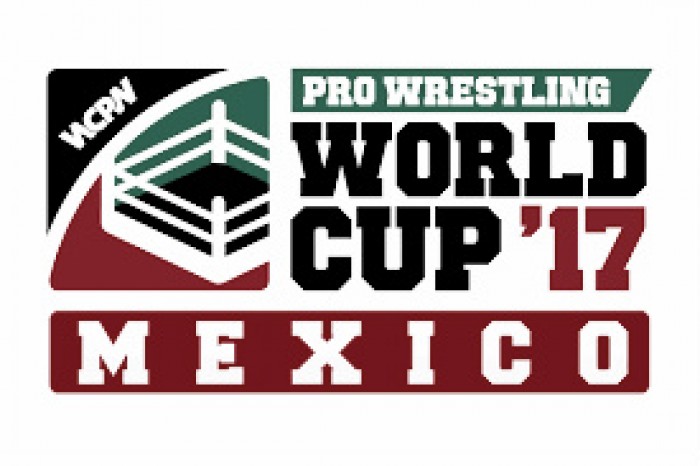 What Culture Pro Wrestling has taken the British independent wrestling world by storm since its inception and the creation of the Pro Wrestling World Cup only strengthened that, taking the best independent talent from all around the globe to compete against each other is something that fans have wanted for years.
Already the English and Scottish qualifiers have taken place, with Will Ospreay and Zack Sabre Jr qualifying to represent England and Joe Coffey and Drew Galloway qualifying for Scotland, although with Galloway's recent return to WWE it is unknown what his status will be for the finals later in the year. This evening see's the qualifiers for Mexico take place, with eight fantastic wrestlers competing and the best part, it's free to view on YouTube.
El Ligero vs Drago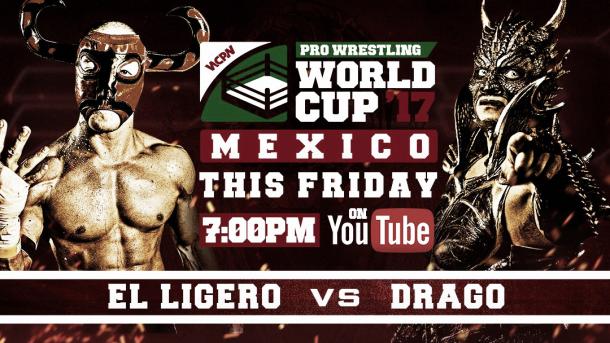 In a first round match that promises to be full of high flying action, WCPW's own, El Ligero will take on Drago in what should be an incredibly fast paced match. Ligero is known as one of the hardest working wrestlers on the independent scene, and his experience will serve him well in this match. Now competing in the newly reformed World of Sport, the former WCPW Internet Champion is someone who is going to become even more familiar to British wrestling fans in the near future, and he will be hoping that a World Cup win can take him to the next level.
Drago is equally as experienced and has spent some time working in WCPW recently, including picking up a tag team victory over his opponent and partner, Gabriel Kidd several months ago, meaning he could have a psychological advantage.Currently working for Lucha Underground, Drago is a two-time Trios Champion and would love nothing more than to represent Mexico in the finals.
Prediction- El Ligero
El Hijo De Dos Caras vs Juventud Guerrera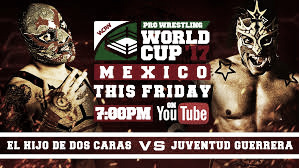 Two of the bigger men in the qualifying section may have an advantage due to their size and power if they can get to the night's qualifying finals. El Hijo De Dos Caras is relatively new to the sport of wrestling, only starting in 2012, but if his family history is anything to go by he is certainly someone to keep an eye on. The brother of Alberto El Patron, Caras will be hoping to get to the next round and potentially head to the finals alongside his brother, flying the flag of Mexico.
On the opposite scale of things, Juventud Guerrera has years of experience at the highest level of wrestling, having competed for the likes of ECW, WCW, and TNA, he will be aiming to use his knowledge to outsmart his opponent and move on to the next round.
Prediction- Juventud Guerrera
Penta El Zero M vs Rey Fenix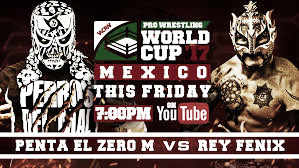 Another extremely exciting matchup on this card features two of Mexico's elite wrestlers, both of whom are dominating the world of wrestling in their native country. Rey Fenix has won championships wherever he has competed and is a two-time Gift of the Gods Champion with Lucha Underground, and anything less than victory will be a disappointment for him.
On the other hand, Penta El Zero M is equally as dangerous within the ring and has accomplished plenty on his own including winning the Lucha Underground Championship. It is set to be a very closely fought contest between two people who have both battled and teamed together in the past and therefore know plenty about their opponent.
Prediction- Penta El Zero M
Rey Mysterio vs Alberto El Patron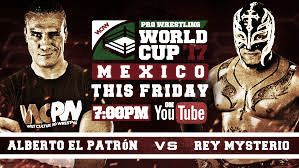 The final first round match sees's two names who will be very familiar to casual fans face each other as former rivals Rey Mysterio and Alberto El Patron do battle to gain qualification into the next round. These two men have a well-versed history with one another, but as two men who are very passionate about their heritage and nationality, this could be their most important bout yet.
The two former WWE superstars have both accomplished everything there is to do in the business, other than lead Mexico to World Cup glory, and that is a feat that they will both want to achieve, making this a crucial match up.
Prediction- Alberto El Patron
Only two men can head to the World Cup finals to represent Mexico, and as a country with deep prestige and heritage in the wrestling industry, you can expect everyone to be giving their full efforts to qualify for the summer finals and go all the way to World Cup glory.