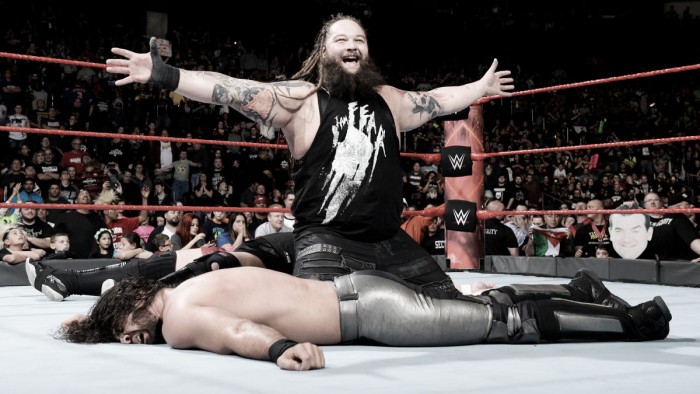 Following a lackluster Monday Night Raw in London, the WWE made up for their previous efforts and put on an excellent episode of Raw this week in Newark as the build towards Extreme Rules really began with several key matches announced and storylines progressed in what was a fun episode.
An extreme announcement
Raw kicked off with the general manager, Kurt Angle addressing the fact that a new number one contender was needed for Brock Lesnar and his Universal Championship due to Braun Strowman's injury, which is now set to see him miss six months of action. Angle made the announcement that there will be an Extreme Rules Fatal Fiveway for the first ever time at the special of the same name, with Finn Balor, Roman Reigns, Bray Wyatt, Seth Rollins, and Samoa Joe all taking part in the match.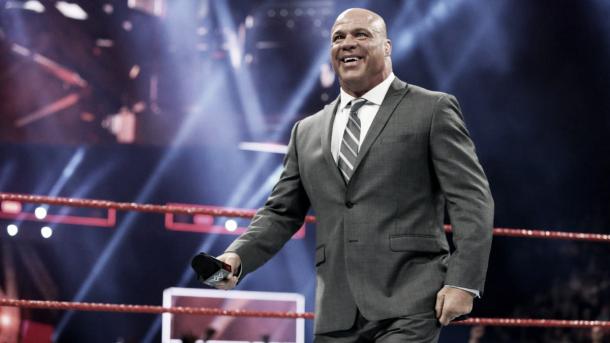 It was a huge announcement that creates a blockbuster main event for Extreme Rules and there should be plenty of fun interactions moving forwards, but this opening segment followed the same traditional Raw blueprint. Each man came out and made their claims to why they should be the number one contender on their own, before an all out brawl which saw Balor end up standing tall as Raw raged on.
The opening segment worked for what it was, and the announcement of the match was certainly a big deal, yet the traditional promo segment to kick off the show is becoming tired, there are plenty of other fresher ways to start a show and it would be nice to see the company start to implement them.
Jeff Hardy vs Sheamus
A solid match took place next between two men who will be facing each other for the Tag Team Championships at Extreme Rules, with the commentators playing up the fact Sheamus booted Jeff Hardy's tooth out of his mouth the last time they faced one another. The match was entertaining enough, although there was a slight botch at the end when the Celtic Warrior missed his Brogue Kick on Matt Hardy, who smartly no sold the miss as they re-did the move, allowing Jeff to turn it around and hit a Swanton Bomb for the victory.
It's good to see a champion pick up a win on Raw as it is a rarity with WWE's 50/50 booking, but it would be good to see these two teams get some promo time to really build a personal touch into the feud.
A Foxy kind of surprise
In what was arguably the biggest upset of the night, Alicia Fox defeated Sasha Banks after a decent match up. It was good to see WWE remember the pinfall scandal last week and continue to play it up as it gives both Foxy and Banks something to do and there match was much better this week.
However, it was a major surprise to see Fox get the victory, especially over Sasha Banks which could be a sign that the WWE are planning a push for the experienced wrestler, although Banks could really do with some momentum as she has seriously cooled off since WrestleMania.
Intercontinental Championship Match
Dean Ambrose defended his Intercontinental Championship next against The Miz in what was, as expected, a very entertaining match that was well paced between two men who have faced each other plenty of times. It was a very back and forth battle which is exactly how Intercontinental Championship matches should be and they added in some clever spots with Miz reversing Ambrose's ropes clothesline into a Skull Crushing Finale and Ambrose diving onto Miz despite Maryse trying to protect him, suiting his lunatic character.
As expected the match ended in controversial fashion, in order for a rematch to take place at Extreme Rules, with The Miz attempting a low blow, Ambrose caught him and hit one of his own, only to be seen by the referee, getting disqualified. Whilst it was a disappointing end to the match the decision makes sense in order to keep this feud going forwards and if both men can put on a match of this quality with a proper finish at Extreme Rules it will be a fun match for the fans.
The only problem with this match was the fact it took place so early in the night. In order for the title to be taken seriously and deemed more important, it should be getting placed in the main event spots.
Promo time with Alexa Bliss and Bayley
Alexa Bliss showed once again why she is one of the most complete characters in the WWE when she cut an incredible promo on Raw, dealing with the 'What?' chants better than most experienced wrestlers do, immediately silencing the fans heckles. Telling Bayley she was too childish to get extreme, Bliss cut an incredible promo against the former champion, whilst Bayley struggled to show the fire needed that made her character so compelling in NXT.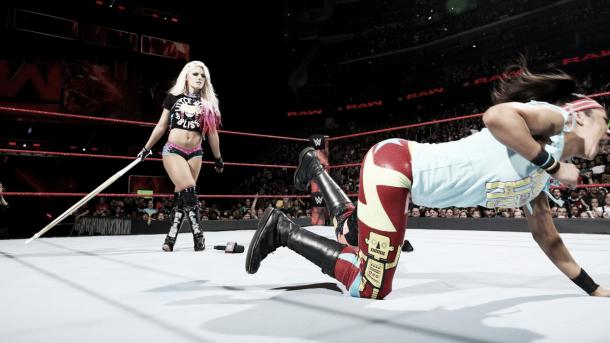 Bliss then got the better of the Hugster and smashed her round the back with a kendo stick in what was a fantastic moment that showed they would be having an extreme wrestling match, which was later confirmed by Kurt Angle to be a Kendo Stick On A Pole Match.
Drifting on by
The Miz, Maryse and Kurt Angle had a fun backstage segment with Angle showing his comedic chops once again, trash talking in French with Maryse as he confirmed the Intercontinental Championship match will be NoDQ. It is interesting to note how many times Miz and Angle have interacted since they both moved to Raw and it could be a sign of a potential match up in the future between them.
Yet it was the appearance of The Drifter, Elias Sampson that was most interesting, he gained a fantastic response from the fans and it will be intriguing to see how the WWE uses him moving forward and when he makes his in-ring debut on the main roster.
Time for a ... #dive
The cruiserweights competed in their traditional advertisement for 205 Live and yet again, that is exactly what it was and is perhaps one of the reasons why the crowd hated on the match and showed the performers no respect, chanting 'Boring' throughout.
Whilst the match itself was of fine quality, the way the cruiserweights are handled is a real problem and the WWE Universe are just not connecting with them in any way, which is a real shame given the quality of talents involved.
Broken Truth
Recent weeks have seen WWE focus on the Golden Truth, giving them a little push and this week it became clear why they have had that time. As the duo entered for a tag team match against The Club, Goldust attacked his tag team partner and shocked the fans by turning heel and laying a beating upon R-Truth.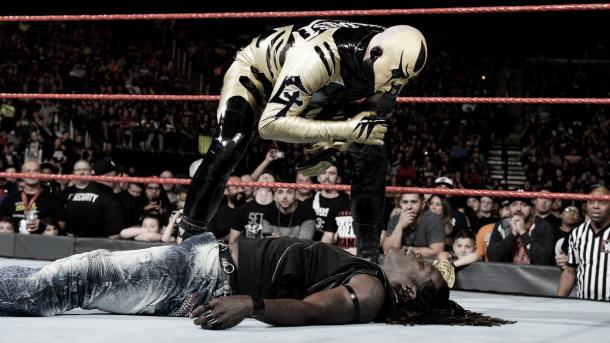 It's a decision that freshens things up for the two veterans and given that both men can still work to a good level it will be interesting to see how this new heel turn works out for Goldust and what plans they have for him.
Two Main Events
WWE claimed they were giving fans two main events this week as Roman Reigns faced Finn Balor and for the first time ever we saw Seth Rollins take on Bray Wyatt in singles action. Both matches were of good quality, which is to be expected when you consider who is involved but the battle between Reigns and Balor certainly stood out more with both men putting in an excellent showing as Reigns picked up the victory through a Spear.
Of course, in the final match of the night Samoa Joe made his impact by wiping out Rollins and continuing their personal feud, but it would be Bray Wyatt who finished the night standing tall, hitting a Sister Abigail on both Joe and Rollins to show he is a force to be reckoned with moving towards Extreme Rules.
Rating - 7/10
Overall it was a very solid episode of Monday Night Raw with plenty of storyline progression and build towards Extreme Rules as well as plenty of focus being given to underused talents such as Goldust and Alicia Fox, which is what should happen when you have three hours to fill.