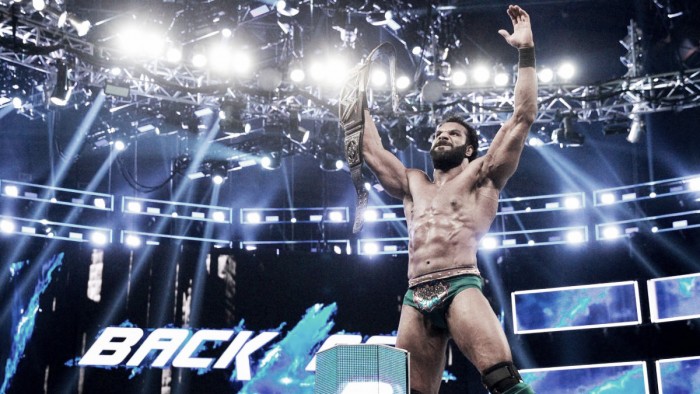 Last night saw SmackDown Live's latest special event, Backlash, in what was a solid night of wrestling as the main roster attempted to follow on from the amazing NXT TakeOver: Chicago.
Strong style has arrived
Fans have been patiently waiting for the in-ring debut of Shinsuke Nakamura on the main roster since his move to SmackDown Live and Backlash 2017 was that date as he went one on one with Dolph Ziggler in what proved to be an exciting way to kick off the show.
Everyone knew that the match between Ziggler and Nakamura was going to be good as they are two of the best in-ring workers that WWE boasts on the roster, and they certainly delivered with a solid back and forth match which finished with the former NXT Champion picking up the victory following a Kinshasa.
However, this writer believes that whilst the match was entertaining, this could have been even better had they increased the pace and squeezed in a couple of extra near falls, making Nakamura's first win an even bigger deal in a similar way to his first match in the company against Sami Zayn. Regardless, it was still a good showing for the King of Strong Style and it will be interesting to see where WWE now takes him and Ziggler and if they decide to keep this feud going for a little longer.
Tag Team comedy gold
It was always going to be difficult to follow that opening match, yet WWE made the perfect choice in having the Tag Team Championship match attempt that task in what was a brilliant comedic match between Breezango and The Usos. Tyler Breeze entered the match in his janitor outfit that fans saw in their latest Fashion Files episode and had the crowd, and this writer, in stitches as he used the mop to clean the ring and attack Jimmy Uso with, even gaining a "mop" chant.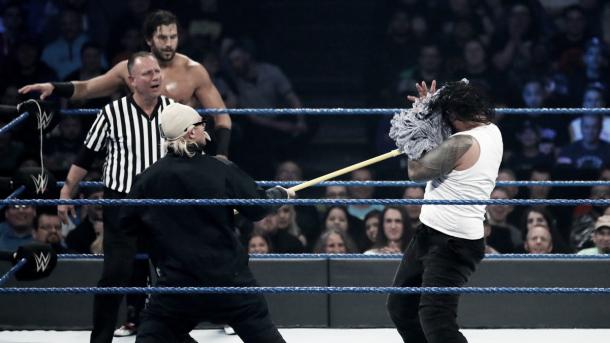 However, he would follow that up by dressing as an old grandma in an even funnier moment, which included the dress being ripped off Breeze and thrown perfectly into JBL's face. Despite the fact that the actual wrestling was kept to a basic level, the comedy element worked brilliantly as it was executed to perfection by all four guys in the ring who worked hard to create something different and unique.
The Usos retaining the belts was a smart decision by WWE considering the New Day's impending arrival on the blue brand, but this showing by Breezango and the way that the crowd reacted to them is surely going to see them gain more television time, which is a good thing for all concerned.
The underdog pulls off a surprise
Heading into Backlash most people expected Baron Corbin to pick up a routine victory against Sami Zayn, continuing his rise to the top whilst also expanding Zayn's underdog storyline, yet that wasn't the case as a Helluva Kick out of nowhere saw Zayn get a pinfall victory on his SmackDown Live special debut.
Despite the fact the blue brand is lacking in major heels, WWE went with the decision to have Zayn win here, which surely makes him a favorite heading into the Money in the Bank ladder match. Even though the result was a surprise, the match quality wasn't as this writer fully expected the quality match up that we ended up receiving.
The storytelling in this match was really well told with Corbin working on Zayn's back throughout the entire match as the Underdog from the Underground did what he does best, selling the injury to perfection and making everything the Lone Wolf did look even more devastating. It would not be a surprise to see this feud continue and that certainly isn't a bad thing if this is the type of match we will be getting, give them more time and they could pull off something special.
The Welcoming Committee prove their point
Backlash saw a decent six woman tag team match as The Welcoming Committee defeated SmackDown Live's three biggest female stars; Charlotte, Becky Lynch, and Naomi. The match itself was fairly good considering the storyline heading into it was weak, and it was interesting to see Natalya be the one to pick up the victory, forcing Lynch to tap out to the Sharpshooter.
Hopefully the company has plans for Natalya to be the leading heel of the brand coming out of the show, otherwise, it becomes a strange decision. It was also not surprising to see Lynch be the one to submit as it keeps both the champion and Charlotte looking strong as the two women who will likely be carrying the brand's women's division in the coming months.
Kevin Owens and AJ Styles steal the show
It shouldn't come as much of a surprise that match between AJ Styles and Kevin Owens stole the show, but it is worth stating as they certainly did just that all whilst holding enough back to make future matches even more entertaining. Having two stars of their caliber fighting over the United States Championship does wonders for the belts prestige and they put on an excellent match with the story being told of KO working the injured leg of Styles.
Whilst the ending may have left a sour taste in some people's mouths as count out victories are a cheap way to end a match, this was at least a unique way of doing it that this writer hasn't seen before, with AJ getting his foot trapped inside a gap in the announcer's table. The finish was smartly booked in this writer's opinion as it leaves the door wide open for future battles in what should be a feud that stretches all the way till SummerSlam.
Former brothers do battle
The two former Wyatt Family members, Erick Rowan and Luke Harper battled in what was a crowd cooling match before the main event and whilst it was a physical and hard-hitting match, it was sadly not anything special or noteworthy. Rowan's new gimmick is one that has potential with all of his new masks and it is something that WWE should continue to work on with him, whilst Harper really has the potential and abilities to be doing much greater things and deserves a push into the upper mid-card as soon as possible.
Having Harper pick up the victory was the correct decision in this situation and hopefully, he can now push on and perhaps be involved in the Money in the Bank ladder match that is around the corner for the blue brand.
And new...
That's right folks, you aren't dreaming, it isn't an episode of WWE Swerved, it really did happen; Jinder Mahal is the WWE Champion. In what is one of the most controversial decisions the WWE has made in quite some time, the former jobbing 3MB member has climbed his way to the top of SmackDown Live, joining the list of former champions that includes Stone Cold Steve Austin and John Cena.
Whether you like the decision or not, you cannot claim that WWE isn't trying to create new stars and even though Mahal should have been booked stronger in past months to get him to this point, since being thrust into the main event scene he really has worked hard and performed to a high level. The match itself with Randy Orton was a lot better than most had anticipated, it was very aggressive and hard-hitting, including Orton destroying the Singh Brothers including an extremely painful-looking table spot.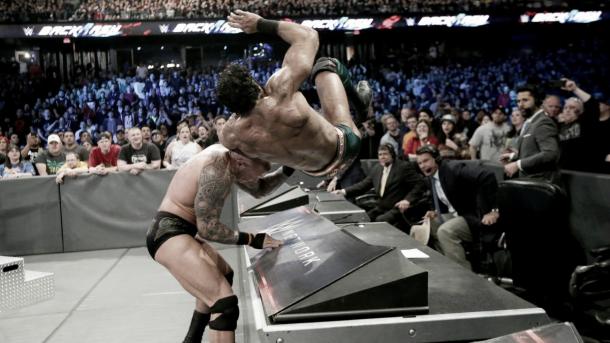 It was certainly a shocking way to close the show as very few people genuinely saw this coming, but it should give hope to other mid-card talents in the company and make them strive for further success and now the ball is in Mahal's court to make this decision work in the long-term.
Overall it was a strong outing for the blue brand's roster and whilst it didn't quite top what NXT had provided the night before, it was certainly an entertaining night of wrestling with sensible booking that should help SmackDown develop moving forwards.
Star of the night- AJ Styles
Match of the night- AJ Styles vs Kevin Owens