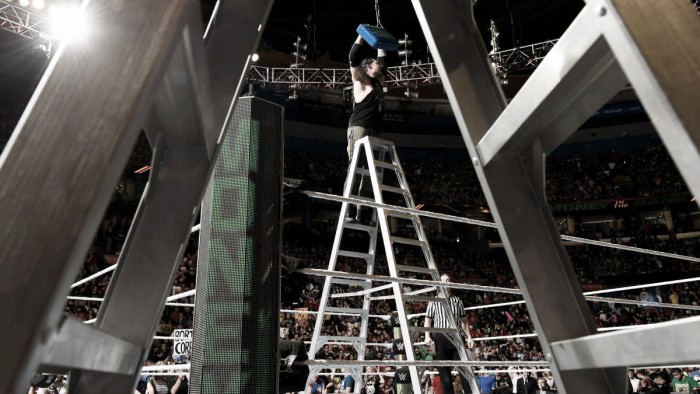 Money in the Bank is now in the history books for 2017 and it goes in under mixed reaction from the majority of the WWE Universe. A night where the booking choices were certainly questionable fans were left frustrated at the fact every single match featured some form of shenanigans and no clean finishes took place throughout the event.
James Ellsworth makes history
In a match that had so much hype, excitement and expectation built around it James Ellsworth would be the first person to win a Women's Money in the Bank ladder match on behalf of Carmella in an ending that certainly left a bitter taste in your mouth. Tamina was dominant early on in the match, cleaning house with the use of ladders and physicality that certainly made her look like a dominant monster.
The match itself was set at a fast pace and everyone involved was working hard and taking bumps with the ladders, but there were no major bumps that fans might be used to from the male matches. As Becky Lynch seemingly had the match one, much sooner than expected, the Chinless Warrior was on hand to pull the ladder, sending her to the outside as he would scale the steel and win the match on Carmella's behalf.
With the officials debating the decision the result provided a very strange finish to the match and whilst it certainly provided heel heat for Carmella and Ellsworth, you can't help but feel it detracts from the brilliant females in the ring when a man wins the first ever Women's Money in the Bank ladder match. However, it certainly provides an intriguing storyline moving forward and Daniel Bryan addressed the situation on Twitter saying it would be the first thing he would look to solve upon his return this week.
The Usos escape... just
The WWE made a smart decision in using New Day to get the crowd back on side straight after the controversial finish and their presence and pre-match comedy combined with the fantastic wrestling involved in the match certainly did that.
All four men worked hard and told a really good story with New Day coming so close every time only for the Usos to find a way to escape with the champions eventually walking away and retreating to lose by a count out. Despite another match ending in controversial fashion, it was clear they have chemistry in the ring and it was good to see New Day back in the ring working a championship match.
Overall the match was of high quality and the finish worked in the sense of keeping New Day and The Usos strong, but a second controversial finish in a row seriously hurt the PPV in general, but it means this feud will continue which is a positive.
Lana fails to make history
Lana's attempt to make history and become the new SmackDown Women's Champion on her debut was unsuccessful as Naomi picked up a routine victory, but there was plenty of potential on display by the Ravishing Russian. She may not be ready for a championship match in terms of her in-ring ability, but this writer felt that she showed enough signs that she could improve with time.
Lana worked the champion's leg for the majority of the match and it wasn't until a distraction from Carmella (a third consecutive match to involve shenanigans), teasing her cash in, that Lana took her eyes off the prize, allowing the champion to lock in a submission to retain her title in a relatively short match.
A 'miracle' at Money in the Bank
The debut of Mike (formally known as Bennett) and Maria Kanellis has been expected for quite a while since their departure from TNA, but it finally took place at Money in the Bank when the real life couple announced they would be part of the blue brand moving forwards. Their promo gained great heel heat straight away from the WWE crowd who may not be familiar with Mike's work, or remember his wife's last WWE run.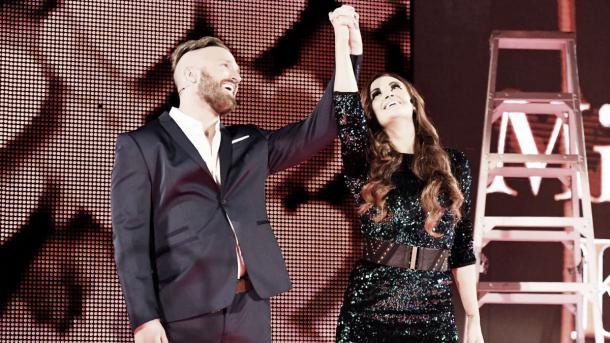 However, the way they portray their characters made an immediate impact as they discussed their love for one another, much to the fans displeasure. It is interesting that they have skipped the NXT process, which is where independent stars tend to go first, as Samoa Joe and Seth Rollins would showcase. But this means that WWE may have some big plans for them in the near future and either way they make a great addition to the roster; hopefully, they can continue their rise in wrestling and make a big impact in WWE.
Hometown curse strikes again
With a lively hometown crowd and a row of WWE legends, including Randy Orton's father, Bob Orton and the Nature Boy, Ric Flair the WWE Championship match brought the live audience back to life with a solid match that fit this PPV's theme of being controversial and full of interference; this time by courtesy of the Singh Brothers.
Just like they did at Backlash, Orton and Jinder Mahal worked well together and seemed like they had a point to prove yet again and this writer believes they delivered. Was it ever going to be a wrestling clinic? No. Yet it was a well worked, if a little slow paced, match where Mahal once again proved that he does belong in a prominent spot on the show and Orton showcased his natural abilities that fans have become so well accustomed too.
The highlight of the match certainly came when Orton attacked the Singh Brothers outside the ring, RKO'ing one through a table and leaving devastation in his wake, just as he did at Backlash and they sold it just as well. However, that distraction was once again effective as Mahal used it to pick up a win and retain his championship, helping not only keep him strong but the belt itself.
Fashion Files
Following an early segment, which was, as usual, hilarious, Breezango had set themselves up a match with the duo who have been attacking them and it was revealed to be The Ascension. This was certainly a filler segment due to the sheer lack of matches that WWE booked onto this show, and the quality of it wasn't especially high with very little noteworthy moments to mention.
However, it was an impressive win for the Fashion Police who continue to entertain the crowds, proving that once you give people an opportunity, they will take it. Now they need to continue being booked in this manner but preferably with a regular feud for them to work with.
The Lone Wolf has a golden opportunity
In what was undoubtedly the match of the night, and one of the best matches in recent memory the SmackDown Live male Money in the Bank lived up to all expectations with all six men putting on a classic that was full of twists and turns.
Right from the start it was clear this was going to be a fun battle, with Baron Corbin attacking Shinsuke Nakamura during his entrance, taking him out of the match which was smart booking on WWE's behalf to keep him as a special attraction and let him stay strong; having a reason to why he lost. In the ring, there was plenty of high spots including a Sunset Powerbomb from the top of a ladder by Sami Zayn to Dolph Ziggler which looked incredible.
Zayn stole the match with his performance, seemingly getting more in-ring time than anybody else and, of course, continuing his rivalry with Kevin Owens on occasion. With the Lone Wolf seemingly about to win, Nakamura's return saw him gain arguably his best fan response since moving to the main roster and what followed was an incredibly fun and potentially iconic moment.
With Nakamura and AJ Styles left standing the two moved the ladder to one side and gave fans a glimpse of what could come from an eventual match between the pair in WWE, in what this writer hopes is a WrestleMania teaser, and it should be held off until that point. However, with both men eventually perched on top of the ladder; Corbin would return to knock them both off and become Mr Money in the Bank. ​
Ultimately this PPV was a disappointment as this writer had high hopes heading into the show due to the card and the people involved. Whilst, as usual, the in-ring quality was strong, some of the booking decisions left people scratching their heads and the fact that not a single match had a clean finish on a PPV really was frustrating. Hopefully, the stories coming out of this on SmackDown Live will help explain why and it will be interesting to see where they go from here with SummerSlam fast approaching.
Match of the night- Male Money in the Bank
Star of the night- Sami Zayn
Rating- 5.5/10
Previous Ratings
Money in the Bank- 5.5/10