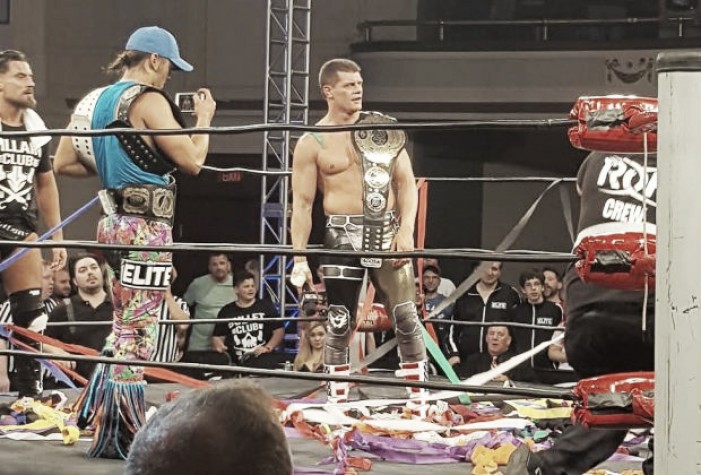 Last night saw Ring of Honor's latest PPV show, Best in the World on a night that was stacked with high-quality action that showcased why ROH is one of the greatest wrestling companies in the world and it culminated in the crowning of a new ROH World Champion; Cody Rhodes.
In the main event between the Bullet Club member and wrestling veteran and former champion, Christopher Daniels, it would be the former WWE star that came out on top to be crowned the new champion to draw the show to a close in an emotional moment for the Rhodes family.
The rise of Rhodes
Ever since leaving the WWE in the dust, the American Nightmare has climbed to new heights and become one of the most sought after wrestlers on the planet due to the way he conducts himself, promotes on social media, and most importantly; his ability between the ropes.From the moment he made the decision to leave WWE and created his popular wish list all the way to last night's ROH World Championship victory, Rhodes has been climbing the ladder of professional wrestling and it is an accolade that he more than deserves.
Since joining Bullet Club, Rhodes' status has risen even more by putting his work alongside the likes of Kenny Omega and more recently Marty Scurll. With ROH itself going from strength to strength with one of the best wrestling rosters on the planet, the fact that the company has shown the faith in Rhodes to be World Champion says everything you need to know about his ability.
Even in WWE, Rhodes always showcased the potential he had but was never really booked in a position to make the most of it. Yet since leaving, he has made sure the wrestling world knows exactly how good he can be and there is no doubt that WWE will still be watching. But for now, the son of Dusty Rhodes is paving his own path and becoming one of the biggest names in the industry today.