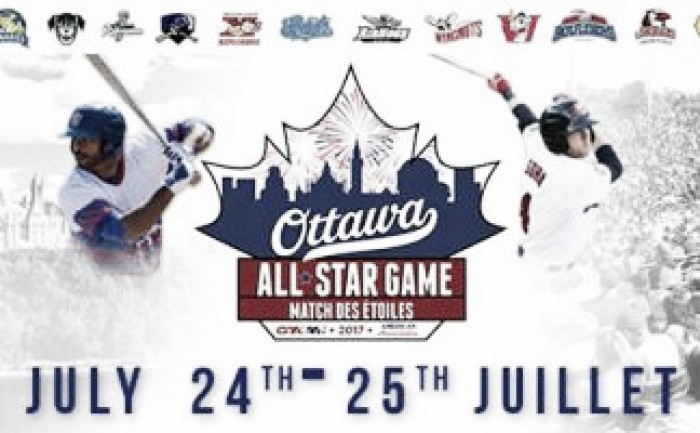 The American Association has announced their All-Star team, and three members of the St. Paul Saints will be heading to Ottawa for the July 25 game. Mark Hamburger and Tony Thomas will both be making their second straight appearance, while outfielder Anthony Gallas will be making his first American Association All-Star appearance, though he isn't a stranger to All-Star events.
Mark Hamburger
Hamburger has been one of the leaders not only of the pitching staff but also of the entire team. So far this season, he is 8-1 with a 2.89 ERA. He also has three complete games under his belt and one shutout. Hamburger is the league leader in wins, innings pitched, and batters faced, among others.
He has won his last six starts, and earlier this season he set the league record for complete games with 15. He has gone at least 6.2 innings in all 10 starts, and in eight of his starts, he has gone eight or more innings. This is Hamburger's second straight All-Star appearance, as he started last year's game in St. Paul and pitched one scoreless inning.
Tony Thomas
Thomas is also making his second straight All-Star appearance, as he also played last year's game. This is his fifth career All-Star game. Other All-Star games that he has played in include 2008 (Florida League), 2009 (Southern League), and 2014 (Eastern League).
Thomas is highlighted by reaching base in 23 straight games, a streak that lasted from June 7 to Jule 2. Twice this season he has homered in back-to-back games, and he also had a 10-game hitting streak from June 13 to June 23.
Anthony Gallas
The final representative for the Saints is Gallas, who is in his first season with the Saints, but has made an impact. He is batting .362 with 10 home runs and 39 RBI so far, with 10 doubles and four triples. On July 4, he became the 19th player in franchise history to homer in three straight games and is currently on a six-game hitting streak.
One Saint who was not included on the roster is outfielder Brady Shoemaker, who is batting .327 with 10 home runs and was named the league's Player of the Month for June.
Game format and roster
This year's All-Star game will have a different format from last year's game, which saw the American Association North and Central Divisions on one team, with the South Division teamed up with the Can-Am League. This year, it will be the American Association vs the Can-Am League. They will announce their roster on Thursday afternoon.
Here is the full American Association roster for the game.
1B – Kevin Keyes (Kansas City)
2B – Tony Thomas (St. Paul)
3B – Wes Darvill (Winnipeg)
SS – Nate Samson (Sioux City)
C – Dashenko Ricardo (Lincoln)
DH – Matt Chavez (Wichita)
OF – Anthony Gallas (St. Paul)
OF – Harrison Kain (Wichita)
OF – Josh Romanski (Winnipeg)
Utility – TJ Mittelstadt (Wichita)
C – Martin Medina (Wichita)
RHP – Mark Hamburger (St. Paul)
LHP – Tyler Alexander (Fargo-Moorhead)
RHP – Patrick Mincey (Cleburne)
RHP – Charle Rosario (Gary SouthShore)
RHP – Dylan Thompson (Sioux Falls)
RHP – Ryan Chaffe (Winnipeg)
RHP – Scott Carroll (Kansas City)
LHP – James Russell (Texas)
LHP – Kevin McGovern (Winnipeg)