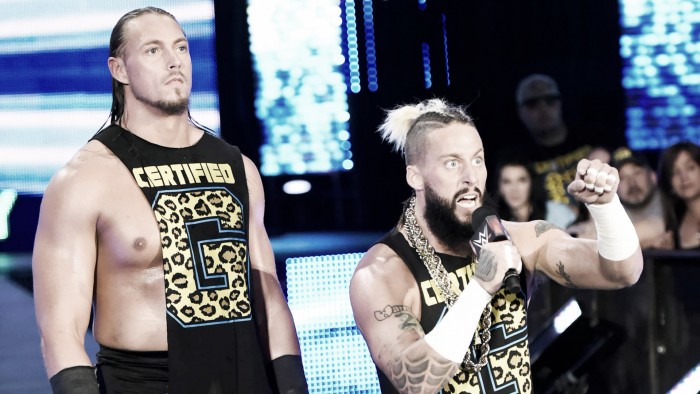 The recently separated pair of Enzo Amore and Big Cass are reportedly gathering backstage heat in the WWE.
Backstage heat?
Reputable wrestling journalist Dave Meltzer reported for F4WOnline.com that Enzo was involved in an incident on a tour bus, that led to Roman Reigns kicking him out of the vehicle.
Meltzer also claimed that Amore has been receiving the same kind of treatment as The Miz did in his early days on the main roster, where he was not allowed to dress in the locker-room with the other superstars.
While this didn't play a role in the split of the popular tag team, Enzo is unhappy with this move, as he doesn't rate his singles chances too highly.
Enzo's character portrays him to be a loud talker who can't back up his words, material that was used against him in the recent feud with old tag partner Cass, and Amore doesn't believe this will help him in his singles career.
The seven-foot tall giant Big Cass has earned backstage heat for a completely different reason, according to Meltzer.
The political views of the man from Queen's, New York are what is generating his heat, as he is reportedly a huge supporter of WWE Hall of Famer and US President Donald Trump.
Cass' peers who do not share the same political views appear to be angered by his support for one of the most controversial leaders in American political history.
However, this isn't expected to impact on Cass' status within the company, as high-level management still see him as a potential main event star and future world champion.
Cass bulldozed his way through Enzo as the two squared off at the inaugural Great Balls of Fire pay-per-view event.
The seven-footer was exposed as the man who had been sneak attacking his former tag team partner backstage on RAW, after weeks of investigation from general manager Kurt Angle.