 The 146th British Open at Royal Birkdale got underway on Thursday and at the conclusion of the round, it was three familiar names that shared the 18-hole lead.
Two-time major champion Jordan Spieth, reigning U.S. Open champion Brooks Koepka and Matt Kuchar all carded 5-under 65 to co-lead after one round.
Paul Casey and 2011 Masters champion Charl Schwartzel were one shot back with a group of players headlined by Charley Hoffman and Ian Poulter one shot further behind at three under.
Spieth cards bogey-free opener
After an opening par, a wayward tee shot into the gorse on the second left the 23-year old Texan in a difficult spot, but his approach shot landed 12 feet from the cup and he sunk the left to right putt for birdie.
Further birdies would come at eight and nine to give the 2015 Masters and U.S. Open the lead heading to the turn with a 31 on the front nine. Two more birdies, at the par-3 14th and the par-5 17th gave Spieth a 5-under 65 for the day.
Despite only hitting 5 of 14 fairways, Spieth was pleased with his performance and spoke about a number of things following the round: "It's a gettable golf course if you're controlling your ball off the tee. You're able to hit the ball to the middle of the greens, and they're not too severe. We tried to keep our head down today. Stole one at No. 2, and then got it going around the turn."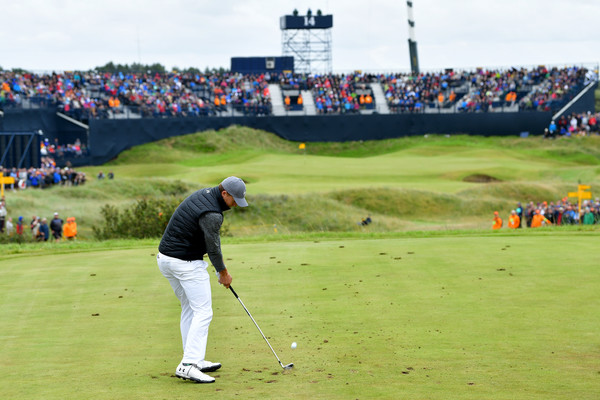 Last-minute adjustments by his swing coach Cameron McCormick using a SwingMan tracker device seemed to also help in the eventual bogey-free round: "Cameron brought it out today to see how much the 55-degree weather was affecting my speed versus 90 (degrees) at home, which is what we were doing last week.
"I was hitting it 10 to 15 yards shorter without any wind factored in, and then the wind was affecting it another 20 to 30 yards on the range, pretty much through the bag."
As for being the favorite coming into the tournament following his dramatic win at the Travelers Championship following a hole-out on the first playoff hole: "I've experienced being an underdog and a favorite so many times in my career thus far that I don't think about it at this point," Spieth said. "I'm going out there with a goal and a game plan in mind, and trying to execute."
The win in Hartford seemed to free Spieth up, a point he acknowledged after the round: "My ball-striking has been better in any years that I've ever played golf. It's been about capitalizing, which is frustrating, considering I'm used to seeing the ball go in. And then I'm hitting it in tighter but it hasn't been going in.
But then we won [at the Travelers Championship] three weeks ago, and then I had some rest. So I feel rested and confident, which is a good feeling. It's tough to have that feeling this late in the season. I thought that was an important break for me."
Koepka, Kuchar match Spieth as round progresses
In his first start since winning the U.S. Open at Erin Hills, Koepka, now up to 11th in the World Golf Rankings, shot a 33 through his first nine holes, his lone birdie at the eighth. Birdies on 11, 12 and 13 gave him a one-shot lead over Spieth with six holes left.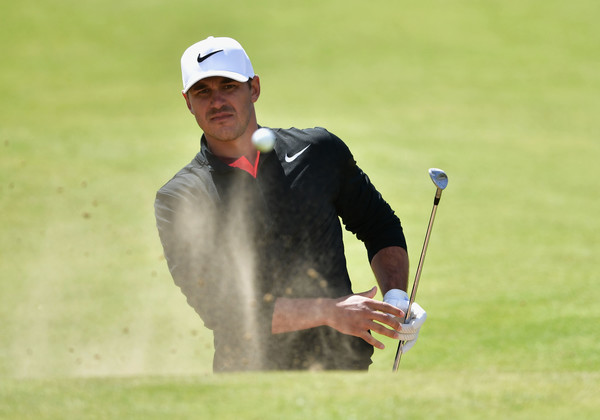 He gave one back at the 16th, his only bogey of the day after missing a three-foot par putt to trail by two, but a spectacular hole-out from a greenside bunker on the 17th resulted in an eagle and a share of the lead, confirmed when he parred the 18th to post the second 65 of the championship.
After the round was over, Koepka said he didn't practice much and the layoff helped him re-focus after winning his first major championship: "You're going to laugh when I tell you, I played once with my manager. I think we played on, maybe July 6, 7, was the first time I touched a club [after the U.S. Open]," he said,
"Then did it one day for a photo shoot, and then came over here. That was it. "It's just a mental thing. If I start playing four or five weeks in a row, everything just seems to get nonchalant.
You get to be in the routine and get used to it. If you take some time off and kind of recharge mentally, physically, I feel like I'm in really good shape right now, even with that time off mentally."
Kuchar got off to a blazing start, carding a front nine 29, tied for the lowest first nine in Birkdale history with 1991 Open champion Ian-Baker Finch. The back nine was a different story as he made nine consecutive pars to put up the final 65 of the day.
The 39-year old is still looking for his first major championship and he credited playing at last week's Scottish Open with preparing him for the different, challenging conditions he was to face at Birkdale: "We had a couple awfully challenging days there at the Scottish Open.
"I remember being on the course at one point on the 12th hole Saturday. I had 129 yards to the pin and hit a 6-iron in and thought to myself, 'I am glad I'm over here, glad I'm doing this.'"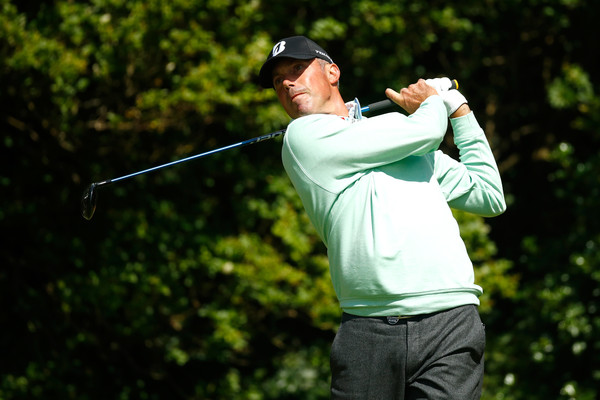 He used these lessons learned at the second hole on Thursday. From 155 yards, he hit 6-iron into a cold, wet wind and converted the birdie putt to begin an impressive run of four birdies in five holes.
"I hit a great shot, and again it was one of those kind of feeling back to the Scottish Open, [I] knew kind of how to play the shot pretty well; 6-iron into the hole 10 feet and made it," he said after carding his lowest round in a major championship.
Notables
World number one Dustin Johnson also struggled, posting a 1-over 71, failing to birdie either of the par-5's. Also shooting 71 were Rickie Fowler, Lee Westwood, Justin Rose and Rory McIlroy.
For McIlroy, the 2014 Open champion, he rallied after bogeying five of his first six holes, he birdie four of his last eight holes. The Northern Irishman credits his caddie with a reality check after his fifth and final bogey: "He said to me, 'You're Rory McIlroy, what the f--- are you doing?
"At that point, I just mumbled and replied, 'Yeah, whatever.' But it definitely helped. He reminded me who I was, what I was capable of."
Masters champion Sergio Garcia bogeyed the opening hole and never got on track, carding a 3-over 73, birdieing the final two holes. Phil Mickelson failed to record a birdie during his 73, the score also shot by two-time champion Padraig Harrington and Patrick Reed.
Jon Rahm shot a 69, but only after a two-stroke penalty for moving a vine was rescinded. On Birkdale's 17th hole, the 22-year-old pulled a vine away from his ball, a move that caught playing partner Lee Westwood's eye.
"I got there and I thought it was a loose impediment because it looked dead, so I just moved it to the side," Rahm said, this coming on the heels of a controversial non-penalty at the Irish Open in which he moved his partner's ball during his runaway victory. "And that's when Lee came and he realized it was attached."
A rules official came over and asked if Rahm had improved his lie, with the Spaniard stating he had not. The official did not give Rahm the all-clear signal, however, and was tentatively assessed a two-stroke penalty, with the final decision coming after the round.
"That's what we agreed on. He said we were going to go on. And then we just discussed it. Basically the discussion was, was it an improvement of the lie or not? That's it. I explained my version of what happened".
"Unfortunately for me I was the only one who saw it. There were no cameras to back me up. That's what happened. And it was never on my lie. It was never in my line, never on my swing path. It was not going to bother me anyway."