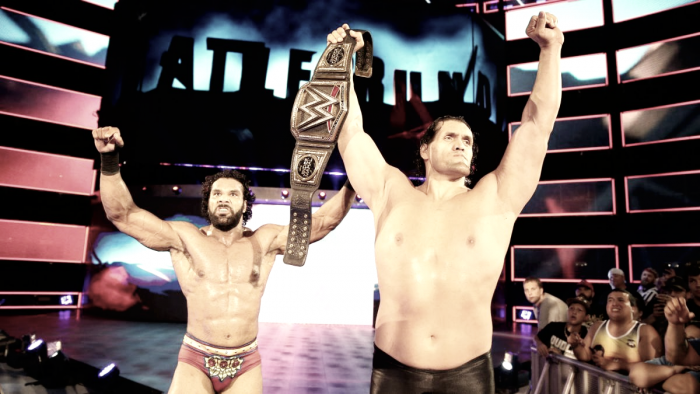 Jinder Mahal's WWE Championship reign took another big turn yesterday - emphasis on the big - as one of professional wrestling's largest performers returned at Battleground.
In the Punjabi Prison match, the Maharaja had help from the Singh Brothers but it was his Indian compadre who provided the biggest helping hand.
Big return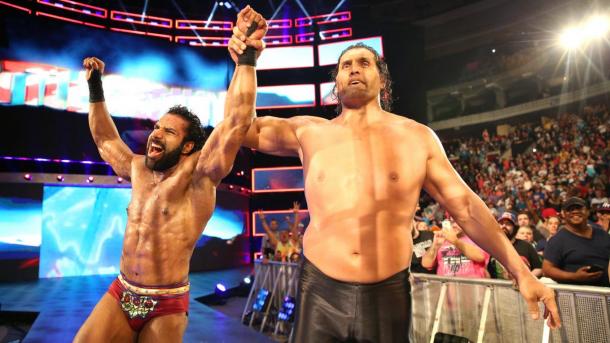 With the WWE Championship around his waist, Mahal has a trio of people to thank as he was able to hold off The Viper Randy Orton in the main event of Battleground.
Just as Orton was ascending to the top of the second part of the structure, out came the returning Great Khali who stepped up, reach through the bamboo beams and held onto the challenger as Mahal climbed to freedom.
The Indian giant last competed in WWE in October 2014 against Rusev with his contract expiring in November of the same year with his reputation having fallen sharply since his original debut in April 2006.
Standing at 7ft 1in, Khali was at one time portrayed as the biggest monster heel in the promotion, even holding the World Heavyweight Championship which he won in a Battle Royal by eliminating Kane and Batista.
Having been released from WWE he opened up his own wrestling school in India and has competed in several independent shows but has severely cut down his work rate due to his enormous size.
Indian stronghold
With WWE looking to branch out into new areas, India has been heralded as their main target with many claiming this as the reason for Mahal's extended Championship reign.
The company identified that although Mahal is becoming popular in India he is not having the same effect that Khali had during his time with the company, forcing them to bring him back.
Dave Meltzer claimed on his podcast that it may be a way to give the Champion a 'rub' from India's most well known professional wrestler.