World and Olympic medalist Andre De Grasse has been forced out of the World Athletics Championships due to a hamstring tear he suffered on Monday. Athletics Canada announced the news with an official statement on their website last night.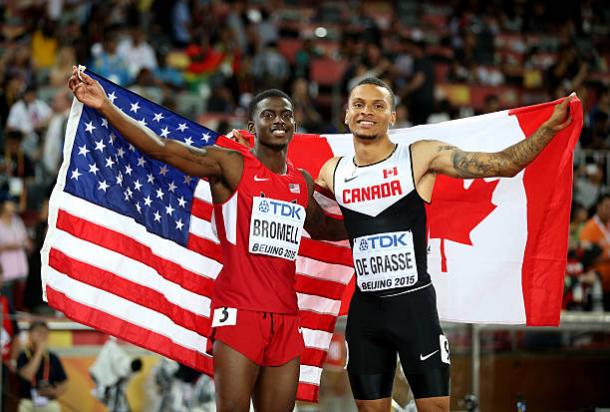 De Grasse, who would have been running in the 100 and 200 metres, as well as as the 4x100 meters, medaled multiple times at the World Championships in Beijing, getting bronze medals in the 100 and 4x100 meters relay, was widely seen as a strong contender this time around, though will now miss the rest of the season due to the injury which he sustained during a training session on Monday night.
The Canadian's withdrawal will add to Usain Bolt's status of being the favorite for the 100-meter title. De Grasse was seen as one of the biggest threats to the Jamaican, who will be competing for the final time, and his withdrawal will mean that Bolt will fancy his chances even more.
De Grasse forced out after strong season to date
With the sprinting events perhaps more open than they have been in recent years, the Canadian would have undoubtedly fancied his chances, running the fastest time in the world in the 100 meters (albeit being wind assisted) and being the eighth-fastest man over 200 meters, though he has now been forced to miss that potential opening.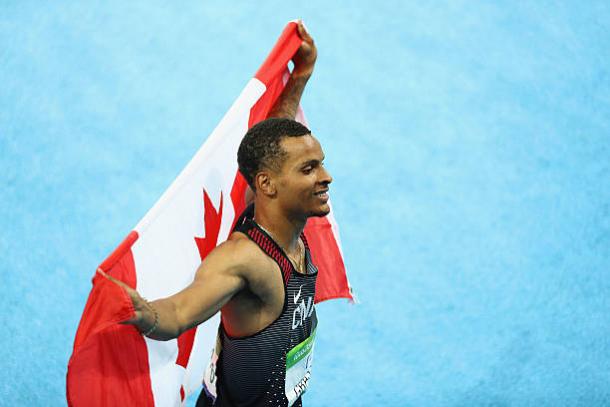 The Canadian, who finished third in the 100 metre final in Rio, and second in the 200 meter final, said in a statement through Athletics Canada that "I am really in the best shape of my life and was looking forward to competing against the best in the world," and added that he was saddened to miss this opportunity, though highlighted that he will be "back and better than ever in the near future."
On a further statement on his Facebook page, De Grasse added that the timing of the hamstring tear was "extremely unfortunate." However, he added that he was grateful for what he had achieved in his career so far and further iterated that he will be back in the future.