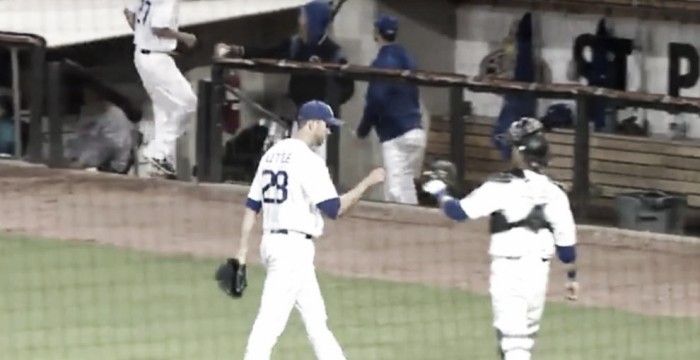 ST. PAUL, Minn. -- It was a cold and windy night at CHS Field on Thursday, but the Fargo-Moorhead Redhawks bats were on fire, as they put up six runs, including five in the first three innings off Saints starter Ryan Zimmerman. His opponent was Tyler Alexander, who was brilliant, holding the Saints to just two runs and four hits on the night.
The Redhawks bats came alive early in the game, starting in the second inning when Josh Mazzola led off with a single to right field. He was followed by Trever Adams, who ripped his 14th home run of the season to put Fargo-Moorhead up 2-0. Zimmerman was able to escape the inning without any further damage, but the real hurt came in the third inning.
After getting the first batter to ground out, Zimmerman ran into some problems, as the next two batters both singled, and first baseman Mitch Delfino committed an error at first base that loaded the bases for Mazzola, who picked up his second hit of the night, this one a double down the left field line to score two runs. Another run came across when Adams hit a sacrifice fly to right field to drive in Chris Grayson and make it a 5-0 Redhawks lead.
The Saints were able to get one of the runs back in the bottom of the third when Tim Colwell led off with a single to right field and proceeded to steal second and third base before scoring on a RBI groundout from Nate Hanson.
The Redhawks scored their sixth run of the game in the fifth inning when Devan Ahart led off with a triple off the right-center field wall. He scored when Keury De La Cruz hit a sacrifice fly to left field.
Zimmerman lasted through the inning but was removed with one out in the sixth in favor of Connor Little, who threw the final part of the inning, as well as the rest of the game, giving up no runs and just one hit in 3.2 innings pitched.
The Saints got one run in the eighth inning when JJ Gould reached on an error by the third baseman, and later came around to score on a double by Anthony Gallas, but the Saints were unable to crack the code against Alexander, who ended up throwing 7+ innings, giving up four hits and two runs while striking out 10 batters to give him 101 strikeouts on the season.
The same two teams will go back at it on Friday night, as the Redhawks will send RHP Tyler Herron (6-2, 2.90). The Saints are still TBA on their starter. First pitch is 7:05 p.m.
Game Summary
Win - Alexander (4-5)
Loss - Zimmerman (5-5)
Save - None
Player of the game - Tyler Alexander (7+ IP, 2 runs, 4 hits)
FM -- 023 010 000 -- 6 10 1
SP -- 001 000 010 -- 2 6 1