With no Greg Rutherford in the field due to injury and Marquis Dendy and Jeff Henderson failing to qualify, it was an open final with it being anyone's game. After qualification, it was Czech Republic's Radek Juska who jumped the furthest at 8.24m with Maykel Messo further down in second at 8.15 and Rushwahl Samaai jumping the third longest at 8.14m.
South Africa came away triumphant following the event with two of their competitors coming away with a medal. Luvo Manyonga came away with his first gold medal jumping 8.48m, a significant step up from his 8.12 in qualifying. America's Jarrion Lawson took home the silver whilst Rushwahl Samaai came away with a bronze medal.
South Africa occupy two of the three podium places
In the opening round jump, South Africa's Manyonga fouled whilst his biggest rival on the night Lawson jumped 8.37m to take the lead. Third place at this point went to the relatively quiet Russian Alexsandr Menkov, who was competing as a neutral. He went 8.18m and occupied the bronze medal.
After seeing the American go clear top in his opening jump, the South African Manyonga then stepped up his level and jumped a massive 8.48m to pass Lawson and take the top spot by 11 centimeters. Still in third and no improvement on his opening jump was the Russian Menkov who fouled his second attempt
Menkov then fouled his next three attempts as his night got worse. But Rushwahl Samaai who jumped 8.27m on his fifth jump to level with the Russian then went all out and passed him with a jump of 8.32m to go into the podium places in third.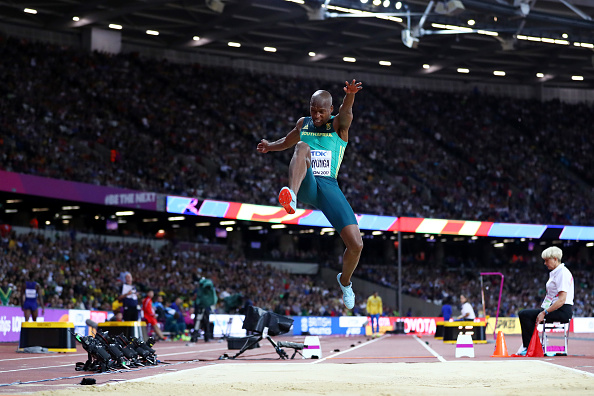 Still, in second and 5 centimeters behind the leader Manyonga, Lawson could only improve his jump by one centimeter on his final attempt as he came away with silver after attempting to snatch victory, meaning Manyonga won gold and Samaai bronze.
Czech Republic's Radek Juska who came in with the worlds leading qualifying jump failed to place himself in medal contention, finishing down in tenth place with a jump of 8.02m from his second attempt and exited the final pretty early after failing to improve during his third and final attempt.
Maykel Messo who also had high hopes coming into the final after placing second in qualifying the day before. But he struggled to keep up with the field who had set the bar high early on. He finished with a jump of 8.26m and though it was a significant improvement, he could only finish in fifth place.