America's Tori Bowie took the women's 100-meter title in dramatic fashion on Sunday, edging ahead of Marie-Josee Ta Lou at the very last moment to win her first individual global title at the World Athletics Championships in London.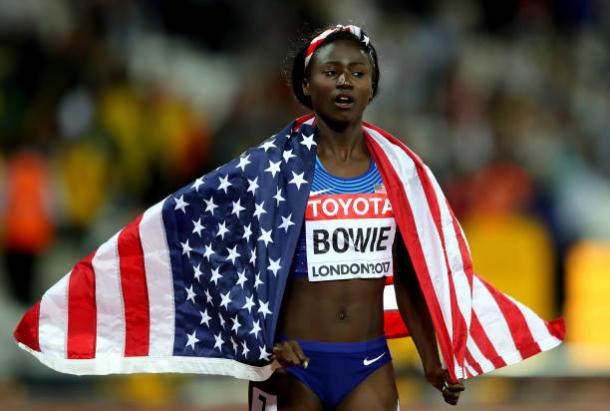 The American got off to a fairly good start but it was her incredible finish which saw her take the title, with a final dip seeing her win the race in a time of 10.85 seconds, just ahead of Ta-Lou who finished second in a time of 10.86. Dafne Schippers, the silver medalist in Beijing two years ago, took the bronze medal in a time of 10.96 seconds.
What this race may be remembered for though, however, is the fact that Elaine Thompson failed to come even close to challenging. The Jamaican, the Olympic champion last summer, was the heavy favorite heading in, though seemingly went backward as she failed to gain any momentum. She will not be in action again until the relay event.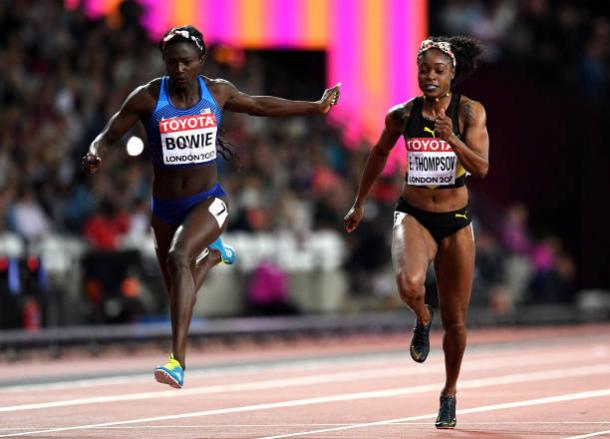 Behind Schippers, it was Murielle Ahoure in fourth place, with Thompson finishing in fifth. Michelle-Lee Ahye finished in sixth place, with Rosangela Santos in seventh and Kelly-Ann Baptiste in eighth place.
Bowie takes surprise gold medal as Thompson fails to feature
After running 10.84 seconds in her semifinal just a couple of hours before, it was hard to see past Thompson taking the gold medal. However, a poor performance saw her out of the medals with Bowie completing a clean sweep for America in the short sprint after Justin Gatlin took gold in the men's race last night.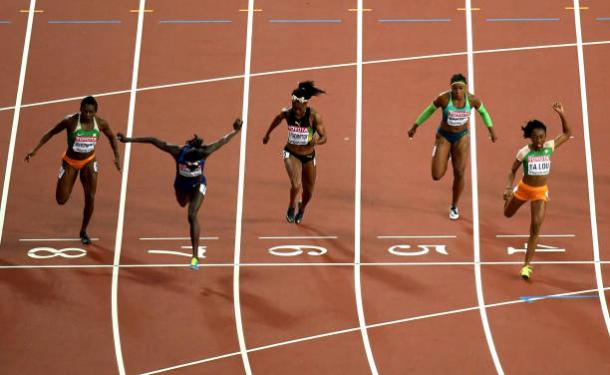 It was Ta-Lou, the second-fastest woman into the final, who got off to the best start, though the rest of the field was lined up fairly evenly. The Ivorian remained solid, though Thompson had got off to a good start and was seemingly in a great position to push in front. That push, however, never came, and as Ta-Lou stormed to the line it was Bowie, out in lane eight, who stormed through to take the title. The Ivorian will undoubtedly rue not dipping towards the line; a gold medal would have been hers had she done so. Schippers, who failed to medal in this event at the Olympics, herself finished strongly to edge past Ahoure and Thompson for the bronze medal.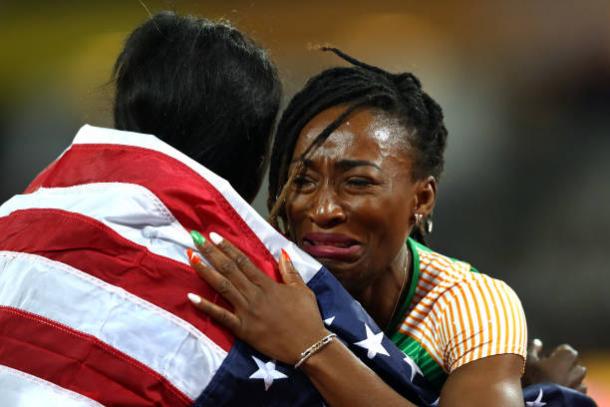 Whilst a lot of attention will be put on what went wrong with Thompson's race, this is now Bowie's fifth medal at a global championship, after finishing third in the 100m in Beijing and winning three Olympic medals, and has become a huge factor in the sprint events. Bowie, as well as her fellow medalists in this race, will now turn their attention to the 200-meters; Schippers is the defending champion in that event.