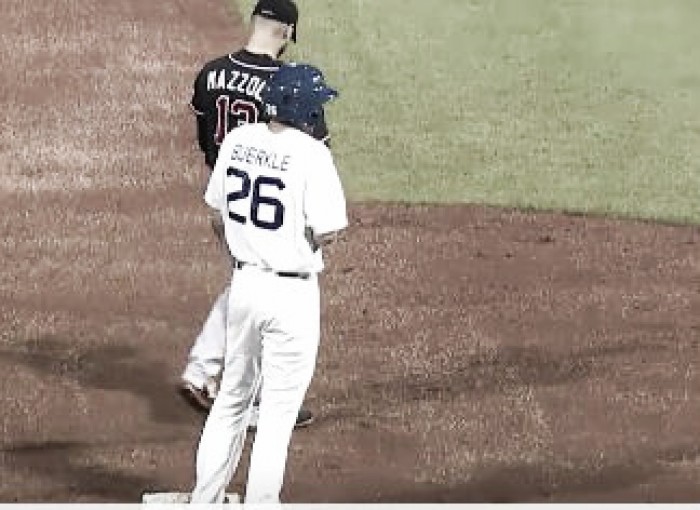 ST. PAUL, Minn. -- The St. Paul Saints came into Saturday night's game needing a win against their division rivals the Fargo-Moorhead Redhawks, and they got it, and it wasn't close. When the dust settled, the Saints walked away with a 12-2 win, thanks to a seven run fourth inning.
The first scoring happened in the bottom of the second inning when Breland Almadova hit a two-out single, and proceeded to steal second and third. After back-to-back walks, Nate Hanson ripped a single to left-center field to score Almadova and Tim Colwell. Two more runs came in and scored on a double by Tony Thomas.
The real damage came in the fourth inning when the Saints put up seven runs on two Redhawks pitchers. The Saints tallied six hits in the inning, including a two-RBI single from Colwell, and a single by Ben Buerkle that ended up with the ball being thrown all over the infield, and allowed two runs to score.
The Redhawks picked up two runs in the top of the fifth inning when Brandon Tierney led off with a walk, and Yhoxian Medina drew a walk. After two consecutive wild pitches that allowed Tierney to score, Trever Adams singled to score the second run of the inning, but Saints starter Benji Waite was able to get out of the inning without any more damage.
The Saints put up one final run in the bottom of the inning when Thomas hit a one-out single, and came around to score on a double from Kes Carter that moved it to a 12-2 game. The Saints only needed one bullpen pitcher after removing Waite in the top of the sixth, as they called on Jeff Malm to finish the game, and he did. He went four innings, giving up one hit and no runs to save the Saints bullpen.
The two teams will play the final game of the four-game set on Sunday evening when Saints ace Mark Hamburger (11-3, 3.36) takes to the mound. He will be opposed by RHP Jose Almarante (4-5, 4.21). First pitch will be at 5:05 p.m.
Game Summary

Win - Waite (4-3)
Loss - Solomon (4-3)
Player of the game - Breland Almadova (4-5, 2 runs scored)
FM -- 000 020 000 -- 2
SP -- 040 710 00x -- 12
Game Notes

The game got started almost an hour late due to a rain storm that passed through the St. Paul area about an hour before first pitch. The game officially started at 7:58 p.m.
Anthony Gallas is expected to return on Sunday afternoon after missing the past few games due to a wedding that he was participating in. Gallas is batting .321 with 17 home runs this season for the Saints.