Pierre-Ambroise Bosse took advantage of an open final to take the 800-meters title at the World Athletics Championships, producing an amazing final lap to take his first ever global title victory.
Bosse, who had only ever one European Championship bronze medal in the past despite reaching several major finals, was near the front throughout the whole race and produced a staggering final 250m to take the title in a season best of 1:44.67. Bosse's fellow European, Adam Kszczot, finished in second place for the second consecutive World Championships in a time of 1:44.95, whilst Kipyegon Bett held off a late charge from home favorite Kyle Langford to take the bronze medal in a time of 1:45.21.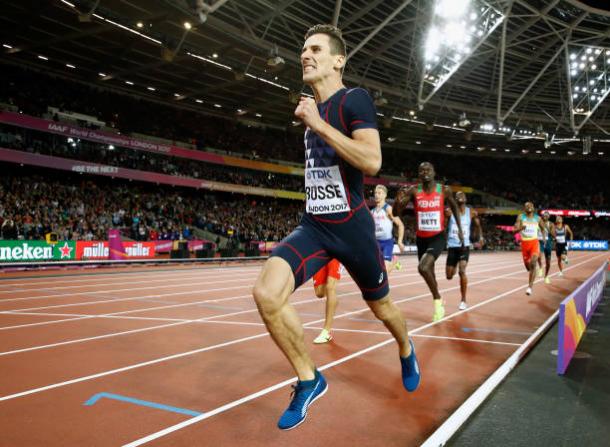 Langford, in his first ever major final, set a new personal best to finish in fourth, with former Olympic medalist Nijel Amos in fifth and former World Champion Mohammed Aman finishing in sixth. Thiago Andre of Brazil finished in seventh, whilst Damian McBride, who led throughout the first lap, faded to finish in eighth.
Bosse takes gold in open final
With world record holder and defending champion David Rudisha withdrawing due to injury, and title favorite Emmanuel Korir crashing out following a poor performance in the semi-finals, there was undoubtedly an opportunity for someone here. It was, Bosse, who only qualified as a fastest loser, that took advantage.
It was McBride, who had convincingly made the final, that took the pace out, with the likes of Amos and Bett sitting closely behind him. Bosse sat behind those three, with Kszczot sitting right at the back alongside Langford. With a lot of pushing and shoving, the order of the race generally remained the same heading into the final lap.
It was with 400m to go that Amos, the fourth-fastest man in history, started to push ahead. The Botswana runner was joined by Bett, though it was clear that McBride had gone off too hard as he began to fall back. Bosse joined the two at the front of the race and took the lead with 250m to go, and the Frenchman remained strong as he led the field into the final straight.
He continued to accelerate away from the field, taking his first global title. Kszczot, always a strong finisher, stormed down the final straight to take silver, with Bett holding off a late charge from Langford to finish in third.