 Whether it's a World Championships or an Olympic Games, the Pole Vault remains one of the most exciting field events. Heading into the final, Renaud Lavillenie, Piotr Lisek and Sam Kendricks all qualified as the three best vaulters in the field.
The Frenchman who had never won a World Championships gold had to settle for Bronze this time with America's Kendricks taking the gold. Poland's Piotr Lisek who went clear at 5.89m, same as Lavillenie, took home the silver on countbacks, upgrading on his bronze from Beijing two years ago.
Three-way battle
Sam Kendricks and Piotr Lisek both chose to enter the field on the opening height of 5.50m, while Lavillenie, the world record holder chose to pass the height. The American and Pole eased their way through the 5.50m height with no trouble at all.
In came Lavillenie, the biggest rival to Kendricks and Lisek. With the bar at 5.65m, the Frenchman and the American both successfully cleared the height while Lisek, the Pole failed twice before going beyond 5.65m at the third attempt.
Kendricks, Lisek, and Lavillenie, on the next height of 5.75m all comfortably cleared the height with the competition hotting up nicely. The Chinese athlete, Xue Changrui was keeping up, clearing the three heights at the first time of asking.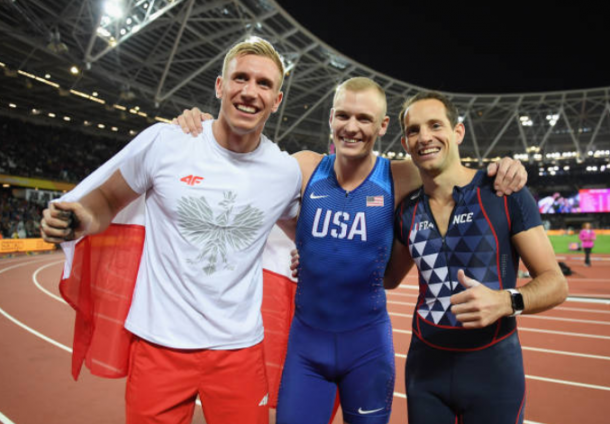 The Chinese athlete also kept pace with the three leading athletes after clearing the fourth bar of 5.82m without any failures thus far. But Lisek and Lavillenie chose to pass after both failing to clear the height.
Changrui's competition came to an end after falling at the new height of 5.89m but came away with a National Record and fourth. Kendricks continued to look strong as he cleared the height alongside Lisek, who occupied the silver medal. The Frenchman initially failed the first attempt but passed on his second.
The American had his first failure of the competition, failing to clear the bar twice at 5.95m but did pull through on his final attempt. Lisek struggled at this height bowing out after three attempts. Lavillenie failed twice before eventually sneaking through.
With the bar at 6.01m, Kendricks failed to clear with Lavillenie having one chance at snatching gold. But he too failed to clear the bar and had to settle for bronze but did earn a season's best result. Kendricks got the gold and Lisek Silver.