 Coming into the final, all the talk was about Allyson Felix and Shaunae Miller-Uibo and the rematch after their epic race in Rio last year when the Botswanan dived across the line to win gold. For the American, she was looking for the perfect ten. The first athlete to achieve ten major World Championship titles.
But the surprise athlete of Phyllis Francis came home with the gold medal after Miller-Uibo pulled up in the home straight, who ended up finishing down in fourth. Meaning, Bahrain's Salwa Eid Naser broke more records, a National Record to take silver while Felix was forced to settle for the bronze.
Shericka Jackson finished in fifth, Stephenie Ann McPherson sixth, Kabange Mupopo seventh and Novlene Williams-Mills in eighth.
Upset on the cards
Heading into the final, Naser of Bahrain was surprisingly the fastest women to qualify, breaking a National Record ahead of Allyson Felix and Shaunae Miller-Uibo who were second and third fastest respectively.
Also joining the three in a high-quality field was Jamaican Shericka Jackson, Novlene Williams-Mills, Stephanie Ann McPherson and Zambian Kabange Mupopo.
On a rainy London evening, Miller-Uibo of the Bahamas got the quickest start out in lane seven and led the field during the backstretch as Felix in Lane five was quickly chasing down fellow countrywoman Francis, who was in lane six.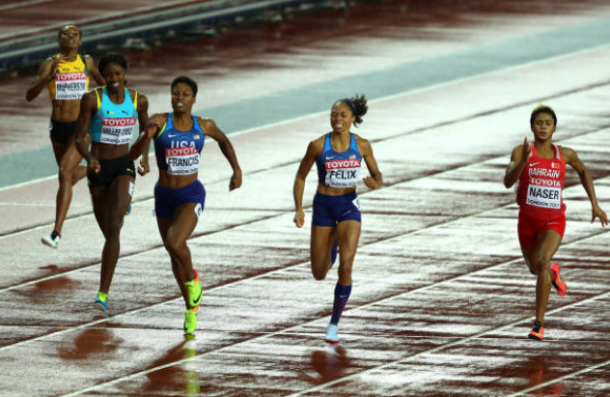 Heading towards the bend, Miller-Uibo led the race and was looking strong for another major title. Down in second, Felix and Francis were chasing down the leader with Nasser in close pursuit. Seemingly in control at this point, the Bahamian with 50 meters left seemed to have pulled a muscle which jolted her stride.
In came Francis to take a remarkable gold medal, earning a personal best 50.08 while Nasser broke another National Record in a time of 50.06 to take the silver with Felix the bronze in 50.08. In fourth was Miller-Uibo.
Having won her 14th World Championships medal, Allyson Felix equaled Jamaica's Merlene Ottey as the most decorated female athlete in World Championships history. But is likely to surpass her later this week if the USA manages to win a medal in the relays.