There was another surprise at the World Athletics Championships on Thursday, with Ramil Guliyev winning Turkey's first ever World Championships title as he took gold in the men's 200-meters.
Guliyev, who had impressed in making the final, was considered by some as a medal contender though proved strong for the rest of the field, running a consistent race to take the title in 20.10 seconds. Wayde Van Niekerk, who took gold in the 400-meters, showed no signs of the fatigue that seemingly bothered him in the semifinal as he took silver in a time of 20.11 seconds, just one one-thousandth of a second of Jareem Richards who took the bronze medal.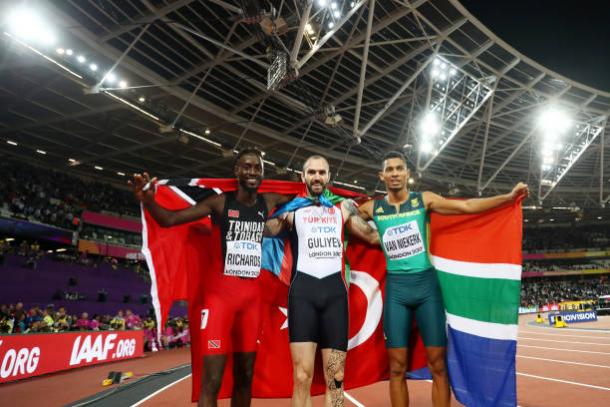 Britain's Nethaneel Mitchell-Blake finished fourth, just ahead of America's Amir Webb who finished in fifth place. Isaac Makwala perhaps drained physically and mentally after a dramatic race, faded down the home straight to finish in sixth place, with rising star Abdul Hakim Sani Brown finishing in seventh. Isiah Young of America finished in eighth.
Guliyev takes gold in very open final
There was no doubt that the final was very open heading in, and that showed in the final result, with neither an American or Jamaican on the podium at the event for the first time since Trinidad and Tobago's Ato Bolden took gold in Athens twenty years ago.
Just as in all the finals have this past week, the race got off to a clean start, with Guliyev, Webb, Makwala, and Richards arguably putting themselves a little ahead of the rest of the field in the opening 50m. As the finalists began to enter the final straight, Makwala began to show some signs of fatigue, with Van Niekerk beginning to look a bit more comfortable.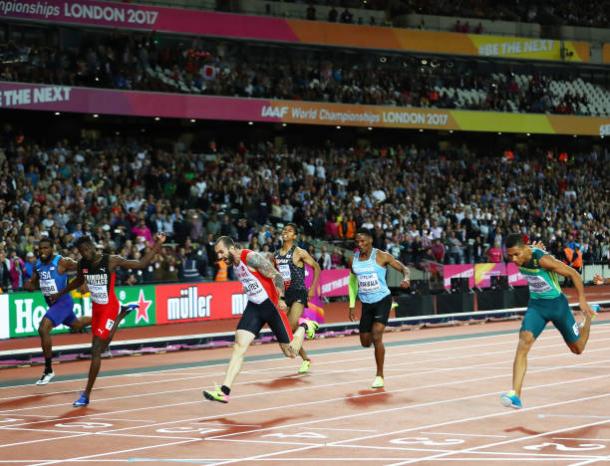 Down the final 100m, it was clear that Makwala, the fastest man in the world this year, would not be a factor after a draining week, with both Van Niekerk and Mitchell-Blake passing him. The South African continued to charge and briefly took the lead, but Guliyev remained strong and as Webb fell away, he edged his way in front and it was Richards and Van Niekerk attempting to close on him. The Turk held on, taking a surprise gold with Van Niekerk taking silver ahead of the Trinidadian by the smallest of margins. Mitchell-Blake, who had left it just too late to medal, edged past Webb for fourth.
Guliyev's winning time was the slowest in the event since Calvin Smith took the title at the first World Championships back in 1983, though the former Azerbaijani will not care about that after taking a first major title.