 America's stranglehold of the medal table at the World Athletics Championships continued on Thursday night, with Kori Carter holding off fellow American Dalilah Muhammad to take the 400-meter hurdles title.
Carter was stuck out in lane nine, though got off to a good start and eventually proved too strong down the back straight, taking the gold medal in a time of 53.07 seconds, 0.43 seconds ahead of Muhammad who was unable to add to her Olympic Games title last summer. Ristananna Tracey of Jamaica took the bronze medal with a time of 53.74, with two-time defending champion Zuzana Hejnova running a season's best of 54.20 to finish just outside the medals.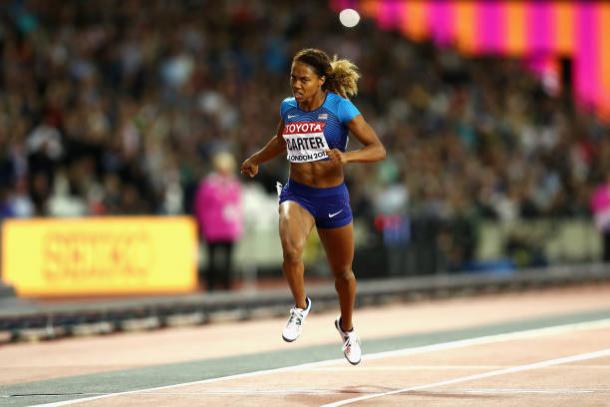 Lea Sprunger of Switzerland, who got off to a very good start, fell back and ended in fifth place, ahead of Canada's Sage Watson in sixth place. A third American, Cassandra Tate, finished in seventh place, with home favorite Eilidh Child finishing in eighth place.
Carter proves too strong for Muhammad down the final straight
Muhammad was the favorite for the title heading into the race, though many saw Carter as a potential danger despite a poor lane draw and that proved to be the case as she chased down the Olympic champion to win her first ever global title.
It was Muhammad who got off to the best start, quickly making ground on Hejnova who was in the lane outside her, though both Carter and Sprunger had also left the box quickly and were not too far behind the favorite in the opening 100m. Muhammad kept racing well down the back straight and round the bend, though whilst Sprunger began to fall away, Carter remained strong and began to make ground on her fellow American.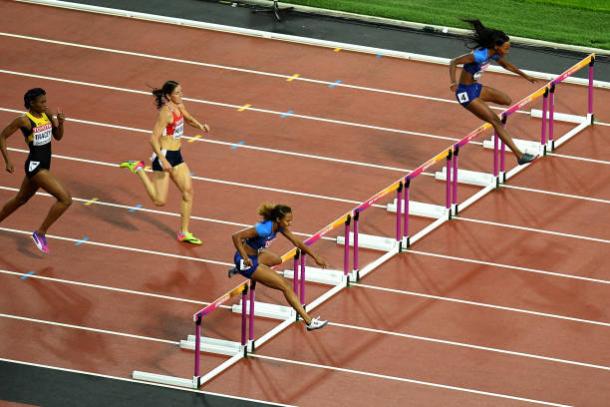 Heading into the final 100-meters it was clear that the battle for gold was between the two American's, with the rest of the field sitting a reasonable distance behind them, though it was Carter who edged ahead with one hurdle to go and finished strongly to take the title ahead of her countrywoman. Behind them, it was Tracey who put in a fantastic finish to win the bronze medal.