 Christian Taylor vs Will Claye was the main event of the World Championships field event. Both qualified quite comfortably and were the best jumpers in the field. Portugal's Nelson Evora was arguably the only man that could between the two American's fighting for gold.
On the night, however, it was the Americans one, two again. Taylor, who was eager to break the world record won a third and historic World Championships gold with a jump of 17.68m while Claye, his team-mate was five centimeters behind at 17.63m. Thirty-three-year-old Nelson Evora of Portugal was way behind as he got the bronze, jumping 19.16m
Taylor vs Claye
Taylor, the double World Champion got off to a poor start, jumping 16.97m on his first attempt. Claye, his biggest competitor, however, sent a message out to his compatriot and team mate by jumping 17.54m with his first jump of the night.
The 27-year-old, down in fifth place from the first round responded to Claye and improved significantly, jumping a big 17.57m to go into the lead. The 26-year-old couldn't improve on his score and only jumped 17.52m.
Portugal's Nelson Evora, a former Olympic and World Champion recorded his best jump of the night in the second round at 17.19m to occupy the bronze medal position thus far.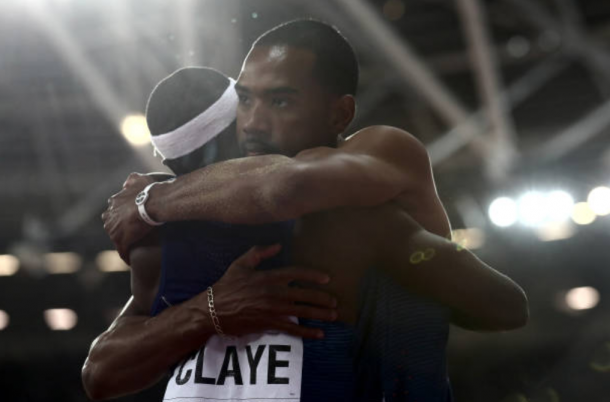 The third round saw Will Claye retake the lead with a jump of 17.63m to once again, send out a message to Taylor. Who responded immediately by going 5ms further than his team mate to jump 17.68m to head back into the first place.
---
Following his second jump, Evora struggled to match/better his second jump with two fouls in the fourth and fifth round. Taylor and Claye also failed to better their third round score in the next two jumps as they were left with one jump each.
Jumping first, Will Claye fouled his jump and earned another silver medal, making Taylor the three-time World Champion, putting him in the record books as the only triple jumper to achieve that feat thus far. With one final jump, he could only get 17.03m but that didn't matter as he won again. Evora took home the bronze.