Heading into the Long Jump final there were plenty of athletes with a chance of clinching the title, however, Brittney Reese of America, a three-time World Champion was arguably the woman to catch despite qualifying in ninth place.
Darya Klishina, a Russian competing as a neutral jumped the furthest in qualifying at 6.66m while Tianna Bartoletta jumped 6.64m and Lorraine Ugan, 6.64m jumped the second and third furthest respectively. Ivana Spanovic a medal contender was the fourth best qualifier at 6.62m.
But no one could catch Reese of the USA, who claimed a fourth World Championships gold medal with a jump of 7.02m. Klishina of Russia claimed the silver with 7.00m with Tianna Bartoletta taking the bronze at 6.97m on her final attempt.
Reese the woman to beat
Following the completion of the opening round of jumps, Reese found herself in second place with a jump of 6.75m with Darya Klishina occupying the top spot thus far. In third at this point was USA's Bartolotta at 6.56m. Serbia's Ivana Spanovic and Britain's Lorraine Ugan were the only women to produce a foul in the opening round.
But Spanovic on her second attempt recorded a jump, a jump of 6.96m to go into the lead. Klishina and Bartoletta failed to better their round one jumps. Brittney Reese fouled her second round jump while Ugan also recorded a foul, her second, putting her in danger of a medal.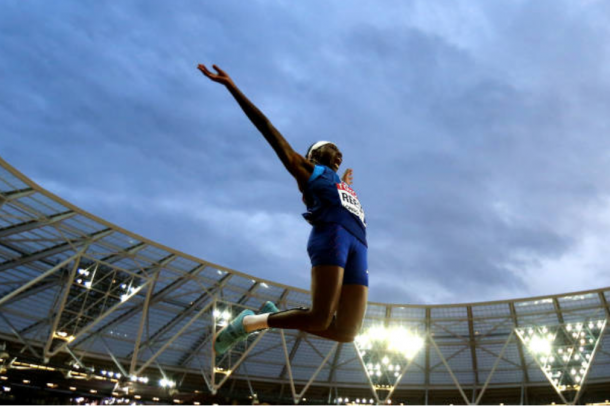 The American Reese dusted herself off and went again to become the first woman in the field to go beyond the 7m mark with a jump of 7.02m to bump Spanovic out of the top spot who couldn't better her previous round jump. Klishina and Bartoletta fouled in the third and Ugan recorded her first jump of 6.72m to take fourth.
The Brit Ugan fouled her next two jumps and had only one chance to grab a potential medal. Reese, the leader also fouled her next two jumps as did Ivana Spanovic. Bartoletta jumped 6.88m in the fifth round whilst Klishina jumped 6.91m in the fourth round then 7.00m in the fifth to take second from Spanovic who occupied for quite some time.
One jump to go, Bartoletta went all out and earned a jump of 6.97m to snatch the bronze medal from Spanovic by 0.01m. Klishina couldn't match her 7m jump and earned silver while though it didn't matter, Reese fouled but won a fourth World Champs gold medal. Ugan could only finish fifth in the competition.