 Caster Semenya showed why she was perhaps the heaviest favorite in any event at the World Athletics Championships on Sunday, running a new personal best of 1:55.16 to take gold in the Women's 800-meters.
The South African, who had already taken a bronze medal in the 1500-meters, did not find things easy but proved far too strong down the back straight and became the eighth fastest woman in history with her new national record. Francine Niyonsaba once again had to settle for second place behind Semenya, herself running a very fast time of 1:55.92, with Ajee Wilson capping off an impressive season to finish in third place in a time of 1:56.65.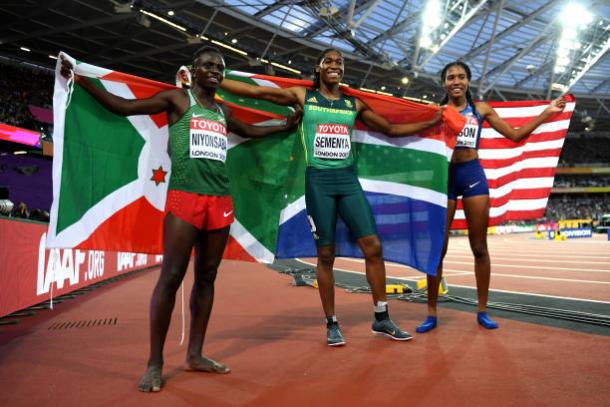 The eventual medalists were well ahead of the rest of the field, with Margaret Wambui almost a second behind Wilson to finish in fourth. Melissa Bishop, the silver medalist two years ago, finished in fifth place, with Angelika Cichocka in sixth and Charlene Lipsey in seventh. Lynsey Sharp finished in eighth place, though it was overall an extremely fast final; every woman ran under the 1:59.00 mark.
Semenya proves too strong for the competition
There was no doubt that Semenya was an enormous favorite heading into this final, and that was undoubtedly justified as she proved too strong for both Niyonsaba and Wilson in the final 100m.
The race got off to a fairly quick start, and unsurprisingly it was natural front-runners Niyonsaba and Wilson who went straight to the front, with Semenya, Wambui, and Sharp sitting comfortably behind them. It was the American and the Burundian who sat at the front who stayed at the front, though with the final lap approaching those two and Semenya and Wambui took off from the rest of the field, and it was clear the battle for the medals was between those four.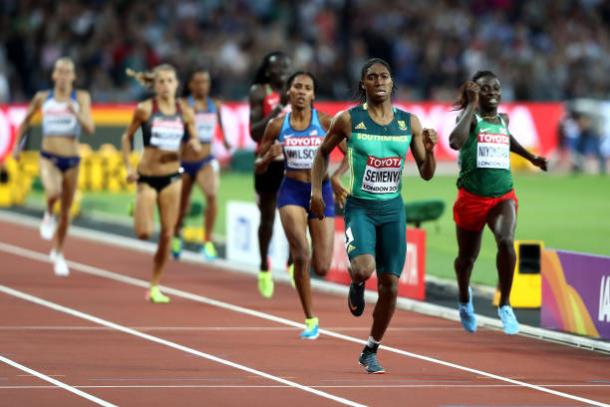 It was not long, however, until Wambui was dropped by the eventual medalist, with Wilson taking charge of the race down the back straight. Both the American and Niyonsaba pushed hard round the back straight and the final bend to shake off Semenya, though the South African remained strong and breezed past both in the final 100m to regain the title she won in Berlin eight years before; she could well become a three-time world champion, with Mariya Savinova having been disqualified from the 2011 championships due to doping offences. Niyonsaba herself finished strongly to take the silver medal, with Wilson easing down in the final meters knowing she had secured a medal.