 The final race of the World Athletics Championships proved to be one of the most exciting, with Trinidad and Tobago causing another shock to take gold in the Men's 4x400-meters relay ahead of America in a thrilling final in London.
The American quartet were reasonably heavy favorites heading into the final, though they did not put enough distance between themselves and the Trinidadian quartet, with Lalonde Gordon overhauling Fred Kerley in the final straight to seal the Caribbean nation's only gold of the event in a time of 2:58.21, with America 0.49 seconds behind. Behind them was Great Britain, who took surprise bronze medal with a time of 2:59.00 in front of their home crowd.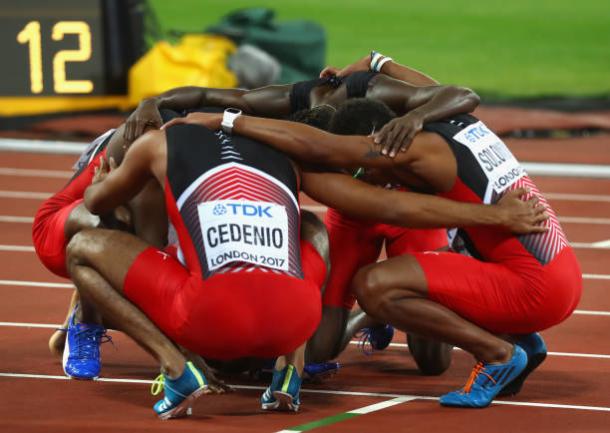 Belgium, led by the Borlee brothers, finished in fourth place, with Spain in fifth and Cuba in sixth. Poland, considered by many as a medal contender, disappointed as they finished in seventh place with France in eighth and last place.
Gordon secures Trinidadian gold with thrilling finish
This has undoubtedly been one of the most dramatic World Championships in history, with several event favorites often being beaten, and that proved to be the case one last time with America suffering a rare defeat in what has been a highly successful event for the nation.
Surprisingly, the race got off to a fairly even start with no one on the first leg particularly putting their nation in control of the race, though America's Wilbert London III and Trinidad's Jarrin Solomon had both run well, and as they handed over to Gil Roberts and Jareem Richards respectively, those two nations built up a lead against the chasing pack, led by Britain.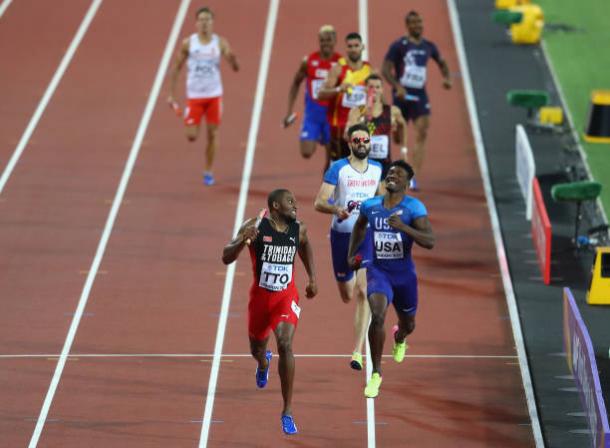 It would continue to be Trinidad and Tobago and America comfortably in front round the second and third leg, with Michael Cherry leading Machel Cedenio heading into the final baton change. Cherry handed over to Kerley in the lead, though Gordon was chasing hard and both men were being closely followed by Martyn Rooney, who had pulled away from the rest of the field and had put Britain safely in a medal position. Rooney, however, could not catch up in the final straight and with the finish line in sight, Gordon pulled past Kerley with 50m to go and secured an impressive victory.