 Mutaz Essa Barshim was hoping to claim his first High Jump world title after coming away with the bronze medal by Ukraine's Bohdan Bondarenko in Russia just two years ago. The Qatari was the man in form and the man to beat while Britain's hopes rested on Robbie Grabarz, the bronze medalist from London 2012.
During qualification, it was Barshim who eased his way into the final, clearing 2.31m without any failures. Just behind him was arguably his biggest rival Bondarenko, who cleared the same height but had one failure to his name. Danil Lysenko had one failure too but on his second attempt, cleared 2.31m.
The gold went to Barshim, who cleared 2.35m. Danil Lysenko won the silver as a Neutral Athlete clearing 2.32m and Syria's Majededdin Ghezal won the shock bronze going beyond 2.29m.
Barshim eases to gold
Eight out of the ten athletes chose to enter the competition at the first height of 2.20m and pass the first test. Bondarenko of Ukraine chose to pass the height while Germany's Eike Onnen failed twice before scraping by on his third and final jump.
Six athletes then cleared 2.25m at the first time of asking, including Britain's Grabarz. Mateusz Przybylko of Germany failed on his first attempt but cleared the height on his next jump. Bondarenko seemed to have struggled and needed a third attempt to pass the second height.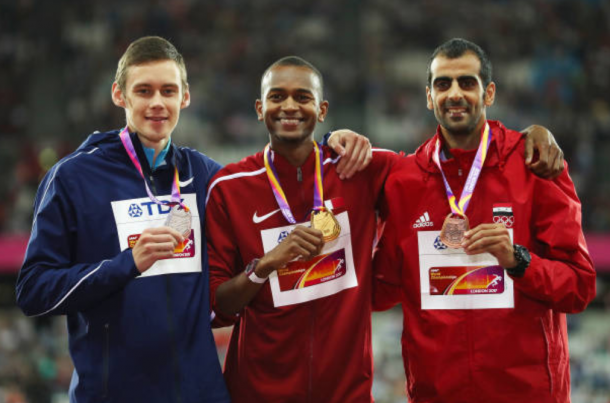 Up 4ms to 2.29m, only Qatar's Barshim cleared the height at the first attempt, putting him clearly ahead of the field. Lysenko of Russia and Syrian Majededdin Ghazal passed on their second chance. Grabarz failed three attempts and bowed out in sixth place with Bondarenko choosing to pass.
2.32m, Barshim went clear again at the first time of asking, as did Lysenko but four athletes - Ghazal, Edgar Rivera, Grabarz, and Bondarenko crashed out of the competition, meaning Syria's Ghazal won bronze. Only two athletes were left in the competition as the bar moved up to 2.35m.
Lysenko competing as a Neutral Athlete failed the fourth height of 2.35m, bowing out and earning a silver medal. Barshim of Qatar then won the gold and cleared the 2.35m bar on his first attempt and chose to up the bar 5m to 2.40m. But unfortunately, couldn't clear it as the competition came to an end.