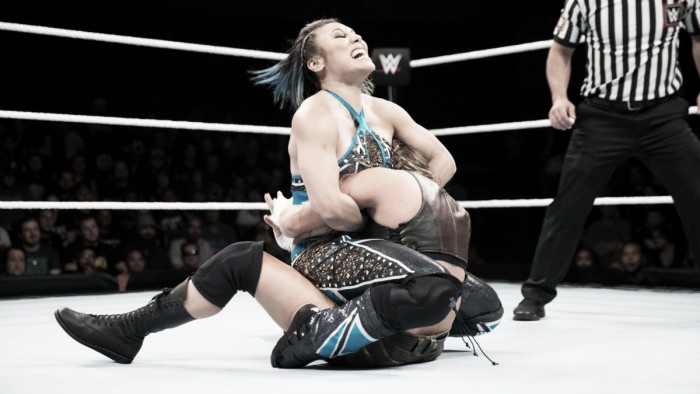 The Mae Young Classic continued with Episode Two and it picked up exactly where the first episode ended in terms of in-ring quality, storytelling and crowd reactions as another four ladies earned their place in the next round.
Mercedes Martinez vs Xia Li
The first match of the night saw the experienced Mercedes Martinez go up against one of WWE's newest recruits; Xia Li. During WWE's recent tryouts in China Li was picked up and enters the tournament to compete in her first wrestling match after years of Kung Fu and MMA competition.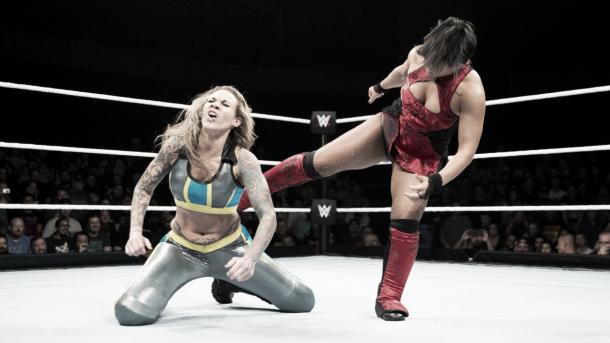 Because of her inexperience, this match was kept fairly short and simple but it told an effective story nonetheless with Li getting the better of her opponent for the majority of the match, utilizing her kicks and striking ability, only to end up being caught out by the veteran Martinez. A big Spine Buster was quickly turned into a modified Dragon Sleeper and that was enough to force the submission and earn entry into the next round.
Winner: Mercedes Martinez
Rachel Evers vs Marti Belle
The daughter of WWE Hall of Famer, Paul Ellering went one on one with the more experienced Marti Belle in the second match of the night which was kept at a fairly slow pace throughout. Belle worked as the heel in this bout right from the start, staying close to the ropes and ensuring that the match couldn't fully get started, quickly ducking to the outside when the pressure was being put on.
When Rachel Evers finally got her hands on Belle she began to show her strength and power, as a former powerlifter she was more than comfortable in this role throwing Belle around the ring hitting some big power moves. However, Belle used her knowledge of the business to get back in control but was far too relaxed and that cost her as Evers locked an inside cradle for the pinfall.
Winner: Rachel Evers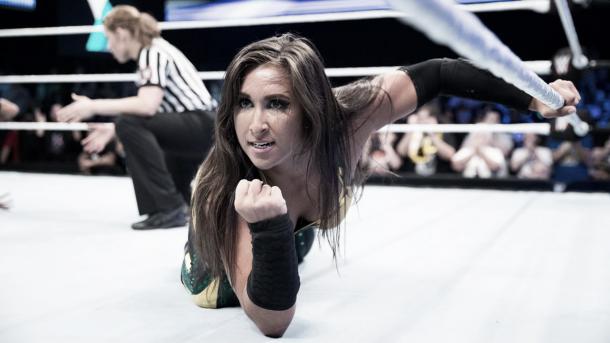 Rhea Ripley vs Miranda Salinas
This match placed two very confident young women against each other and it was clear to see that both have bright futures ahead of them in the wrestling business. Rhea Ripley has an incredible look and plenty of charisma to back it all up and the Full Sail crowd was firmly behind her throughout the match as she displayed plenty of kicks which she uses as a nod to her ex Soccer career.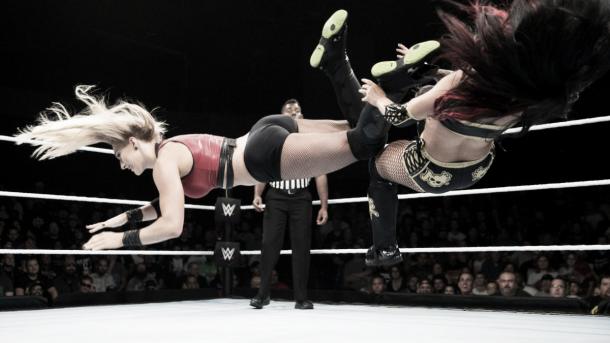 Whilst Miranda Salinas did manage to get some offense in, her biggest shots didn't seem to phase Ripley too much and only enraged the Australian who traded blows comfortably. Once she hit a running boot to the face followed up by a running dropkick it was clear which way this one was going and Ripley planted Salinas to the mat and progressed into the next round, arguably becoming a dark horse in the tournament.
Winner: Rhea Ripley
Sarah Logan vs Mia Yim
In episode two's main event two fan and tournament favourites Sarah Logan and Mia Yim collided in what a fantastic match from start to finish that was incredibly well balanced and paced with the fans buying into both ladies. There was no holding back in this one as they traded some hard hitting blows from the first bell all the way to the last and both endured some serious punishment.
Yim had the slight upper hand at first and ever paid homage to her trainer, Tajiri by locking in the Tarantula, but Sarah Logan was not prepared to back down and quickly brought the fight right back to the more experienced competitor. However, a couple of German Suplexes that even Brock Lesnar would be proud of seemingly had things wrapped up for Yim, only for Logan to kick out and then hit a Fishermans Suplex from the second rope; but Yim wasn't done there either.
Just as Logan looked to be about to gain the win, Yim had things scouted and hit the Eat the Feet for the victory to progress into the next round after a standout match.
Winner: Mia Yim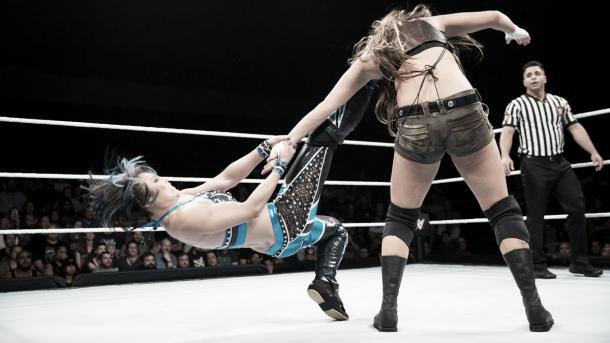 So that is another great episode of the Mae Young Classic as the women continue to prove exactly why this tournament is happening in the first place. Whilst this show wasn't quite as strong as Episode One in terms of in-ring matches, with these bouts being slightly slower paced but that was in no means a bad thing as the quality was certainly still there. Both Rhea Ripley and Mia Yim stood out as stars in particularly in this episode and it is clear from how JR was bigging her up that Ripley has a big future in the company.
The bracket is beginning to fill up for the next round, with two episodes to follow after this it is gearing up to be a special tournament that should lead to several women signing with the company and making a big impact.
Match of the Night: Sarah Logan vs Mia Yim
Star of the Night: Rhea Ripley