In the world of international cricket, Shikha Pandey is an anomaly, a revelation. Simultaneously holding down the jobs of an engineer, an Air Force officer and a cricketer, this Wonder Woman stormed into the collective consciousness of a nation with her exceptional bowling in the 2017 Women's World Cup (where India lost the final against England by a mere 9 runs).
With her characteristic hairband, and aggressive bowling, at the age of 28, Shikha Pandey has already carved a niche for herself in the top echelons of the game and is simultaneously proving herself as a dependable bowler and lower order batsman for India in pressure situations.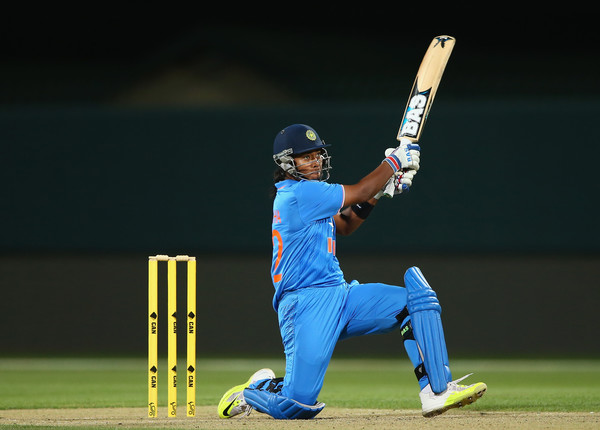 Bowling from both ends with Indian bowling legend Jhulan Goswami, the pair have been invincible over the past 45 matches, but especially in this World Cup. Notably, in the business end of the tournament, the pair worked together extremely well to put pressure on the opposition and stem the run-rate at the crucial moments, including in the death overs.
In an exclusive upcoming interview with VAVEL, Pandey's idol and current Indian teammate, Jhulan Goswami said, "I'm not really worried about the future of pace bowling in India. There are a lot of talented medium-pace bowlers, you know, like Shikha, who is extremely dedicated and hardworking, and constantly looking for ways to improve herself. We have a good partnership, both on and off the field, and we often discuss how to handle certain situations. She's extremely experienced too, and will become a crucial part of the squad in the matches to come."
Despite a lackluster start at the World Cup, which led to her getting dropped for 2 matches in favor of Mansi Joshi; Pandey came back into form with a 3 wicket haul against South Africa, and then an impressive performance against the formidable New Zealand side, getting captain Suzie Bates out with the first ball. From a desire for self-improvement to a sense of responsibility; Shikha Pandey has already become an indispensable part of the team.
She recalls that, at a preparatory camp in Alur in 2014, Goswami told her to guide youngsters too, as the kind of exposure they have had is minimal. Pandey took that advice to heart, and now as a 'dual duty', regularly mentors younger medium pacers like Mansi Joshi, on how to improve their game.
Her refreshing unique perspective towards the game is showcased in her reply to a previous interview, Instead of cultivating a feeling of animosity and competitiveness towards other medium-pacers, Pandey candidly remarks, "I am always happy when a medium pacer takes wickets, to tell you the truth. As a subcontinent team, I actually feel the pressure more when a spinner takes wickets. I fight for medium pacers to play in the team and I have to prove a point by taking wickets, as probably that will allow a young medium pacer a chance."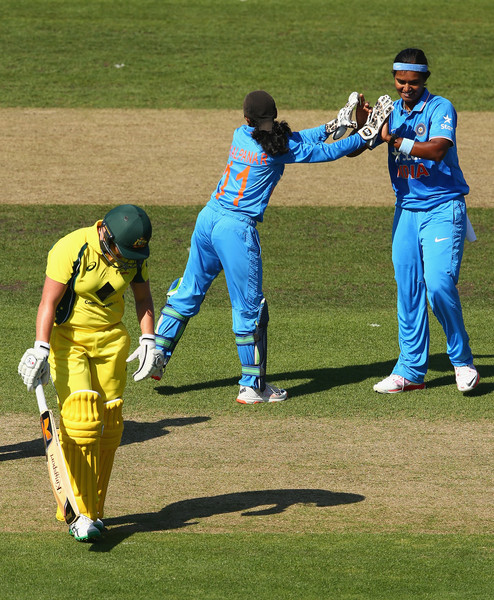 Born in Andhra Pradesh, Pandey's first started playing cricket when she moved to Vasco de Gama in Goa. Her earliest cricket memories were, at the age of 9, being woken up by her dad in the middle of the night to watch Sachin Tendulkar playing his 'Desert Storm' innings in Sharjah.
From throwing thousands of catches during practice with her father to becoming the first state-board affiliated player to play for India at the age of 15; Shikha feels that she owes a large amount of her cricketing prowess to Goa. She recalls, "When I started playing cricket, I used to wake up at 5.30am to watch the Ashes. I remember my father telling me that the true form of cricket is Test cricket, so I thought that if I did play cricket any time, I'd want to be a Test cricketer."
However, despite several selectors recognizing her raw talent, urging her to move to Mumbai, and predicting that she would play for India, Shikha's cricket took a backseat to her education in 10th grade. Only at the age of 18, after graduating from school and in her second year of college at Goa College of Engineering(where she was studying electronics and electrical engineering), did Shikha make her first foray into competitive cricket.
In her last few years of college, Shikha juggled both cricket and her studies; spending the morning hours focused on fitness training, afternoons in college, evenings traveling 12km for cricket practice, and then back home in the night for tutorials to catch up on what she missed at the university.
In her first competitive tournament, the Rani Jhansi Trophy, and her debut for the Goa women's side, Pandey picked up an impressive 4 wicket haul, coupled with 3 half centuries for the Under 19 side. She took a year off from her engineering course and played in Board President's XI against the visiting England and West Indies teams in 2010 and January 2011 respectively.
However, despite two impressive performances, Shikha couldn't make it to the Indian team for their tour of England. But, that turned out to be a blessing in disguise for her, as one of her other childhood dreams was coming true. She'd always had a fascination towards aeronautics and becoming an Air Force pilot, and in July 2011, she passed the Common entrance exam and joined the Indian Air Force as a trainee; and was commissioned as an Air Traffic controller the next year.
Her big break came in 2013-14 domestic season, where she compensated for the lack of matches by putting in more hours in the nets, and took 22 wickets and scored 209 runs throughout the season. This led her to being drafted into the India squad for the World T20 championship, and India's tour of England. With her debut into the Indian team, she became the first cricketer to have played both state level cricket for Goa and international level cricket for India.
In a come-from-behind win against England in the test at Wormsley, Pandey hit the winning runs; and was rewarded with a stump as a memoir from her captain, Mithali Raj, with whom she had put up an unbroken 68 run stand.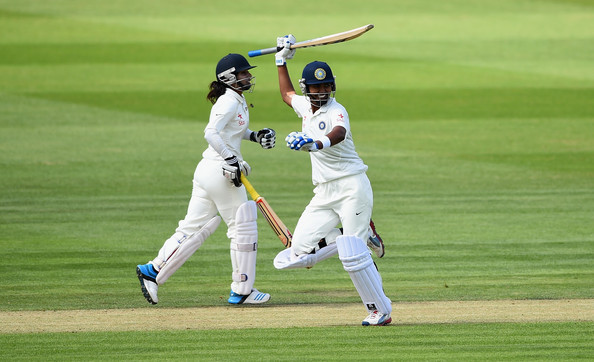 Later that year, in a match against South Africa, she created history by becoming the first Indian woman to take 3 wickets, and score 50 runs in the same match. Coming in to bat at number 4, she followed that performance up with another impressive 59 in the next match and cemented her spot in the India squad, as a 'bowling all-rounder'.
In a previous interview, Pandey discussed her role in the team, and what her teammates, as well as the management, expect from her, "My advantage is I can bat. The day I scored that half-century against South Africa I knew I can do it, and I am made for it. Before that I still had a lot of doubt, but those two fifties were like a transition for me," she remarked. "It is easier to debut for India, but to cement your place and be consistent all throughout is very, very difficult. At this level, when you know other teams are coming hard at you, you have to be a step ahead."
In the tour of Australia, even in the absence of bowling stalwart Jhulan Goswami, Shikha put up a spectacular performance, and with a 9 wicket haul, was India's leading wicket taker on that tour. She then had a dream few months, which commenced with her being adjudged India's second highest wicket taker in the ICC Women's championship with 17 scalps from 14 games.
Later in the year, she led the Indian pace attack in the absence of Goswami at the World Cup qualifiers in Colombo, and was the second highest wicket-taker overall in that tournament, which India ended up winning; and also the second highest in the Quadrangular series in South Africa, which India also won.
A self-professed 'green-top lover', Pandey enjoys playing on pitches that gives batters and bowlers an equal chance, but those are really hard to get these days. Even the pitches at England, characteristically a dream for medium-pacers, have been a little flat over the past few years with less bounce, which makes it a batters paradise.
Excerpts from the exclusive interview:
AYUSHI THAKUR: Do you think the idea of a women's IPL is feasible, or should the BCCI focus more on scheduling international matches? Do you think the IPL will help increase the attacking capabilities of the players?
SHIKHA PANDEY: A Women's IPL would be a great idea. The kind of exposure the players will get sharing dressing rooms with other (overseas) international players is invaluable. We've seen first hand how playing in the WBBL has added a different dimension to the games of Harmanpreet Kaur and Smriti Mandhana. Giving more Indian players an opportunity to rub shoulders with the best will only do us good.
Also, I am sure we will be playing many more international games in the near future. The Quadrangular series in South Africa just before the World Cup was welcomed by BCCI. And I am sure BCCI will leave no stone unturned to help women's cricket grow further. These are exciting times for the women's game in India.
A.T: How would you recommend improving the quality of female players on the Indian domestic circuit?
S.P: Play more number of games. Now that the age group cricket has come into being- with under-16, under-19, and under-23 tournaments happening, we are moving in the right direction.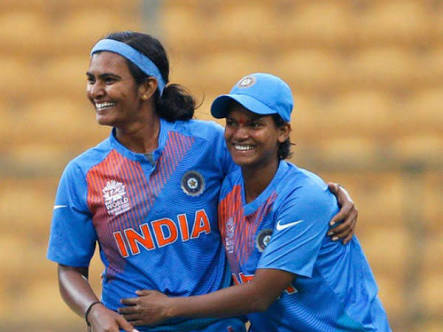 A.T: What are the challenges associated with being both an engineer, and an Air Force officer; alongside your prior cricket commitments? What job is your favourite till date?
S.P: Its more between an Air Force officer and a cricketer. I love both. I am blessed to be able to do what I love.
A.T: You've must have had a large number of lucrative offers after an engineering degree. What made you give them up, and pursue cricket instead?
S.P: I was placed in three companies during campus recruitments but then playing for India was my dream. It was a challenge and I took the path less traveled. Cricket is a passion. I was lucky that my father backed my decision and has supported me every step of the way.
A.T: What was the atmosphere in the dressing room like, just after the loss in the final? How did the team cope with the loss, and what lessons did you learn from it?
S.P: We were all disheartened, more because it was such a close game. I am sure this experience will help us in terms of learning how to handle pressure in big games. But then we take pride in all that we did this World Cup. We played an aggressive brand of cricket and performed wonderfully as a unit with every player putting her hand up on different occasions. The reception back home has been incredible. Never in our wildest dreams did we think something like this would happen. The interaction with Prime Minister Narendra Modi was extremely special-- a moment that none of us will ever forget!
A.T: What do you enjoy doing in your free time? How do you relax before a major match and calm yourself down?
S.P: I like reading in my free time. I listen to music to stay calm and also do meditation.
A.T: What was the World Cup experience like? How did being in the same locker room as legends like Jhulan Goswami and Mithali Raj help you?
S.P: This cricket World Cup journey has been surreal. It's been a great learning experience. To share a dressing room with the two cricket legends is inspiring. I looked up to them when I started my career, so to now be able to play alongside both is a dream come true. They are the ambassadors of cricket in every sense. Perfect examples how much hard work and work ethics matter.
A.T: What's your daily schedule like? How many hours do you practice cricket daily?
S.P: I do my conditioning/gym and nets sessions. Don't have any fixed hours as such.
A.T: Do you think the Indian team lacks depth in batting right now? What do you think are the major improvements needed before next year's T20 World Cup?
S.P: I don't think we lack depth in batting. In fact, we bat quite deep. It is just about delivering in pressure situations and I certainly believe experiences like the World Cup final will help us grow and handle things better.
If anything, as a team, we need to work on our fielding. Having a fielding coach (Biju George) during the World Cup was a huge help and allowed us to work on that aspect of our games. Our aim is to keep getting better with every game and to try and be as consistent as possible.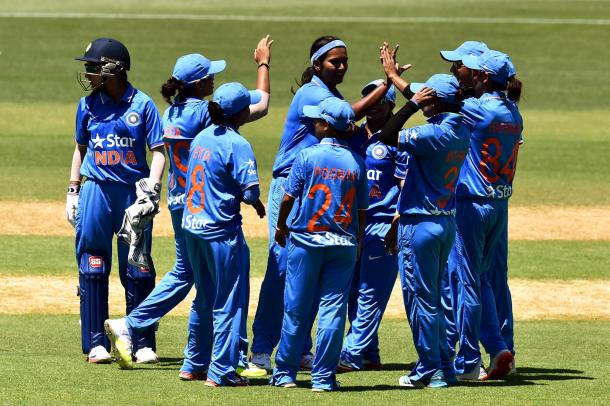 A.T: You were supposed to play for the WBBL franchise Sydney Sixers, but it didn't work out. Is there any chance of you playing next year?
S.P: I don't know. I would love to be a part of the WBBL if I get an opportunity.
A.T: Have you ever taught your teammates about your aeronautical knowledge when you all travel by the same flight?
S.P: Few of them do ask me questions about aircrafts, and I try answering them with a little knowledge I have. I don't consider myself an expert though!
RAPID FIRE
Favorite Song- Breakaway by Kelly Clarkson
Favorite food- Akki roti with achar
Favorite movie- Notting Hill
Favorite quote- Champions keep playing until they get it right!
Describe yourself in one word: Committed
Autobiography title: Tales of the Headband Warrior