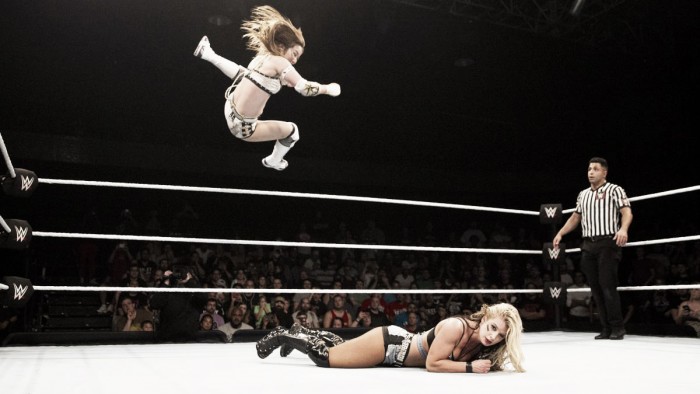 The eighth episode is the final pre-taped show of the Mae Young Classic before the live final and showcased the two Semi Final matches that have plenty at stake with a spot in the finals waiting for the victors. After seven episodes and countless matches the stories, emotion, and investment all culminate here by finding out exactly who will be in the final.
Shayna Baszler vs Mercedes Martinez
The first Semi Final match saw a bout between a teacher and her student with Mercedes Martinez being someone who has taught Shayna Baszler a lot throughout her career working as a mentor. Baszler is part of Martinez' group that she travels with on the independent scene and therefore there was plenty of emotion on the line here and that could be shown by the fact that this was the first match where Baszler participated in the pre-match handshake ritual that she had ignored to this point.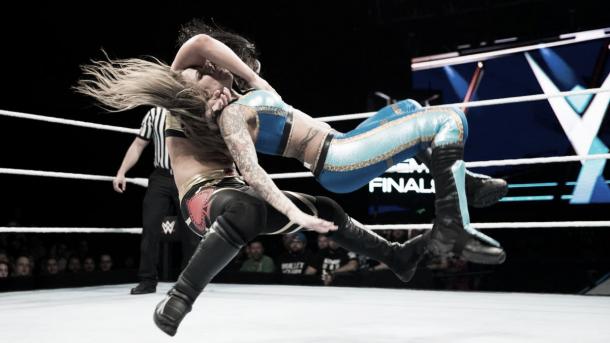 Both ladies have been the most physical in the tournament and the early exchanges showed them both attempt to trade blows but avoid, however, Martinez was able to get plenty of huge chops and strikes in first and this was the first time in the tournament someone had control early on. Baszler finally got her own offense in and her frustration began to flow out, hitting a brilliant running knee before finally being able to lock in some submissions.
The back and forth element of the match carried on although Martinez was arguably in charge, for the most part, throwing her opponent around with suplexes, yet just like in previous matches Baszler caught her opponent, locked in the Sleeper Choke Hold and picked up a submission victory. Following her victory, the two ladies showed respect with a big hug and Triple H and Stephanie McMahon were on hand to present the first finalist with flowers to pose for the cameras.
Winner: Shayna Baszler
Kairi Sane vs Toni Storm
This was the final match at Full Sail for the Mae Young Classic with the winner progressing to the final to meet Shayna Baszler on September 12. Whilst this match doesn't boast the physicality of the previous one, it will have arguably more technical quality with plenty of striking and fast paced action. Despite the fact that Kairi Sane was the favourite heading in, Toni Storm brought her A game and comfortably matched her in terms of technical wrestling until she went back first into the apron; followed by a cross body from the top rope to the outside.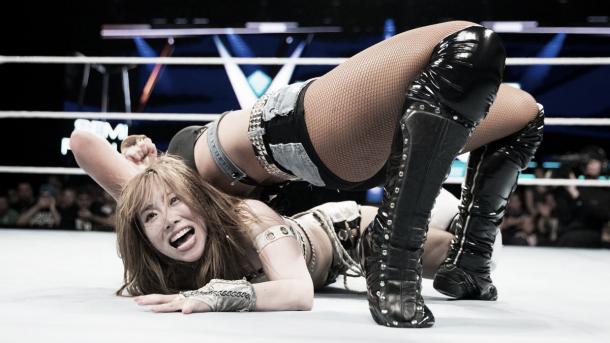 As the pace began to pick up both women started hitting harder shots as Storm landed her Hip Attack but Sane managed to land her own blow with a huge Spear straight after which was followed by each woman trading shots with Sane coming out on top. Storm then landed her finisher but Sane fought out and the Australian quickly locked in a tremendous arm submission but Sane smartly reversed, only to end up crashing to the mat after a headbutt.
Storm then hit a Leg Drop which finished Piper Niven in the previous round but Sane rolled out of harm's way so no pinfall attempt could be gained. Despite the best efforts of Storm, she would eventually suffer the same fate as her previous opponents with an Elbow Drop securing Sane a position in the final after a great match that showed exactly how much each woman wanted to win. Following the match, just like before Sane was presented with flowers
Winner: Kairi Sane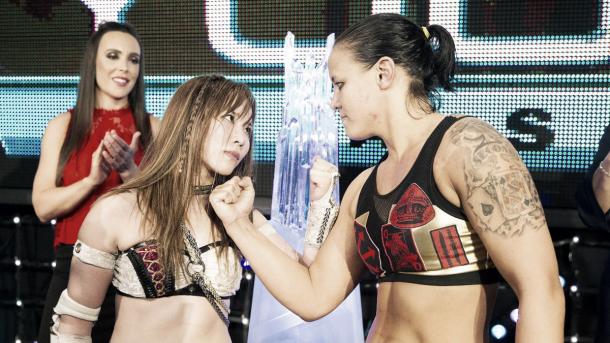 So there we go, our Mae Young Classic Final is set- Kairi Sane vs Shayna Baszler. Was that a little predictable from the start, perhaps, but that doesn't mean it is a bad thing. WWE has created genuine characters that the WWE Universe can now get behind and given that some are already signed to contracts it would be foolish not to start shuffling them in immediately. As for the final, that is very tough to predict as both Sane and Baszler have been dominant throughout the competition and would be worthy winners with each having real reasons as to why they could wind up winning. But that will remain to be seen in the upcoming final with the only thing for sure being that it should be a hard hitting and very entertaining match.
Match of the night: Kairi Sane vs Toni Storm
Star of the night: Kairi Sane