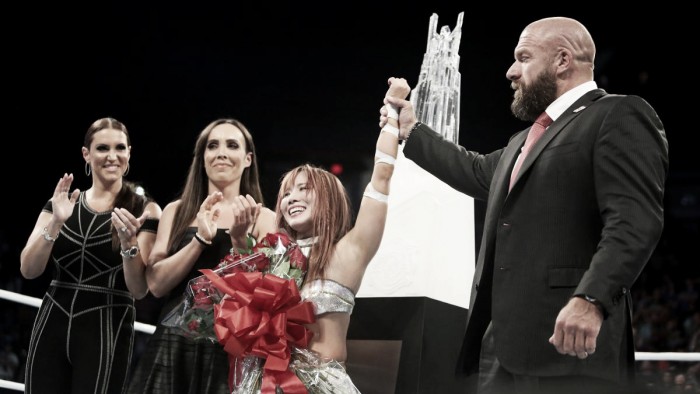 The Mae Young Classic drew to a close last week when Kairi Sane defeated Shayna Baszler in the live final to become the inaugural winner, earning a shot at the NXT Women's Championship in the near future. Whilst we know for certain what the destiny of Sane will be, in regards to the rest of the competitors the WWE Universe is still waiting on more information, so what do we know so far?
Signed on the dotted line
Whilst Kairi Sane is set to compete at the upcoming NXT TakeOver: Houston event in a fatal four-way for the currently vacant NXT Women's Championship, and the be a full-time member of the roster, she is not the only athlete to have signed a WWE contract. Vanessa Borne, Zeda, Sarah Logan, Xia Li, Rhea Ripley, Abbey Laith, Kavita Devi, Dakota Kai, Bianca Belair, Sage Beckett, Lacey Evans, Taynara Conti and Reina Gonzalez have all signed deals with the company and are currently working at the WWE Performance Center.
Lacey Evans has been used several times on NXT already as has Bianca Belair, but it isn't known whether the rest of the wrestlers who are already under contract will be used on the NXT roster or if some will be pushed straight to the main roster. Talents such as Rhea Ripley, Abbey Laith, and Dakota Kai all had very good showings in the tournament and it would make sense to capitalize on their star power whilst they are fresh in the minds of the WWE Universe.
WWE interest
Several of the competitors have yet to sign a deal, but according to reports on NoDQ.com, WWE is very interested in bringing some in. Piper Niven, Mercedes Martinez and Candice LeRae were all brought into the live finals and that is an indication that WWE has high interest in signing them. This would make sense as they were three of the biggest names in the competition and put on some of the standout matches of the tournament.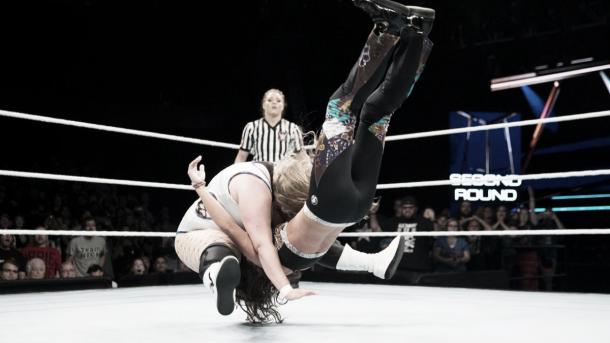 Niven was actually flown in all the way from Japan, which shows how highly WWE thinks of her, whilst LeRae is married to NXT star Johnny Gargano which gives her a direct link to WWE and Martinez, despite her age, has been one of the biggest names on the independent scene for quite some time and therefore her star power would be a welcome addition to the roster.
Not yet signed
Surprisingly, three names that are yet to sign any deals with WWE are Tessa Blanchard, Toni Storm, and finalist Shayna Baszler. However, that does not mean their futures don't lie inside a WWE ring.
Baszler is highly rumoured to be signing a deal and is currently not booked for any independent shows in the future, a strong sign she could be arriving in WWE, potentially as part of a Four Horsewomen feud, which would take place on the main roster; not signing her would keep this as a bigger surprise.
As far as Blanchard is concerned, her and Kairi Sane had the match of the tournament in the First Round and she is highly regarded by many as one of the best female wrestlers in the world right now. Because of her abilities and family name, it is likely WWE will eventually offer Blanchard a deal.
The same can be said for Toni Storm, whilst she hasn't signed with the company, at age 21, she has years ahead of her and plenty of time to sign with WWE, which is expected to happen down the line. As for the rest of the women, it is unlikely that they will now be signed, although they could be brought in for enhancement work, or potentially a future Mae Young Classic.