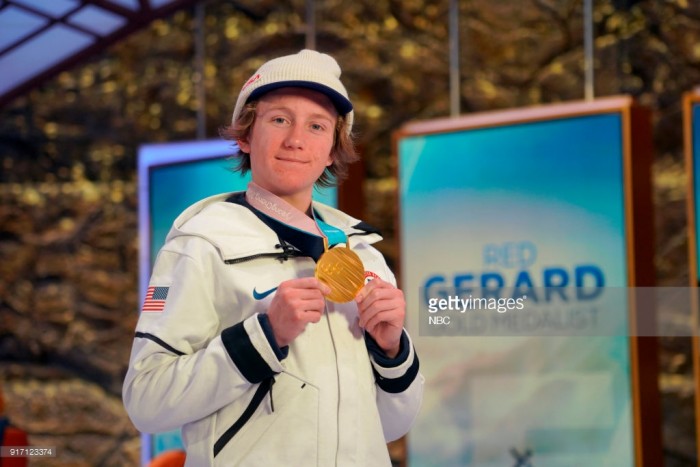 17-year-old Red Gerard stunned the snowboarding world by winning the gold medal in men's slopestyle at the 2018 Pyeongchang Olympics.
The Colorado native was sitting in last place heading into the third and final run. Like many riders, he had struggled to land a clean run on his first two attempts. But when the pressure was on, he delivered.
Teenager shows flair, artistry during runs
During his run, Gerard's creativity was on full display, as he repeatedly used features of the course that other riders were ignoring. In the second rail section, he transferred over the hitching post with a stylish, tweaked-out frontside air before doing a 50-50 to tailslide to 270 out combo on the rail.
On the first jump, he landed a switch backside 1260 on the angled jump, spinning against his natural direction of travel in the air for added difficulty. His second jump featured a double cork off the quarterpipe takeoff instead of the traditional kicker that other riders were using.
Then on the final jump, Gerard stomped a clean backside triple cork 1440 to put an exclamation point on his run. The result was Gerard receiving an 87.16 from the judges, putting him in first place. With his work done, all the teenager could do was watch and hope his run was good enough.
McMorris falls on last run, Olympic heartbreak continues; Kleveland, Parrot fail to catch Gerard
First there was Canada's Mark McMorris, who had been sitting in the lead until Gerard bumped him out of the top spot. In an earlier run, McMorris had landed back-to-back triple corks, including a backside triple cork 1620 — one of the highest scoring tricks of the contest — on the final jump.
But McMorris, who has been a dominant figure in slopestyle for years, went down on his final chance to catch Gerard, a situation similar to what happened to the Canadian four years ago when another American underdog Sage Kotsenburg pipped him to the gold medal.
The next challenger was Norway's Marcus Kleveland, the two-time reigning X Games champion who had landed a backside 1620 earlier in the contest. He, too, went down. Kleveland would wind up well off the podium in sixth.
Finally it was Max Parrot's turn. Parrot, another strong Canadian rider, was the top qualifier following Saturday's preliminary round, and he came out swinging in the final. After slamming on a triple cork attempt on both of his earlier two runs, Parrot finally put down a full run, and though he was one of the day's strongest riders in the rail sections, he fell about one point shy of matching Gerard's score.
Gerard modest in victory
After becoming the youngest American to win an Olympic gold medal since 1928 as well as becoming the youngest Olympic snowboarding champion ever and the first athlete born in the 2000's to ever win a medal at any Winter Olympics, Gerard revealed he was just hoping for a good finish: "I actually said going into all the contests that I'd love fourth place, but first place is better, I got to say."
The teenager has returned to the States for a short break before returning to Pyeongchang on Friday for his second event of the games in the Big Air competition. Here are the full results from the final round:
Results
Gold: Red Gerard (USA), 87.16
Silver: Max Parrot (CAN), 86.00
Bronze: Mark McMorris (CAN), 85.20
4. Staale Sandbech (NOR), 81.01
5. Carlos Garcia Knight (NZL), 78.60
6. Marcus Kleveland (NOR), 77.76
7. Tyler Nicholson (CAN), 76.41
8. Torgeir Bergrem (NOR), 75.80
9. Niklas Mattsson (SWE), 74.71
10. Seppe Smits (BEL), 69.03
11. Sebastien Toutant (CAN), 61.08
12. Mons Roisland (NOR), DNS