 All eyes were on 17-year-old Korean-American snowboarding superstar Chloe Kim in this women's snowboard halfpipe final in the 2018 Winter Olympics. She was by far the favorite to take home gold in the event.
She was the only qualifier to score over a 90 in her qualifying run, stomping down a 91.50 and a 95.50. The American made history twice in the same day, becoming the youngest ever woman to win Olympic snowboarding gold and then being the first to land back-to-back 1080s in Olympic competition. The present and future of women's snowboarding is Chloe Kim.
Chloe Kim With Perfect Start
Being the last rider up, Kim knew what score she needed to start on the podium. Most first runs are "jitter runs" used to just get a solid score on the board to build on later with the final two runs. China's Liu Jiayu, Japan's Haruna Matusomoto, and USA's Kelly Clark were the top three with Kim still to drop.
Just as many expected, the 17-year-old dropped the hammer down on the opening run. Her first hit saw her reach massive heights on her backside air and followed it up with a first 1080. Many were expecting the back-to-back 10s, but she opted for a much safer back-to-back 900s before the inverted 540. She capped off her opening run with a 720 to let the field know that she meant business. Her opening run score was a 93.75, putting her in gold medal position by a comfortable margin.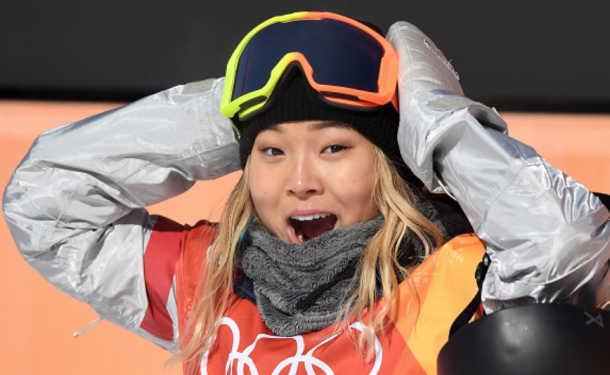 Clark And Gold Throwdown Solid Second Runs
Chloe Kim wasn't the only American in the field with veteran Kelly Clark, 21-year-old Arielle Gold, and 17-year-old Maddie Mastro also in the competition. Clark and Gold were the final two qualifiers but put down very good runs in their second showing on the halfpipe. Clark's 81.75 put her back on the podium for the time being as she sat in third behind Liu Jiayu while Gold improved her first run score massively with a 74.75.
Liu threw in a dent in Kim's lead with an 89.75. The Chinese threw in a 1080 in her run and improved on the other aspects of her first run to narrow the gap to four points. Kim's second run was stopped well short after falling on the second of her back-to-back 1080s. She still held the lead headed into the final run and needed to hope those chasing her would fall just short if she wanted to hold on to gold and have a victory lap.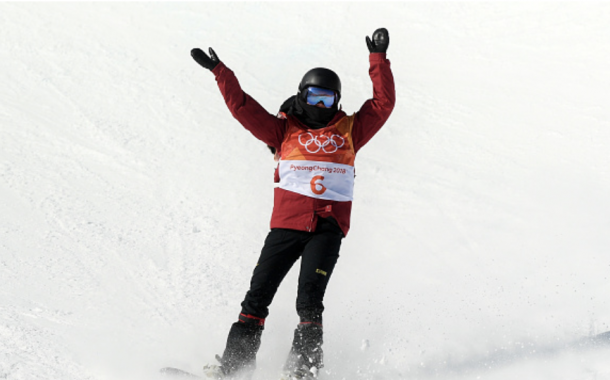 Chloe Kim: History Maker
Arielle Gold was the first to drop-in for the final run and threw in an improvement on her second run score. Her third run score knocked off Kelly Clark off the podium for the time being with an 85.75, and Clark's high score of 83.50 was not enough to overtake her countrywoman as the 34-year-old would not see the podium for the first-time since Turin 2006. France's Mirabelle Thovex was the only other rider in the first half, along with Clark and Gold, to throw in her best score in her final run with a 63 as Sophie Rodriguez, Emily Arthur, and Sena Tomita all took early spills.
Cai Xuetong ended the rut of struggling snowboarders by finishing a run. She linked a couple of 540s together and also threw in a 900. She completed her first run for a 76.50 which left her just off the podium but would take solace in just finishing a run at the Winter Games.
Queralt Castellet went big on her first two jumps but fell on her third hit while Mastro fell on her 1080 on her first jump to end her hopes of the podium. Liu Jiayu was the last person who could dethrone Chloe Kim but a fall on her 1080 ruined her chances at Olympic gold.
Kim had a victory lap but decided let's still go for it. History was made as the Korean-American threw down back-to-back 1080s, the first time it has ever been seen in Olympic competition. Kim completed her run with an astounding score of 98.25. Liu Jiayu and Arielle Gold finished off the podium with silver and bronze respectively.