 One week before Judgement Night in Liverpool, Premier League moved to Belfast where Northern Irishman Daryl Gurney was set to get huge support against World Champion Rob Cross.
While the match between Raymon van Barneveld and Michael van Gerwen was the headliner, the three key matches involved players in or near the relegation spot with Mensur Suljovic, Gerwyn Price, and Peter Wright.
We will take a look match-by-match what went down just one week before two players of the ten-player field will themselves out of the competition.
Mensur Suljovic vs Gary Anderson
Whilst Suljovic has not been playing poorly, his results have hit a bit of a wall of late. He needed to come up with something special vs Gary Anderson to get the victory which would have really put pressure on Peter Wright in the last match of the day to come up with a result.
The Gentle lost his throw in the opening leg but struck with a 180 and an 81 checkout in the sixth leg to level the match at 3-3. Another slip up though, in the seventh leg, a break for Anderson set up the Flying Scotsman as he stayed one ahead to claim it 7-5.
Michael Smith vs Gerwyn Price
Michael Smith suffered his worst defeat at the hands of van Gerwen the previous week but could right the wrongs of that defeat with victory over Price. The Iceman, who was only on two points, needed some miracle to avoid the drop but going against someone who hasn't left the top-three in the league this year was not the best case scenario.
Price settled down early with a break of throw to start the match. Unable to checkout 81, the Bully Boy pounced on the opportunity to break with an 82. The sixth leg was the turning point with price down to 92, Smith held with a checkout of 36 for 3-2.
A conversion of tops and then a masterful 160 checkout saw Bully Boy move ahead for good as he claimed two more breaks of throw. A 7-2 beatdown of Price saw the Welshman officially eliminated from the Premier League.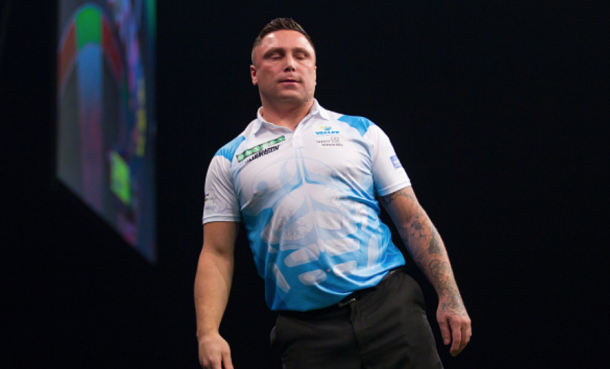 Raymond van Barneveld vs Michael van Gerwen
It was a showdown of the two Dutch titans in this one. Van Barneveld is someone who always shows up for his showdowns with van Gerwen and many were hoping for something not much different this time around.
It was on throw until the fifth leg which was key. Barney was sat on 12 with van Gerwen on a bogey number but could not convert. The world number one bounced on that opportunity to turn it into gold and get the break of throw. After that, it was one-way traffic for the two-time World Champion, reeling off five consecutive legs to take it 7-2 and remain top of the league.
Daryl Gurney vs Rob Cross
The Belfast crowd was rocking for what was their local boy Daryl Gurney facing World Champion Rob Cross. The atmosphere was stunning as Gurney orchestrated the crowd during his walk-on of Sweet Caroline. Rob Cross, no stranger to being booed at, was unfazed however, getting the quick break of throw while also maintaining a slight leg up on the Northern Irishman.
Gurney however, struck back with a vengeance. Superchin fired in nine 180s but most importantly, came through with a 119 checkout to go up 5-4 before breaking in the final leg to take the match 7-5.
Simon Whitlock vs Peter Wright
With Suljovic's result, Peter "Snakebite" Wright knew he needed a result of some kind to get out of the relegation zone, sitting on level points at four but with a significantly lower leg differential. It seemingly looked like it would be holds of throw along the way, but Whitlock broke in a seemingly sloppy sixth leg to go up 4-2. He gave his lead right back though, being broken, only for Wright to concede his throw to go down 3-5.
With Whitlock holding for 6-3, Snakebite needed to reel off three consecutive legs to have any hope of getting out of the relegation zone to end the night. He did just that, checking out 41, 120, and 41 once again to move pu to eighth on five points.